A Romney That's Bred to Follow
Its namesake political candidate may have hit a rough patch, but woolly, adaptable American Romney sheep are gaining in popularity.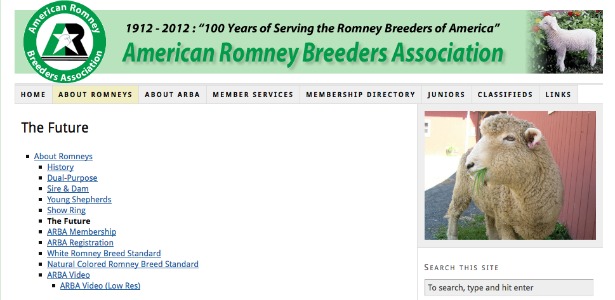 Republican presidential candidate Mitt Romney has sometimes been accused of being sheeplike -- more of a follower than a leader. But to the 100-year-old American Romney Breeders Association, a Romney is a sheep -- literally.
Its namesake political candidate may be experiencing some turbulence, but these are good days for the American Romney. It is gaining in popularity nationwide, thanks to its docile temperament and adaptable nature -- the furthest thing from a Demon Sheep, you might say. "The future is indeed bright for Romneys," the association proclaims.
Here are some fun facts about the versatile Romney, which can be bred for both its meat and its wool, courtesy of the association's
website
.
* "In the last three decades, the popularity of Romneys has spread from the West Coast across the nation. With much recent growth coming in the middle and eastern states, the Romney has become a national breed."
* "Romney meat is known for its delicate taste even in older lambs. * The Romney fleece...combines several important traits. The fleece is lustrous; it hangs in separate locks, with minimal cross fibers between the locks. It is also high yielding and easily spun."
* "The Romney is truly a versatile breed. This breed's quiet disposition, unique fleece characteristics, the flavor and quality of its meat and its lambing percentage make it an excellent choice for purebred, commercial, or crossbred programs."
* "Because Romneys are of quiet temperament and readily bond to a youth who spends time with them, they are easily trained for the show ring."
* "The Romney's ability to mature on pasture, without putting on excessive fat, is helping to meet demand. The future is indeed bright for Romneys."