Why the Stakes in Tonight's GOP Debate Are Sky-High
With polls deadlocked between Gingrich and Romney, the last debate before the Florida primary will make or break one of them.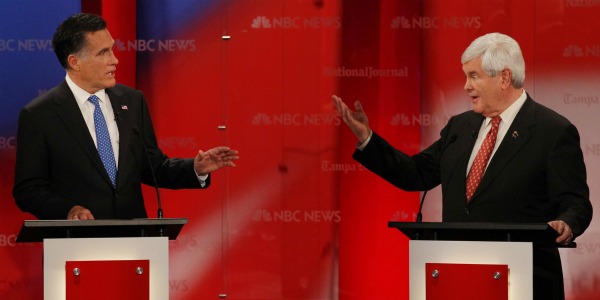 Florida is a must-win state for Mitt Romney and Newt Gingrich. The race is tied. Debates matter. That makes tonight's CNN debate at 8 p.m. a must-win. Here's why:
A loss for Romney in Florida after his stunning defeat in South Carolina would destroy the aura of inevitability that has sustained his candidacy. Romney's campaign could well collapse amid its own weight, as panicky GOP leaders question their faith in the former Massachusetts governor. You can almost hear the panic in their voices: If he can't beat Gingrich and all his baggage, Obama is going to stomp him. Talk of a late-entry candidate or brokered convention might get serious.
A loss for Gingrich in Florida would undercut his two strengths. The first is his argument that Romney is not conservative enough for typical GOP voters. He can't say that if Romney wins the Florida primary, which is open only to registered GOP voters.
Gingrich's second strength is his unquestionable prowess in debates. Nearly each of the 18 debates thus far has changed the course of the race at least slightly and, collectively, the forums have shaped the campaign more than any force outside the candidates' control.
Tonight's is the last debate until Feb. 22, nearly a month from now, which leaves Gingrich with one less tool in his toolbox to counter Romney's financial and organizational advantages. That is, unless he wins Florida... which brings us back to the extraordinary importance of tonight's debate.
Image: Reuters