Why Rick Perry Dropped Out and What It Means
Perry's Texas mojo didn't sell nationally. Now, he looks to add to Newt Gingrich's South Carolina momentum.
Perry's Texas mojo didn't sell nationally. Now, he looks to add to Newt Gingrich's South Carolina momentum.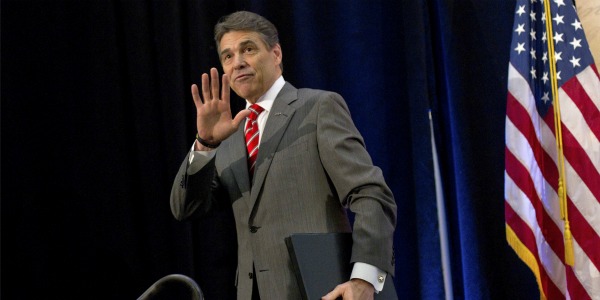 Updated 3:30 p.m.
BLUFFTON, S.C. -- Rick Perry has been a dead candidate walking for weeks, but just after 11 a.m. Thursday, he's set to make it official that he's out of the presidential race. Some thoughts on the political implications:
* More momentum for Newt Gingrich.
Perry's forthcoming endorsement is yet another positive sign for the former House speaker, who's already basking in the glow of
surging South Carolina poll numbers
, support from both Palins and
positive debate buzz
. Coming Thursday night: Another debate at 8 p.m., which could amplify the momentum, and the airing, at 11:30 p.m., of a reportedly
scathing interview
with his second ex-wife, which could dampen it. (At a town hall Thursday, Gingrich said he was "very humbled and very honored" by Perry's support.)
* The Stop Romney caucus grows.
Gingrich has in recent days been making the nakedest pitch of any candidate for conservatives to consolidate behind a single candidate -- him, obviously -- with the sole aim of preventing Mitt Romney, "a Massachusetts moderate," from winning the nomination. Perry's dislike for Romney has been palpable throughout his campaign, never more so than when he went after Romney for employing illegal immigrants in the October debate in Las Vegas; you could practically see him seething as Romney laid a patronizing hand on his shoulder. But the conventional wisdom that the votes for other candidates represent splintered votes against Romney could be wrong, political scientists Lynn Vavreck and John Sides
have noted
: In polls that test other candidates head-to-head against Romney, Romney actually does better, not worse.
* Texas didn't translate. Perry's national message was a carbon copy of his 2010 reelection campaign in Texas, complete with allusions to secession: anti-Washington, Tea Party-centric and -- as in the infamous anti-Don't Ask, Don't Tell ad -- culture-baiting. His twang, his boots, and his difficulty with syntax also were more than a little reminiscent of George W. Bush. It turned out these things weren't what voters were looking for outside the Lone Star State -- not even in South Carolina. The conservative candidates who surpassed Perry -- Gingrich and Santorum -- are both Washington insiders with a wonky bent. It may be that in the wake of Obama's perceived incompetence, Republican voters are looking for a candidate who knows how to work the levers of power -- or at least one who knows how to string a sentence together.
* A comeback too late. No candidate better illustrates the maxim that you never get a second chance to make a first impression. Perry stumbled out of the gate with gaffes -- remember when he suggested he wanted to string up Ben Bernanke? -- and debate performances in which he allowed himself to be, in his words, "a pinata" for the other candidates. His failure to define himself early on allowed others to define him instead: as a practitioner of cronyism, a squish on immigration, and, well, dumb. Perry's performance in debates and on the stump improved markedly in the last few weeks, but voters were unwilling to give him a second look after he let them down so badly.
* Limping back to Texas. As the state's longest-serving governor of 10 years, Perry had developed a reputation as an iron-fisted executive, invincible in elections and skilled at Austin wheeling and dealing. The race for president will be the first he has ever lost in nearly 30 years in politics. That image has been dealt a huge blow. He returns to his state with his tail between his legs, thoroughly humiliated on the national stage. For the opponents Perry has marginalized in Texas, the backlash that awaits the once-mighty governor at home will be sweet revenge.
Image: Chris Keane / Reuters