Why Rick Perry Decided to Stay in the Race
The fifth-place Iowa finisher still sees room for a conservative candidate, and he thinks has a chance to turn things around in the Palmetto State.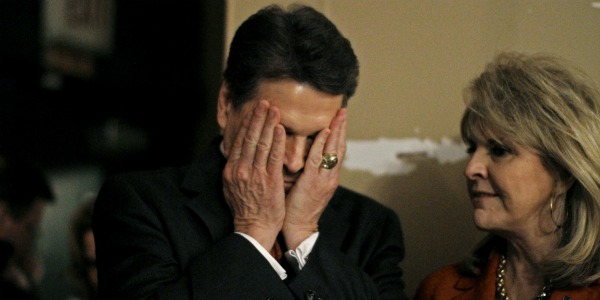 AUSTIN, Texas -- It is rare for a politician to announce that he is reassessing his candidacy -- and then continue his campaign. But that's just what Rick Perry decided after discussions with his family, two top aides, and a South Carolina team that saw a path forward for Perry to win the Republican nomination for president.
Even some of Perry's senior advisers were shocked when Perry tweeted a mere 12 hours after his fifth-place Iowa finish that he would be heading on to South Carolina; the newly energized candidate underscored the point with a picture of himself in full running gear.
Communications Director Ray Sullivan told reporters after Perry's subdued caucus-night speech that he expected the campaign to reevaluate both the Iowa results in detail and to examine his prospects in South Carolina, the early-primary state that best matched Perry's background and political beliefs. His advisers worked through the night to prepare that assessment.
---
MORE FROM NATIONAL JOURNAL
---
In an interview, Katon Dawson, Perry's top adviser in South Carolina, offered a sense of what was discussed that night: "I think it's a competition for the heart and soul of the conservative movement," he said, "Governor Perry's a competitor. He never lost a race." Dawson also pointed to Perry's prominent Christian faith and his military background, which will appeal to the many veterans in the state's Low Country. And the strong Tea Party contingent should be receptive to Perry's anti-Washington message.
While he stands to gain votes from people who had supported Rep. Michele Bachmann of Minnesota, who dropped out of the race on Wednesday, advisers say that her decision did not affect Perry's. Bachmann spokeswoman Alice Stewart said Wednesday morning that the lawmaker called her rivals to congratulate them after the caucus results came in, but did not indicate that she would be dropping out.
"The governor's decision was based on discussions with his family and advisers including our South Carolina team, a realistic assessment of our financial position, an analysis of the strengths and weaknesses of the GOP field, and a recognition that the race has been very fluid and unpredictable," Sullivan said. "Perry believes his record and plans make him uniquely able to press an outsider-based conservative reform message for Washington and the tax code; uniquely able to promote American job creation and fiscal responsibility; and uniquely able to defend fiscal, social, and tea party conservatism in South Carolina."
It helps that the Palmetto State is a relatively low-cost place to run a campaign. Media is cheaper, and the smaller markets make it easy to blanket the state. Its relatively small size also keeps travel costs down and puts a premium on retail campaigning, Perry's strongest skill set. That will all be crucial as the money runs out. A campaign aide said that reports that Perry still has $3.5 million in the bank are likely overstated.
Beyond the encouragement Perry received from his South Carolina team, he also relied on the advice of Sullivan and campaign manager Joe Allbaugh. There is also something to be said for the mental clarity that a jog on a brisk, sunny morning in Iowa can bring. "I was out on the trail when it kind of came to me," Perry told reporters the morning after the caucuses. He then flew home to Austin for a couple days of rest.
Now it's game on, again. Perry will be in New Hampshire this weekend for two debates, but he is flying to South Carolina on Sunday afternoon and likely will be there until the Jan. 21 primary. "He'll be here, and stay here almost wall-to-wall, shortly," Dawson said. "There's not a whole lot of quitting to us."
Image: Samantha Sais / Reuters