Why Iowans Can't Make Up Their Minds
The extreme volatility in the 2012 race in the lead-off state appears to have been related to the low level of direct voter contact here before the last minute.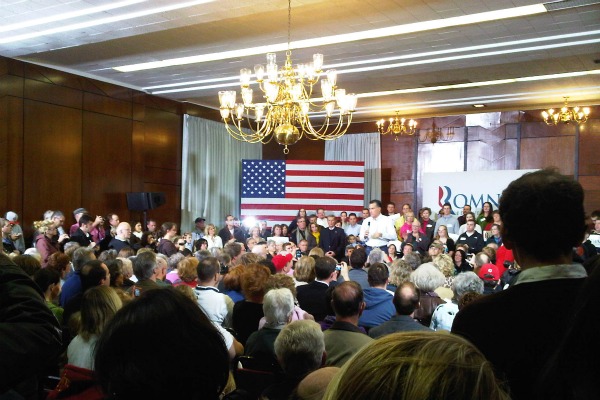 ATLANTIC, Iowa -- The media scrum inside the Family Table Restaurant was a thing to behold. Judy Woodruff. Al Hunt. Mike Allen. Jessica Yellin. Dan Balz.
Romney stood at counter-level and delivered an abbreviated version of his stump speech to the smattering of Iowans visible drinking sodas and sitting at tables, before plunging into the ocean of press and quickly being swallowed by a ring of videocameras as he made his way to the next room.
His wife, Ann Romney, wearing a red suit jacket and gray pearls, pressed herself up against a wall, out of the path of reporters who stampeded after the candidate in hopes of a fresh remark.
"I don't think you can get used to it," Ann Romney said of the scrum, as she looked out across where her husband had disappeared. "It's a bit of a crush."
With the former Massachusetts governor finally topping the polls in Iowa and in the lead in Saturday's Des Moines Register Iowa Poll, considered the most definitive of all the polls in advance of the Tuesday caucuses, the media turned out to see the front-runner. But the crush hasn't just been like this for Romney, and wasn't all post-Register poll. In Ames Friday, Santorum was mobbed by reporters at an appearance at Buffalo Wild Wings to watch the Iowa State Cyclones play in the Pinstripe Bowl. Meanwhile, the politically apathetic young men and women getting drunk and watching the game before he arrived had no idea who he was -- "We're here for the game, I can't even lie," said Sarah Smith, 31, of Des Moines. "I don't know anything about him" -- their presence little more than an Iowa backdrop for a photo-op of the former Pennsylvania senator eating wings and talking to reporters and his own kids. Newt Gingrich's tears at a Friday morning event at Java Joe's in downtown Des Moines were broadcast on C-SPAN; reporters not packing into the audience of Iowa moms hosting the chat waited patiently for the doors to reopen post-event-taping to catch him during a book signing. Ron Paul held a large Monday rally at the downtown Marriott in Des Moines, where several hundred members of the press are staying, and where the bar at night comes alive with reporters chasing their deadlines with something to deaden the edge on their fatigue.
There's reaching voters, and then there's the theater of campaigning for the cameras when everyone is watching, spinning the message forward into the ether until it slips through one of the many electronic windows voters hold open to the world.
"He does love getting out and shaking hands," Craig Romney, the candidate's youngest son, said while standing in the kitchen of the Family Table looking at the ring of boom mics and cameras that marked the spot where his father presumably was. "Reporters make it a little more difficult to do that."
At a press availability afterwards, more than 72 reporters and 10 video cameras crammed into a single room. Down in front! Arose the cry from the cameramen and women. "I'm not getting on my knees for a Republican," grumbled one journo before complying. Dozens of reporters crouched and kneeled and perched on chairs in their bulky winter jackets, diligently recording Romney's extremely mild critique of surging former Pennsylvania senator Rick Santorum.
There's no getting around the fact that ratio of members of the press to potential voters at candidate appearances this cycle has been out of balance. The crowds have been smaller than in past cycles, for a variety of reasons: this is the second caucus in a row to take place right after a New Year's holiday, the deadest of dead times of the year; the overall less than compelling field has not compelled people to events; and, most critically, the breakdown in the culture of competitive Iowa campaigning means candidates have been hastily throwing together events of a size and complexity that in previous cycles would have been typical of summer and early fall visits. "There's a lot of coffeeshop talk but when it comes to meeting candidates, not so much," said State Senator Joni Ernst, a Romney backer in Atlantic. There are fewer yard signs, too.
In Davenport, Iowa, more than 100 (mainly middle-aged men in short coats) gathered on a brisk holiday morning Monday the day before the caucuses for a return appearance in the town where Romney had held his largest recent gathering at a boutique hotel less than a week ago. "This was not on the schedule five days ago," said the man who'd introduced Romney the other time, Steve Garrison of Burlington, 40. Beyond Romney, for whom he will caucus, the only other candidate Garrison had seen was Santorum. Potential caucus-goers have historically been able to rely on a first-hand assessment of the candidates, but that's not been the case this year. "Iowans, quite frankly, have gotten spoiled in the last couple of decades," he acknowledged.
A lot of candidate visits just didn't happen this year. The cycle got a late start and was heavily debate-driven. Some candidates stayed away from Iowa until the last minute, or else never had a strong campaign in any state. What this has meant on the ground is that a lot of potential voters who in previous cycles might have already met the candidates several times or at least once each were into the final weekend of pre-caucuses campaigning and just finally getting a chance to meet one of them for the first time. "I am one of the 41 percent that still hasn't decided," said Sheryl Schultz, 60, of Macedonia, Ia., in Atlantic, where she was going to see Romney for the first time less than three full days before needing to make a call. Asked if she'd seen him before, she said no: "I haven't seen him but I do watch....I watch a lot of news." Same with Santorum: "I just watched him on TV and I looked at him online."
Formally undecided Republicans like her were using the last-minute appearances to either ratify their leanings or upend them, should the man in the room not seem to be the same one they'd seen on television. Several one-time Perry supporters told me they'd been with him until they saw him in person, when he seemed weak or uncertain, reading written remarks instead of speaking, like Santorum, from the heart. Others unsure as to the choice between Romney and Santorum were swayed to Santorum's side after seeing him speak, based as much on the impression that he was a forthright and sincere man as his anti-abortion politics. They knew Romney from the debates, but the emotional resonance just wasn't the same as being in a room with Santorum. (That is, when it was possible to see him in a room -- to get away from the crush of reporters required being at least an hour-and-a-half from Des Moines.) And yet others were leaning Romney and just wanted to be sure they weren't making the wrong choice; to do that they needed to see him themselves at least once, as hundreds gathered to do in Council Bluffs Sunday night at the Bayliss Park Hall mansion.
For their patience, they were treated not to an Iowa-specific appeal, but to a candidate who seemed already to be pivoting to the general election, confident that challenges from those closest to him in the state's polls, Ron Paul and Rick Santorum, would amount to little in the months ahead. "Democrats love America too. Independents love America," Romney affirmed. He went after Obama as someone who believes in an "entitlement society" instead of an "opportunity society"; someone who would turn the U.S. into Europe if he could; a failed president and one whose time in office represented a "detour" and not a "destiny." Romney also compared Obama to a reality TV star, much the same way John McCain once compared Obama to Paris Hilton: "You know, I've been looking at some video clips on YouTube, of President Obama, then candidate Obama, going through Iowa making promises. The gap between his promises and his performance is the largest I've seen since, well, the Kardashian wedding and the promise of 'till death do us part.'"
The Democratic National Committee, meanwhile, had dug in in Des Moines to dog Romney, sending laid-off former American Pad and Paper (AMPAD) plant worker Randy Johnson to Iowa to blame Romney and Bain Capital, which bought AMPAD in 1992, for Johnson's job loss in Indiana. On Monday, Romney campaign spokesman Eric Fehrnstrom pointed to the Democrats' focus as a sign that they and Obama were "terrified" of running against Romney, the implicit message being that he would be the most electable Republican.
Even the larger events have this year failed to reach the same scale as in the last two caucus cycles. In 2008, Mike Huckabee brought in Chuck Norris and held a 2,500-person caucus-eve party at the Val Air Ballroom in Valley Junction. This cycle, there have been no last-minute celebrities rewarding hordes of campaign volunteers with an entertaining evening. Reality stars the Duggars made an appearance at a Santorum event the day before the caucuses, but they were barely advertised in advance, and an announcement of their endorsement with less than 48 hours to go was the very definition of late in the game. "I think the entire year is different and just very unusual," observed Eric Woolsen, Iowa campaign manager for Michele Bachmann, during an interview Saturday at her headquarters. In 2008, he played the same role for caucuses-winner Huckabee. "It's been a very volatile cycle," he said.
"I don't think this cycle any coalition has really coalesced around anybody," he said. There's been nothing like the unified home-school coalition that helped Huckabee to the win. Steve Deace, the conservative Iowa radio host who also backed Huckabee, this time has chosen Newt Gingrich, while the Family Leader's Bob Vander Plaats has endorsed Santorum.
The combination of the proliferation of media and the diminishment of the ground campaign means that the campaign has been much more mediated for Iowa voters than in past cycles. And that's led to some resentments, as voters used to being agenda-setters for the nation have been reduced to watching cable-TV debates like everyone else in America, and seeing those debates have a powerful impact on the fortunes of candidates whom they have not had a chance to meet, or -- worse -- whom they favor. "It's hard when certain candidates get all the attention," said undecided voter Miguel Chavez, 43, of Rhinebeck, Ia., after a town hall with Santorum in Marshalltown. Complained Lenny Scaletta, the Pottawatomie County chair for Bachmann and founder of the Council Bluffs Tea Party, while volunteering Saturday at the congresswoman's office: "The news media is picking these presidents."
For a time people thought that the ability of candidates like Herman Cain to rise based on the strength of broadcast and webcast answers to questions posed by members of the press in televised debates meant everything would be different this cycle, that the laws of campaigning had been changed. But those polling boomlets turned out to be as ephemeral as tech bubbles; the laws of political gravity were not actually repealed.
"If you look at the end here, the three candidates who seem to be positioned to do well -- Paul, Romney and Santorum -- what all three have in common is they've spent a lot of time in Iowa," observed Brian Kennedy, Romney's Iowa Chairman, at a Monday rally in Dubuque. "I mean Mitt Romney and Ron Paul ran four years ago and have continued to come to the state. Rick Santorum has made Iowa his one and only priority. And that's paid off for them. I think it once again reaffirms you can't do Iowa from long distance."
While Santorum did the most campaigning in the state in 2011, Paul and Romney both spent a great deal of time there last cycle. As the Quad-City Times noted in endorsing him, "Even with his limited 2011 caucus campaigning, Romney's 2007 through 2011 Iowa visits top every candidate in the current field."
Or as Santorum himself put it in Marshalltown: "You can't buy Iowa. You've got to earn it."
Image credit: Garance Franke-Ruta