Who Is Sheldon Adelson, the Gingrich Super PAC's Billionaire Backer?
The casino magnate is reshaping the 2012 presidential race, just as he did the landscapes of Las Vegas and Macau.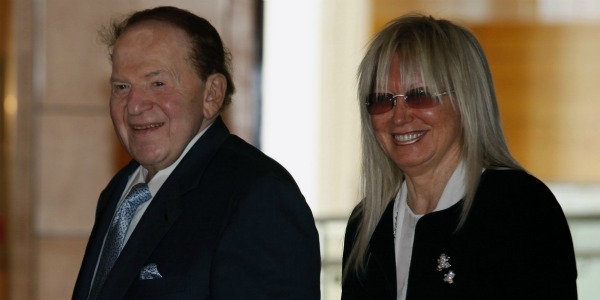 The shadowy billionaire bankrolling Newt Gingrich's super PAC is a Las Vegas casino magnate who's given tens of millions to Republican and pro-Israel causes over the years -- and now, to boosting Gingrich. Sands Corp. CEO Sheldon Adelson and his wife, Miriam, have each given the Winning Our Future super PAC $5 million to date, and the PAC has committed to spend $6 million on television advertising in Florida. He's also a pugnacious pioneer in the world of gaming and tourism who's changed the face of Las Vegas and Macau alike, a aggressive operator who once lost more than $20 billion in a single year and boasted of getting former Republican House leader Tom DeLay to do his bidding.
Adelson, 78, is a man of many facets, with a long and colorful history in business and right-wing politics. Here are 10 things you might not know about the man whose money has helped change the course of the GOP presidential race.
1. He's a self-made man. The son of Eastern European Jewish immigrants, Adelson, by his own account, grew up in a one-room tenement in the Dorchester neighborhood of Boston and never graduated college. He showed his entrepreneurial streak early on, selling newspapers starting at 12 and running an operation that stocked candy-vending machines when he was 16. After serving in the Army, he and a brother went into business together, selling toiletries to hotels and vending a car de-icing spray. Adelson (pronounced "add-ul-son") cycled through various ventures before starting, with partners, the COMDEX electronics trade show -- the enterprise that would be the seed of his now-vast fortune. At its height, the show drew 200,000 attendees, but after Adelson's group sold it in 1995, the exposition declined and eventually closed in 2003.
2. He made Las Vegas a convention destination. When Adelson brought COMDEX to Vegas, the gambling mecca was generally hostile to the convention business, but Adelson had a vision of conventioneers filling hotel rooms and spending disposable income on the casino floor. To house COMDEX, he purchased the Sands Hotel -- the decrepit former home of the Rat Pack -- and built a massive convention center next to it, then aggressively marketed it as a destination for other conventions. Today, the convention business is a cornerstone of the Las Vegas economy. Adelson expanded his empire with two high-end hotel-casino-resorts, the Venetian (1999) -- complete with gondoliers ferrying tourists down fake canals -- and the Palazzo, which opened in 2007.
3. He's a union-buster. Some of Adelson's bitterest political battles have been fought in his adopted home state against the forces of organized labor, which has a strong foothold in the casino industry. The Venetian opened in 1999 as the only non-union casino on the Strip and has been the target of protest from the hotel workers union, Culinary 226, ever since. Many Democratic politicians in the state continue to observe the union's boycott of Adelson's properties. Rep. Shelley Berkley, a Nevada Democrat now running for Senate in what's likely to be one of 2012's highest-profile races, was once Adelson's top political lieutenant, but the two parted ways over labor issues. Adelson and Berkley have regarded each other as mortal enemies ever since -- even though Berkley, like Adelson, is a hawkish, socially liberal Jew.
4. He spent $30 million on the 2008 election. It didn't work out so well. Adelson poured the money into Freedom's Watch, a "527" independent-expenditure group that was active in congressional races, airing ads across the country that emphasized national security. (It also ran ads targeting Berkley, though her safe Democratic seat was not remotely competitive.) The group's help failed to avert the Republican landslide that November, and it was further hampered by staff infighting; insiders accused Adelson, its nearly sole donor, of micromanaging the organization's activities. It closed shortly after the 2008 general election. Notably, a top official at Freedom's Watch, Carl Forti, is now a chief strategist for Restore Our Future, Mitt Romney's super PAC -- putting him in direct opposition to Adelson's pro-Gingrich super-PAC.
5. He's a Zionist/neocon/right-wing Israel hawk. Much of Adelson's political activity is devoted to boosting the right-wing Israeli line, both in Israel and the U.S. He donated a posh new headquarters to AIPAC, the Israel lobby in Washington, though he reportedly feuded with the organization over activities he saw as unduly pro-Palestinian. He has given $25 million to Yad Vashem, the Israeli Holocaust memorial organization, and $100 million to Birthright, the organization that takes young American Jews on free trips to Israel to bolster their loyalty to the Jewish state. Adelson opposes a two-state solution or any accommodation of Palestinians. When Gingrich recently stirred controversy by referring to the Palestinians as "an invented people," Adelson praised the remark to a Birthright group, according to the Israeli newspaper Haaretz. In Israel, Adelson started a free daily newspaper known for its relentless drumbeat of support for Prime Minister Benjamin Netanyahu and other right-wing politicians. The paper, Israel Hayom, has been called "the Fox News of Israel." Adelson's millions of dollars in contributions have purchased access to the highest reaches of the GOP -- during the Bush administration, for example, he hosted both President Bush and Vice President Cheney in his home -- and he has used it principally to push for a hard line on Israel.
6. He's a social liberal. In 2008, Adelson told the Las Vegas Weekly, "I'm socially very liberal. Too liberal." His political activities have never targeted cultural issues, and his hotels market to gay customers. Adelson supported Rudy Giuliani in the 2008 GOP presidential primaries, and his political philosophy is perhaps best understood as Giuliani-style conservatism -- liberal on social issues and preoccupied almost exclusively with a hawkish, pro-Israel, anti-radical-Islam national-security stance, plus opposition to unions.
7. He's big in China. Adelson is credited with revolutionizing the American gaming industry by opening the Chinese port of Macau to the business. In 2002, he secured a gaming license in the seedy former Portuguese colony, and in 2004 he opened the opulent Sands Macau -- the first non-Chinese concession in the territory. The investment would power Sands Corp.'s public offering and turn Adelson from a multimillionaire into a billionaire practically overnight. He now operates three casinos there (one is on the so-called Cotai Strip, a former bay Adelson had filled to turn it into land) and has another in the works. But not everyone has been pleased with Adelson's Chinese success. A former Chinese business partner has successfully sued in Nevada court, claiming Adelson failed to pay him as promised, and the FBI and SEC continue to investigate charges he attempted to bribe Chinese officials, which the company denies. Adelson also once bragged to Chinese officials of using his clout to help the country secure the 2008 Olympics by getting his friend Tom DeLay to kill a human-rights bill in the House. DeLay denied it, saying the bill was withdrawn for reasons that had nothing to do with Adelson.
8. He's made -- and lost -- a massive fortune. By 2008, Adelson's Macau windfall had pushed his net worth to $27 billion -- making him the third richest man in America, according to Forbes. But the financial crisis that year devastated the gaming industry. The stock lost 95 percent of its value, and Adelson lost $24 billion in the space of a few months, dropping to #178 on the Forbes list. Sands teetered on the edge of bankruptcy. To save it, Adelson pumped a billion dollars into the company. Today, the company hasn't made a full recovery, but it's come back substantially. Adelson's wealth was last clocked at $22 billion -- eighth on the Forbes roster.
9. He really, really likes Newt. How the Adelson-Gingrich relationship came about is murky. Adelson recalls meeting Gingrich on Capitol Hill while lobbying on Israel issues in 1995, though a Gingrich operative in Nevada told The New York Times recently that he'd introduced the two to talk about union issues in the late 1990s. However the men met, it's not clear why Gingrich has such a singular hold on the political imagination of Adelson, who has met plenty of politicians. What is clear is that Adelson's support has been generous. Before Gingrich embarked on his current presidential run, Adelson had given $7.7 million to Gingrich's various enterprises. A source close to Adelson said it's a well Gingrich's boosters can keep going back to: "He's willing to do more, depending on how Florida goes." The super PAC is not particularly diversified, the source noted: "There's really no one else bankrolling Winning Our Future." (Rick Tyler, the super PAC's senior adviser, declined to comment on Adelson's involvement.)
10. His wife is a doctor. Adelson married Miriam Ochshorn, his second wife, in 1991. They have two school-age sons together. An Israeli-born physician some years Adelson's junior with signature platinum-blond hair, she specializes in addiction treatment. Her influence has led the couple to start drug-treatment centers in Las Vegas and Tel Aviv. It's an issue that has affected the family directly: a son from Sheldon Adelson's first marriage died of a drug overdose. And in court testimony in 2008, Adelson testified that he was hobbled by painkillers, including methadone, that he took for a neurological condition for much of 2001, a state he characterized as "a little cuckoo."
Image credit: Bobby Yip / Reuters