When Newt Gingrich Wanted to Execute Non-Violent Pot Smugglers
A bill the former speaker introduced in 1996 raises serious questions about his moral compass -- and his fitness for the presidency.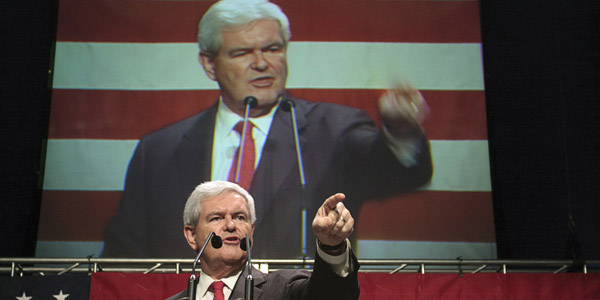 Before Newt Gingrich left Congress, he sponsored a piece of legislation that ought to haunt him to this day: the Drug Importer Death Penalty Act of 1996. Had it passed, anyone convicted of bringing drugs into the United States above a modest threshold -- more than two ounces of marijuana, for example -- would have automatically been imprisoned for life. Repeat offenders would be executed. Unearthing this bit of House history, Ezra Klein of The Washington Post writes:
What makes the bill even more amazing is that Gingrich himself is a confessed pot smoker. When he was young, he said, experimenting with drugs "was a sign we were alive and in graduate school in that era."

More noteworthy still is what actually sponsoring a bill like this says about Gingrich's moral compass. For him, exercising the most extreme, irreversible. and morally fraught power that the state possesses -- the power to kill someone -- is appropriate as a punishment for a nonviolent crime.
This insufficient regard for the sanctity of human life and willingness to pander with the death penalty is problematic enough when exhibited by a powerful legislator. Electing a president with that mindset is terrifying, especially now that President Obama has recklessly set the precedent for secret extrajudicial kill orders to be issue by the executive branch. Though Gingrich still insists the War on Drugs should be fought more aggressively, it is admittedly unlikely that drug smugglers would be executed by the federal government were he elected. At the same time, it's extraordinary likely that he'll make judgment calls about officially sanctioned killings and appropriate punishments for transgressions against the law. Do Republicans really want to trust those decisions to a man who once tried to apply the death penalty to marijuana smugglers?


Image credit: Reuters