What to Expect from the Back-to-Back Republican Debates
Mitt Romney and his many challengers face off twice in New Hampshire in debates 10 hours apart.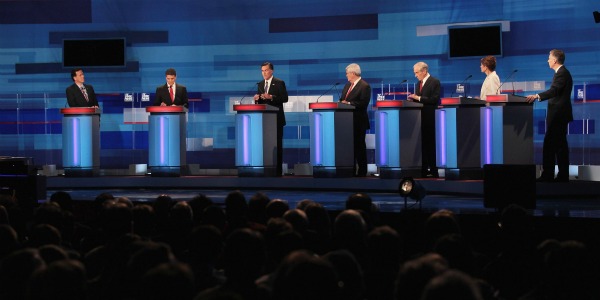 MANCHESTER, N.H. -- Mitt Romney has won Iowa (or just about). He is about to win New Hampshire, and he leads in South Carolina. There's only one real question for the two debates about to take place here in quick succession Saturday night and Sunday morning: Can anybody stop this train?
Debate No. 1, sponsored by ABC News and Yahoo!, begins tonight at 9 p.m. at Manchester's Saint Anselm College. Just nine hours after it concludes, at 9 a.m., Debate No. 2, sponsored by NBC News and Facebook, gets under way just up the road in Concord. With Michele Bachmann gone from the stage, here are some of the questions we'll be looking to answer over the course of the coming three hours of petty sniping, er, reasoned dialogue -- the first time the candidates have gathered to debate since Dec. 15 in Sioux City, Iowa.
1. How determined is Newt Gingrich?
Even before his fourth-place finish in Iowa, Gingrich's seething anger was starting to show at what he termed his "Romney-boating," the dramatic slide in the polls he blamed on a barrage of negative ads. But his unseemly bitterness burst to the fore in his caucus-night speech in New Hampshire, in which he lashed out at his shabby treatment, refusing to congratulate Romney. In the days since, he has continued to rumble with thinly suppressed rage; he is now widely considered to be less presidential candidate than heat-seeking missile, locked on a single target. In the
words
of columnist Charles Krauthammer: "Ahab is loose in New Hampshire, stalking his great white Mitt."
2. Will Rick Santorum shine or stumble? Since surging late to a tie in Iowa, Santorum has done both. First, he gave a terrific caucus-night speech that served to introduce him to a curious national public as a serious contender. Then he went to New Hampshire, where he's seemingly been on the defensive ever since. Faced with hostile questions, shouted down and booed for his social conservatism, Santorum is not having an easy go of the Granite State, where he was hoping to prove he could be more than the Mike Huckabee of 2012 but instead is demonstrating why he may be a one-state wonder.
3. Does Jon Huntsman make his stand? He has taken up residence in New Hampshire, meeting voters at more than 160 events. He's trying to elevate himself from among the muddle of also-rans by taking moderate and independent support away from both first-place Romney and second-place Ron Paul. In all the debates to date, it's hard to think of a single dramatic moment that centered around Huntsman. If he wants to break out in his make-or-break state, now would be the time.
4. Whither Ron Paul? In the last debate in Sioux City, Paul got banged up, drawn out on his isolationist views by the moderators and Michele Bachmann in exchanges that probably helped to dissipate the soft supporters he'd tried so hard to add to his ardent base in Iowa. In New Hampshire, he's once again clinging to second place -- and a ripe target for rivals looking for an easy contrast.
5. Can Rick Perry justify his existence? On Iowa caucus night, after coming in fifth, he sounded like he was dropping out, only to surprise even his own staff by announcing in the morning he was back in the saddle. He has skipped New Hampshire to make his last stand in South Carolina, where he risks becoming a complete non-factor unless he can grab a little attention -- hopefully not the negative kind he's so often garnered for his debate performances.
6. Is Mitt Romney starting to feel like the nominee? He has mostly fended off his rivals' attacks over the course of this campaign, but has never managed to seem emotionally, rather than just mathematically, inevitable for the nomination. It may be foolish to expect anything new from a man who has been campaigning for the presidency for nearly six years. But Republicans are still waiting for the Mitt Romney they can fall in love with.
Image credit: Getty Images/Scott Olson