The Unsinkable Newt Gingrich
Left for dead time and again, the former speaker tries for another improbable comeback in South Carolina.
Left for dead time and again, the former speaker tries for another improbable comeback in South Carolina.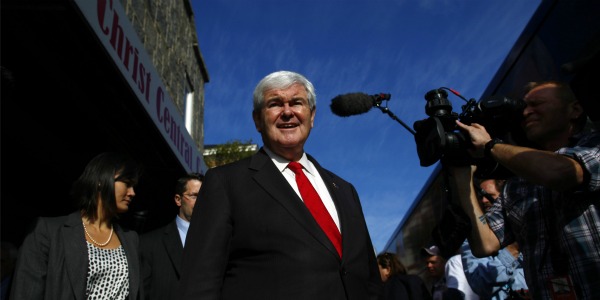 EASLEY, S.C. -- You just can't keep Newt Gingrich down.
Somehow, despite coming in fourth in both Iowa and New Hampshire, Gingrich is once again in contention, closing in on Mitt Romney in the final days before Saturday's primary in South Carolina, which is likely the last chance to block Romney from rolling to the nomination.
It is a development simultaneously easy and impossible to explain: He just refuses to die.
Every time Gingrich is left for dead, he sulks for a while, and then he blazes forward. Ousted as House speaker, he remade himself as the GOP's intellectual-in-residence (not to mention well-remunerated unregistered Beltway lobbyist). Abandoned by his staff shortly after the disastrous start of his campaign, he soldiered on and rose to the top just weeks before the Iowa caucuses. Brought low by a thorough shelling from his opponents, he declined to bow out in the wake of his early losses. And now, here he is again -- though his resurgence was threatened Tuesday night with the news that ABC plans to air a potentially very damaging interview with his second ex-wife, Marianne Gingrich, on Thursday night.
It is the great irony of Gingrich's political life that despite his reputation as a man of vision, he owes most of his success not to grand plans but to sheer force of personality. And if there is one thing Romney conspicuously lacks, it is force of personality. (Rick Santorum and Ron Paul are not exactly overflowing with it, either.)
"I think one of the great weaknesses that Republicans have is that they're boring," he mused here Wednesday, addressing a jam-packed crowd of several hundred at a barbecue joint outside Greenville, proceeding to a critique of his party's communications strategy on entitlement reform.
"They're boring! They don't know how to communicate!" he said. What about Reagan? somebody asked. "Reagan was an FDR Democrat and a movie star. He wasn't a normal Republican," Gingrich lectured. "I'm a student of Reagan. I'm not a normal Republican. This is part of why the Washington establishment doesn't like me. I think being interesting beats being boring. I think communicating beats hiding."
Peevish, pedantic, grandiose -- Gingrich is all of these things, and you don't have to spend much time around him to start rolling your eyes. ("I really am a bold change agent," he reflected, pensively, at one point.) But he's also a tremendous amount of fun, especially if he's on your side. His audacity is breathtaking, his imagination infectious, his humor as vicious as it is delectable.
Gingrich projects the promise of a total victory for the conservative argument in the war of ideas: "I believe we can go into every neighborhood in America, in every background, and say to people, 'Would you rather your children had dependence, with food stamps from the government? Or independence, with a payckeck from a job? And I believe we will win that argument everywhere, and I think we can set up a campaign this fall of extraordinary proportions by bringing the country together."
So, fine, Gingrich is a blowhard. But he's a very good blowhard.
Gingrich's latest resurgence is being attributed to his glorious debate performance Monday night, in which he excoriated African-American moderator Juan Williams for a question about racial sensitivities, to the delight of the Republican crowd in the debate hall and, judging from the commentariat, around the nation as well.
But he was doing surprisingly well here even before that, clocking in at a solid second to Romney and a healthy 10 points ahead of the third-place tie of Rick Santorum and Ron Paul. It was as if the state of South Carolina collectively went on vacation a month ago, when Gingrich was last flying high as national frontrunner, and is only now tuning back in.
Gingrich remains a healthy margin -- 10 points or so -- behind Romney in the latest reliable public polling. Whatever positive momentum he's currently enjoying could well be squelched by the reams of attack ads now on the airwaves in South Carolina, another debate Thursday in which he'll likely be a target, and the blockbuster interview with his Marianne Gingrich, which stands to bring the issue of his messy personal life back to the fore.
Gingrich makes no bones about the stakes here: If he wins South Carolina, his campaign can continue; if not, it is probably over. No phony expectations-lowering for him, no lame attempt to pretend that anything better than fourth would be a glimmer of hope. "If I win the primary Saturday, I will be the nominee," he said Tuesday, according to Politico. "If I don't win the primary on Saturday, we will probably nominate a moderate and he will lose to Obama."
In Easley, he repeated a version of that line, warning the crowd that "without saying anything negative about Rick Perry or Rick Santorum, the fact is, as you look at the polls... there is one candidate that can stop Mitt Romney. A vote for anyone else is a vote that allows Mitt Romney to potentially be our nominee."
Gingrich-watchers often talk about a "good Newt" and a "bad Newt" -- the one seduces, the other betrays. Romney's camp, exasperatedly looking to quell another flare-up of the former, was seeking to remind partisans of the latter on Wednesday, dispatching a parade of one-time Newt victims who survived to tell the gruesome tale.
Former senator and representative Jim Talent of Missouri and former Rep. Susan Molinari of New York addressed reporters in a Wednesday morning conference call to this effect.
"It was leadership by chaos," Molinari said of Gingrich's time as the boss of the House, sounding still traumatized.
"It's why we removed him as speaker -- he had become the issue," Talent said.
Don't look now, but it has happened again: Newt Gingrich has become the issue. Whatever it is, it's not boring.
Image credit: Eric Thayer / Reuters