The Real Winner in Iowa? No One Will Ever Know
Although the new tally puts Rick Santorum ahead of Mitt Romney by 34 votes, some results are missing and officials call it 'a split decision.'
Although the new tally puts Rick Santorum ahead of Mitt Romney by 34 votes, some results are missing and officials call it 'a split decision.'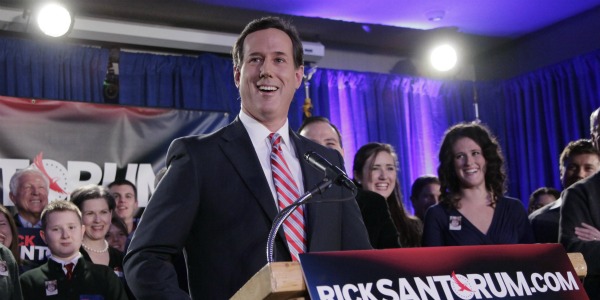 Roll out that asterisk for the history books: it seems that maybe Mitt Romney will not go down as the first non-incumbent Republican to win both Iowa and New Hampshire. According to data provided to the Des Moines Register Thursday morning, the final vote count in the state's Jan. 3 caucus puts Rick Santorum ahead of Romney by 34 votes. That's a razor-thin margin, but still wider than the eight-vote lead Romney was credited with initially.
But there's a catch. Results from eight precincts are missing, and -- according to state GOP officials -- will never be certified. Essential paperwork, known as "Form Es," from those eight caucuses were apparently not provided. Others were flawed as well. As a result, officials can't say for sure who garnered the support of more caucus-goers. "It's a split decision," said Chad Olsen, executive director of the Iowa Republican Party.
In the short-run, the news is not likely to affect the Republican race significantly. On average, Santorum trails Romney by an average 20-point margin in polls ahead of the South Carolina primary on Saturday, in which the former Massachusetts governor is expected to all but sew up the nomination. While Santorum will probably make the Iowa news a staple on the stump, such a technical decision, coming in a contest whose importance is largely a creation of Iowa and media mythmaking, probably won't change the minds of enough South Carolinians to carry him to victory.
Longer term, critics who say Iowa's caucus system is arcane and outdated, or who complain that the state receives undue importance in the presidential nominating process, will have new ammunition (could "Form E" be the "hanging chad" of 2012?). However, a few election analysts quoted by the Register insisted the incident should't reflect poorly on the state.
For more read the entire Des Moines Register report.
Image: John Gress / Reuters