The Real Reason Why Romney Is Up in Florida
Does the candidate's new aggressiveness account for his turnaround in the Sunshine State? Or was it his ads flooding the airwaves?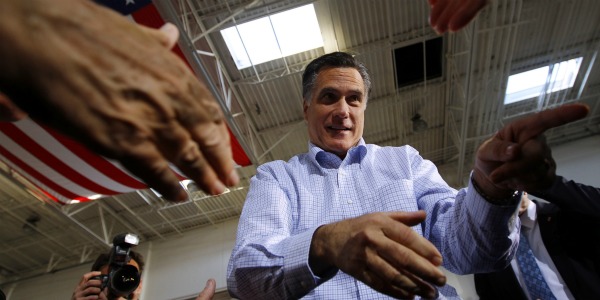 Mitt Romney
came alive
in last week's debates, while Newt Gingrich
slumped
. Romney has adopted a far more aggressive tone on the stump in Florida. Now, Romney is pulling away from Gingrich in the polls and seems all but assured of victory on Tuesday.
But should the candidate really get the credit here? A rival campaign source sends along this breakdown of the TV ad spending:
Gingrich campaign: $1,157,731

Winning Our Future (Gingrich super PAC): $2,232,074

Total pro-Gingrich: $3,389,805




Romney campaign: $6,933,904

Restore Our Future (Romney super PAC): $8,455,383

Total pro-Romney: $15,389,287
These ads are likely reaching, and affecting, a lot more Floridians than the debates did, and their messages are far more pointed -- both Romney entities' ads are overwhelmingly Gingrich-bashing. A similarly lopsided air attack in Iowa had a similar effect on Gingrich back in December, when the New Mitt had not yet emerged in debates.
Democrats are likely to seize on this discrepancy as proof that Romney has not suddenly blossomed into a compelling candidate. It's also long been a Gingrich talking point to urge voters not to let Romney "buy this thing." But if Gingrich wants to make complaining about Romney's cash advantage and ad dominance a centerpiece of his pitch, we saw how well that worked in Iowa and New Hampshire.
Besides, if you buy the argument that the ads did most of the work, a Romney victory in Florida would still prove that even without the candidate suddenly sprouting wings of charisma, he's capable of executing a brutally effective campaign.
Image credit: Brian Snyder / Reuters