The Power of Momentum: Gingrich Wins South Carolina
The former House speaker's upset victory confounded historical precedent and scrambled the formerly sedate race for the nomination.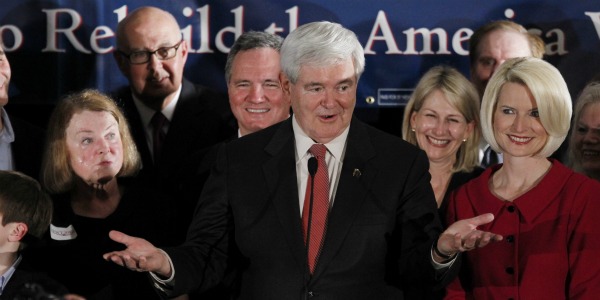 COLUMBIA, S.C. -- Newt Gingrich accepted
his stunning victory
here in a sweaty, packed hotel ballroom at 9:30 p.m. For a Republican crowd, it was diverse: bikers in do-rags, guys in plaid shirts, women in dresses, women in jeans, men in suits. As they waited for the night's conquering hero, the DJ played a loud mix of vintage party anthems, from "Pump Up the Jam" to "Paradise City." Gingrich's state co-chairman, former federal judge Billy Wilkins, told the crowd, "Make no mistake about it: This was a land. Slide. Victory. The political version of a tsunami."
With almost all the votes counted, Gingrich captured more than 40 percent of the vote, with Romney garnering 28 percent and Rick Santorum and Ron Paul getting 17 and 13 percent, respectively. Some thoughts as this wild ride of a campaign proceeds to Florida:
* How the mighty have fallen. Mitt Romney has been humbled. He actually managed to lose two primaries in 24 hours, thanks to the Iowa GOP officially awarding that state to Rick Santorum late Friday night. What looked like a rolling coronation after New Hampshire is now dicey and uncertain for everyone involved.
* Gingrich still has to prove he's for real. Despite Romney's fall, most watchers still have a hard time imagining he won't win in the end, thanks to his money and organization advantages, his relative consistency, and his campaign's relentless crusade to tear Gingrich down, which will only intensify now.
* Marianne didn't matter.
Despite the furor over Gingrich's ex-wife's television interview Thursday night, his win hinged on support from evangelical and born-again Christians, who made up 65 percent of voters,
according to exit polls
; Gingrich won their votes by a 23-point margin. Among the other 35 percent, Romney won by 5 points. Another things that didn't matter, according to the exits: S.C. Gov. Nikki Haley's endorsement of Romney (Gingrich won both those who did and didn't approve of her performance). What might have mattered: the attacks on Romney's business record. Romney won among the 64 percent of voters who viewed his private-equity work favorably, but got killed among the 28 percent who viewed it negatively -- just 3 percent of them voted for him, a stunning illustration of the potential potency of the anti-Bain line, even among Republicans, when it sticks. Another thing that mattered: debates, obviously. Sixty-five percent said they were an important factor in their vote.
* Shades of Bad Newt. It took Gingrich forever to finally reach the stage and speak Saturday night, and when he did, the speech he gave was long and unfocused. It was basically a rehash of his stump speech, without a consistent message or a clear theme to define his resurgent campaign going forward. Gingrich, who campaigned hard all day, also seemed a bit tired. A man of powerful moods, he'll need to keep his energy up to sustain his trajectory.
* This just got interesting again. For all Gingrich's antagonism toward the press, nobody was rooting harder for an upset. Reporters who thought this thing would be over by now suddenly have a much better story to cover -- and an excuse to travel to Florida!
* The race that threw history out the window. For the first time since South Carolina started holding the first-in-the-South Republican primary in 1980, it was won by a different candidate than either Iowa or New Hampshire. Every South Carolina winner thus far has gone on to win the nomination; the streak, which South Carolina pols are constantly boasting about, now rides on Gingrich's prospects.
* Nobody's going anywhere. Santorum managed not to finish last of the four active candidates, besting Ron Paul by 4 points. He gave an upbeat speech at the Citadel in Charleston and vowed to continue on. It's still a four-way race.
* Florida is already halfway over. Early and absentee voting are well under way in the Sunshine State, and Romney has been running TV ads there for weeks. That increases the challenge for an insurgent candidate. But if there's anything Gingrich has proven, it's that with momentum, anything is possible.
Image: Jason Reed / Reuters