Huntsman is rising, Romney is faltering, and there's a lot of uncertainty in the race for third in the front-runner's sure-thing state.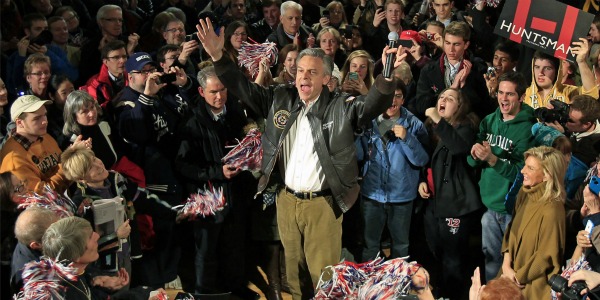 EXETER, N.H. -- As the New Hampshire primary dawns, no candidate has more riding on the outcome than Jon Huntsman, who stood under a hail of red-white-and-blue confetti among a fired-up crowd Monday night as if he had already won.
Meanwhile, a few miles down state route 101, Mitt Romney was tangling with a heckler after a day spent explaining what he really meant when he uttered the words "I like to be able to fire people."
The front-runner taking fire, the underdog getting new consideration and three other candidates tussling for position: these are the stakes in this relatively low-intensity New Hampshire primary. Though a blowout Romney win has been presumed for months, the intrigue lies in how the rest of the multi-car pileup shakes out.
Here, a series of snapshots of the candidates' roles in the second GOP nominating contest.
JON HUNTSMAN:
Over the months that he has spent traversing this state to the exclusion of others, Huntsman has met a lot of skeptical voters and one openly hostile goat. But at the final hour, he has won over the goat -- and the voters may be breaking his way, too. First, the goat, a 2-year-old named Izak who lives in Dover as the housepet of roommates Bill Higgins and Judy Hammond: He bit Huntsman when they first met, but appeared at his final rally here draped in a red Huntsman T-shirt. Humans, too, appear to be rallying to Huntsman, many inspired by his zinger in Sunday morning's debate, when he responded to criticism of his service as President Obama's ambassador to China by saying, "I have always put my country first."
Huntsman's rally in the Exeter town hall was packed with a roaring, youthful crowd -- the least sedate audience this side of a Ron Paul event. The stagecraft would not have been out of place at a nominating convention -- bunting-draped balconies, pom-poms, signs reading "Country First," the bomber-jacketed candidate and his wife on a platform in the middle of the crowd rather than up on a stage. And confetti cannons, which fired as Huntsman finished his revved-up speech. "This divide stuff -- no more!" he said. "We're coming together as Americans to start solving our problems."
How well does he need to do? Huntsman's camp says they've already bought plane tickets for South Carolina. But unless he comes in a close third, going on will be tough to justify. Surging into second place and beating Ron Paul would truly make him a contender -- and, with his centrist pitch, a problem for Romney to contend with.
What are people saying? "I voted for Obama, but I don't see him as a voice to bring people together anymore," said Andy Gould, 49, a lawyer in Bedford who is registered independent. "We need somebody who can unclog the gridlock and bring the parties together. I've been between Huntsman and Romney, and now that he's coming up in the polls I'm probably for Huntsman."
MITT ROMNEY:
For Romney not to win New Hampshire is virtually unthinkable. The former governor of a neighboring state who keeps a summer home on New Hampshire's Lake Winnipesaukee, Romney has always been strong in this state, which he narrowly lost to John McCain with 32 percent of the vote in 2008. But Romney, who eked out a win in Iowa last week, has not exactly ridden into New Hampshire on waves of glory. Instead, he faces crowds of not-exactly-rapturous supporters, increasingly harsh criticism from his increasingly desperate rivals, and his own persistent tendency to seem utterly unacquainted with the struggles of average Americans. Romney has been on defense for days: against Newt Gingrich's piercing charge that his political outsider mantle was "pious baloney"; against a Gingrich-supporting super PAC's depiction of him as a corporate raider; and his ill-worded statement about liking to be able to "fire people," when what he meant was "shop for services such as health care in a competitive marketplace."
Huntsman strategist John Weaver cracked: "I haven't seen a front-runner since Ed Muskie have a worse 72 hours." That's probably overstating it, but the sense that Romney is losing ground is palpable in both late polls that show a slide and the vibe on the ground.
How well does he need to do? His rivals have tried to set Romney's expectations as high as 40 percent. If he wins but comes in under 30, or less than 10 points ahead of the next guy, Romney is in trouble.
What are people saying? "Previously, I had my mind made up for Mitt on electability, so I didn't pay attention," said Ashlyn Lembree, 41, of Nashua, who was leaning Huntsman or Gingrich but hadn't made up her mind Monday. "Now I'm having cold feet and have to cram. Huntsman has a depth of knowledge, and his international perspective would serve us well."
RON PAUL:
Like Romney, Paul's position here has been solid for a while, seemingly locked in second place with between 15 and 20 percent of the vote. His story in New Hampshire, where he has a natural appeal to the "Live Free or Die" state's libertarian streak, is similar to what propelled him in Iowa: throngs of young, passionate followers come to his events and devote their lives to his campaign, while a well-funded, professional campaign apparatus airs a huge volume of well-produced television ads and works to identify and turn out supporters. But in Iowa, Paul faded to third place at the end, a disappointing showing. If that happens again, Paul, always an extreme long shot to win the nomination, will begin to lose his hard-won relevance.
How well does he need to do? If Paul can't hold on to second place, he will have underperformed for the second contest in a row.
What are people saying? "Do you think Newt Gingrich is electable? Mitt Romney? They flip-flop on issues. You can't get a straight answer out of them," said Susan Landers, a 29-year-old Paul volunteer from Florida who has taken to attending other candidates' events to try to find prospective converts. "I try to start healthy conversations with people and get them to do their own research on the backgrounds of the candidates."
NEWT GINGRICH:
Gingrich blazed into New Hampshire on a wave of resentment toward his ill treatment at Romney's hands. But his Granite State tour has lacked intensity. He's not ablaze with indignation or much of anything else. At a town hall Monday in Manchester, he gave a sedate, professorial lecture positioning himself as an ally and heir to Ronald Reagan. "I've been very consistent" as a "Reagan conservative," he argued. "Governor Romney is in fact a legitimate and authentic Massachusetts moderate." The only way to defeat Obama, he said, is by presenting voters with a clear choice, not with a candidate whose views are similar.
Over the course of the weekend's two debates, Gingrich had the best line -- "pious baloney" -- but didn't dominate the debates as he often has in the past. Meanwhile, the man who acted so aggrieved at his super PAC victimization now has his own super PAC purchasing millions of dollars of South Carolina airtime to show snippets of a film that puts Romney's business career under an unflattering lens. Gingrich said Monday it was fair because it was "factual" and defended the attack against blowback from some on the right who see it as anti-capitalist. "I am totally in favor of capitalism. I'm for free markets," he said. "But is capitalism really about the ability of a handful of rich people to manipulate the lives of thousands of people?"
How well does he need to do? Expectations are low, and muddled, for Gingrich. The super PAC action and his strength in the state have already propelled him into South Carolina. Still, his position relative to Rick Santorum could be telling of how much gas is left in the tank.
What are people saying? "I like the way Gingrich answers questions. He doesn't dance around the issues. He's very blunt," said Jerry Dee, 59, of Hampton. "What you see with him is probably what we'll get if and when he becomes president."
RICK SANTORUM:
Riding high off his Iowa upset, Santorum was in for a tough wake-up call in New Hampshire, where voters seemed to go out of their way to make him feel unwelcome for his social conservatism. Santorum has been mobbed at his campaign stops, but the curiosity hasn't translated into support. He's also shown a lack of discipline with his long-running events and not-so-concise answers. On Monday, he took shouted questions from a pack of press outside a diner in Derry, defending his decision to campaign in New Hampshire as a matter of staying in the public eye. "We decided to come here because you guys are here," he said, meaning the media. "It's an opportunity to keep our message out there, not just in New Hampshire but around the country." At the same time, he said he'd be "ecstatic" with a second-place finish. "It's like, are you kidding me? Oh my goodness. ... I'm not sure that's possible." In the background, protesters on the sidewalk could be heard: "Ron Paul doesn't hate gays!"
Santorum walked through to shake hands with diners. Emerging through the back door and heading to his campaign SUV, Santorum couldn't help himself -- he kept responding to questions, some of them hostile. "Put him in the car! Put him in the car!" an aide shouted. "Shut it! Shut it!"
How well does he need to do? The rough ride he's had here has refocused Santorum on South Carolina, but placing fourth or fifth, as most expect, will still be humbling after his Iowa success.
What are people saying? "I've been a strong Romney supporter for four years, but in the past week I've been thinking I'll support someone with a stronger conservative background," said Craig Falkenham, 49, of Derry. "Rick's message from Iowa is not going to resonate here because of the social issues, but I want to keep him around and see how he does in the other states."
RICK PERRY:
Perry went straight to South Carolina after Iowa, appearing in New Hampshire only for the two weekend debates. He's a non-factor here. But it will still be a little embarrassing if he finishes behind Buddy Roemer.
Image credit: Reuters/Adam Hunger