The Economy May Not Hurt Obama in November After All
Republicans had counted on running against a weakened president, but improving unemployment numbers could lift him to re-election instead.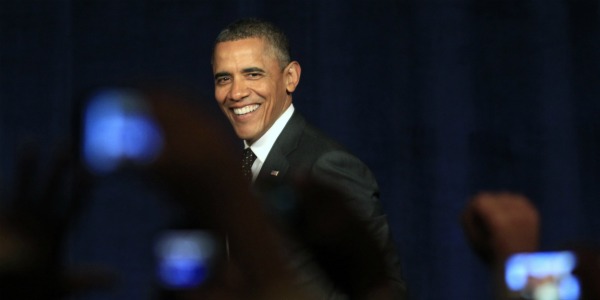 The Republican presidential race has turned out to be a series of tag-team matches. Different candidates mount challenges to Mitt Romney in different states. This may delay the inevitability of the former Massachusetts governor finally securing the nomination, but these challenges really don't affect the end of the game.
Romney's rivals will find it increasingly difficult to persuade past and prospective donors to write checks. Just as people need oxygen, campaigns need money to survive. After repeated losses, candidates will begin to find their cash flow choked off. Then, it's only a matter of time before they are forced out of the race. It isn't just that backers decide that a contender is a lost cause but also that donors know that persistent contributions to doomed candidacies have a way of aggravating the eventual nominee. Bankrolling the wrong candidate isolates backers from the new leader of the party -- rarely a good idea.
The Republican Party's establishment has been coalescing behind Romney ever since Newt Gingrich made his brief surge in December. The trend shows no signs of abating. One already hears the refrain that it is time for Republicans to start uniting behind Romney and begin to heal divisions in the party. Gingrich clearly has some scores to settle, however, and will continue to do so -- as long as his financial backers are willing. For Gingrich, it's personal. It's hard to say whether his contributors will pony up enough money to take his demolition effort past South Carolina and into Florida, a considerably more expensive state.
Although the presidential race is dominating the media this week, other events are worth watching: the recent spate of brighter economic news and lower unemployment numbers. These trends could change the trajectory of the general election. The latest Blue Chip Economic Indicators survey of 56 top economists forecasts an 8.7 percent unemployment rate for calendar year 2012 and an 8.5 rate for the fourth quarter, when Election Day occurs.
My rule of thumb has been that if unemployment is near 9 percent on Election Day, President Obama would very likely lose. If it's near 8 percent, he would likely win. But if it's around 8.5 percent, the race would be a toss-up. Worthy of note, the Blue Chip survey was conducted on January 4-5, before the Bureau of Labor Statistics released the December unemployment numbers that dropped to 8.5 percent from an upwardly revised 8.7 percent in November. This means that the jobless rate has inched downward four months in a row, from 9.1 percent in August to 8.5 percent in December.
To be sure, many economists question how much the employment picture is really brightening. For example, a January 6 report from McVean Trading & Investments points out that the 200,000 net growth in jobs in December included 42,000 in the category of couriers and messengers. The firm noted that in December 2010, the jobs report marked an increase of 46,000 jobs in that same category, followed by a 49,000 job loss in that group the following month.
Apparently, as the Bureau of Labor Statistics adjusts for seasonal job gains and losses in many categories at Christmas time, it hasn't yet taken into account the extra hiring for sorting centers. FedEx, UPS, and other delivery services use additional workers during the Christmas rush. McVean noted that taking 40,000 off the December job growth reduces net job creation to 158,000, about what economists had originally expected.
Moreover, even if the economy is starting to improve and private-sector job creation is offsetting continued declines in state and local government employment, the news is not all rosy. Most important, the specter of a likely recession in Europe, the world's single-largest market, threatens to undermine the U.S. economic picture.
Republicans had counted on running against a president with an economic millstone around his neck. It's too soon to tell how heavy that millstone will be. How much will its weight depress Obama's potential support level? A couple of months ago, it was a reasonably good assumption that the economy would be a massive liability for him. It still might -- but it might not.
The 10 most pessimistic economists in the Blue Chip Indicators survey think that unemployment will average about 9 percent this year. That would present Obama with a steep uphill climb. Conversely, the 10 most optimistic analysts predict an 8 percent unemployment rate for the year. If that comes to pass, Obama might as well break out the champagne.
The Blue Chip survey does not reveal the economists' quarterly predictions. But for the full year, among the most pessimistic are the economics units at Bank of America/Merrill Lynch (8.8 percent), Citigroup (8.8 percent), the Conference Board (8.9 percent), and Goldman Sachs (8.9 percent).
Obama's job-approval ratings on foreign-policy and national-security issues are his unexpected strong suit. At this point, the biggest variable in voters' decision about renewing his four-year contract is the economy's direction. Economists have sketched three potential paths: Blue Chip optimists pointing toward a road that very likely leads to an Obama victory; Blue Chip pessimists laying out a likely defeat; and a Blue Chip average outlining a race that is anybody's bet.
Image: Kevin Lamarque / Reuters