The Amazing Disappearing Mike Huckabee
The utter silence of the 2008 Iowa GOP caucus winner may be a crucial factor in Mitt Romney's emergence at the front of the pack there.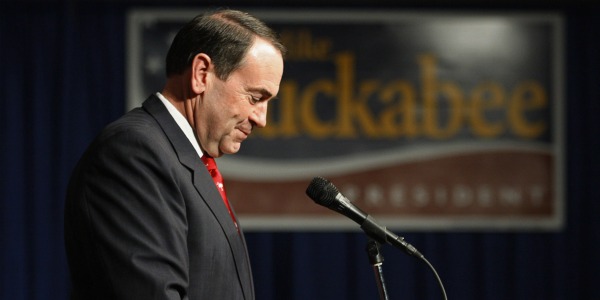 Think back a year ago to the beginning of 2011. Sarah Palin was still a dominant figure in national politics. Most people had never heard of Herman Cain. And Mike Huckabee looked like the man to beat in Iowa -- or, if he didn't run, the man who would coronate the Iowa winner.
With the caucuses drawing near, observers have puzzled over the vicissitudes of the Iowa season this year, from Michele Bachmann's utter collapse to Tea Party kingmaker Rep. Steve King's announcement that he won't endorse anyone. King's decision is a little surprising, as he's one of the most influential conservatives in the state, as well as being a good friend of Rep. Bachmann. Over at National Journal, Reid Wilson makes the case that his endorsement really wouldn't have much difference.
But Huckabee's stamp of approval really could have had an impact. Since he came from behind to trounce Romney in the 2008 GOP caucus, the former Arkansas governor has been a figurative (and sometimes literal) rock star in the state. Social conservatives are a crucial bloc in the Republican contest, and no one can challenge the bona fides of an ordained minister like Huckabee. Before he decided not to run this time around, it was widely speculated that he'd be able to win the state handily again, especially given the dormant but not dismantled machine he'd built during the previous cycle. Sources suggested that even if Huckabee didn't have the stomach for the marathon run of a presidential race, he might get in anyway to play spoiler for Mitt Romney. "[Huckabee] hates Mitt, and his goal in Iowa last time was to stop him. If he sees an opportunity to cut Mitt off [during the nominating process], he will take it," a Republican who knows both men told Politico in February.
In May, however, Huckabee announced on his Fox News show that he would not be a candidate, saying, "All the factors say go, but my heart says no." That still left him with the opportunity to influence the race through an endorsement of another candidate or impartial agenda-setting commentary. There were plenty of contenders vying for both the social-conservative mantle and the anti-Romney mantle: Bachmann, Newt Gingrich, Rick Santorum, Rick Perry, and Herman Cain prior to his exit. Still, Huckabee stayed quiet. Office politics were surely a factor: in passing up an electoral run, he was securing his anchor's chair on Fox News, and the network has recently worked to rein in its commentators, studiously avoiding choosing a channel champion. Huckabee seems to be allowed to endorse, though, as he said Tuesday that while he would back a candidate, it would probably be after the Florida primary (in practice, that's likely just a promise to endorse the GOP nominee, as Romney may have run away with the contest by then.)
In late December, Bob Vander Plaats -- the prominent social-conservative leader who engineered the Huckabee juggernaut in 2008 -- announced he was backing Santorum. Once again, there were crickets from Huckabee's corner.
At the time, Gingrich's surge hadn't petered out yet. But since then, Gingrich has faded and Romney's moment in Iowa has come. Polls now suggest he has a good chance at winning the state, despite barely campaigning there until December. Huckabee seems resigned to it: during a Christmas Day appearance on "Fox News Sunday," he calmly and mildly predicted a Romney victory. During that spot and again Tuesday morning, he complained about internecine warfare in the GOP field, but remained carefully out of the fray.
Huckabee, and not Steve King, is the dog that didn't bark in Iowa. Perhaps his animosity for Romney was overstated (although their relations in 2008 were frosty at best), or perhaps he decided that the former Massachusetts governor was so formidable as to make opposing him both futile and politically suicidal. But for whatever reason, he's passed up opportunity after opportunity to make his presence felt in the caucus and boost one of the many anti-Mitts. If Romney notches a victory tonight, he might want to send a thank-you note to Little Rock.
Image: Chris Keane / Reuters