Saul Alinsky: A True American Exceptionalist
Newt Gingrich has adopted the late organizer as a punching bag, but he and Alinsky share a view of America and reverence for the Founding Fathers.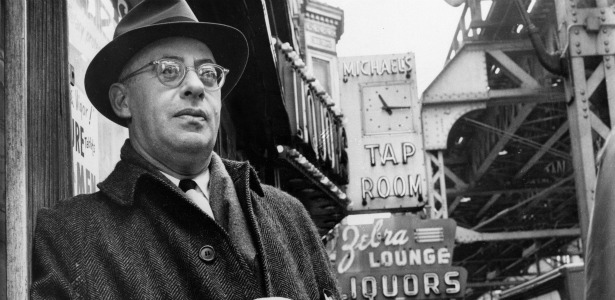 In his victory speech the night of the South Carolina primary, Newt Gingrich declared:
The centerpiece of this campaign, I believe, is American exceptionalism versus the radicalism of Saul Alinsky.... What we are going to argue is that American exceptionalism, the American Declaration of Independence, the American Constitution, the American Federalist papers, the Founding Fathers of America are the source from which we draw our understanding of America. [President Obama] draws his from Saul Alinsky, radical left-wingers, and people who don't like the classical America."
Gingrich's statement raises two questions. One, what is the "classical America" of the founding fathers, and two, who is Saul Alinsky?
As an historian, Gingrich should know better than to confuse compromise with consensus. There was little all-encompassing agreement among the Founding Fathers. Does Gingrich mean to stake his campaign on Alexander Hamilton's proposal of a life term for the president? James Madison's idea that the federal legislature should be able to veto state laws? Would he have preferred Benjamin Harrison's proposal that slaves should be counted as half a person for purposes of representation, or is he satisfied with the three-fifths compromise? Enough.
As to Saul Alinsky, the Chicago organizer who died when Barack Obama was a 10-year old boy in Hawaii, it is hard to figure out why Gingrich is so fixated on a man whose most notable achievement was organizing Chicago's Back of the Yards neighborhood in the 1930s to combat inhumane working conditions. You would think from Gingrich's allusions that Alinsky must have been a Marxist, maybe even a Communist. His biographer Sanford Horwitt is clear: Alinsky was neither. Or you can just read Alinsky himself -- has Gingrich? -- who wrote in his 1971 Rules for Radicals: A Pragmatic Primer for Realistic Radicals, "To protect the free, open, questing, and creative mind of man, as well as to allow for change, no ideology should be more specific than that of America's founding fathers: 'For the general welfare.'"
Indeed, one of the most striking things about Rules for Radicals is how engaged Alinsky is with the very people that Gingrich positions as his opposites. Alinsky opens his book with a quotation from Thomas Paine, and draws his examples, approvingly, from the lives of John Adams, Alexander Hamilton, Francis Marion, Samuel Adams, Thomas Jefferson, George Washington, and the Federalist Papers.
Here's a pop quiz. Below are four quotations. One is from Saul Alinsky, one from Newt Gingrich, one from Thomas Jefferson, and one from Thomas Paine. See if you can figure out which is which:
"Let them call me rebel, and welcome, I feel no concern from it; but I should suffer the misery of devils, were I to make a whore of my soul."
"[The] eternal search for those values of equality, justice, freedom, peace, a deep concern for the preciousness of human life, and all those rights and values propounded by Judeo-Christianity and the democratic political tradition.... This is my credo for which I live and, if need be, die."
"I am trying to effect a change so large that the people who would be hurt by the change...have a natural reaction.... I think because I'm so systematically purposeful about changing our world. [I am] much more intense, much more persistent, much more willing to take risks to get it done."
"I hope we shall crush... the aristocracy of our monied corporations which dare... to challenge our government to a trail of strength, and bid defiance to the laws of our country."
It's easy to cherry-pick quotations to serve your rhetorical point, but I am confident these lines represent the views of their authors: Paine, Alinsky, Gingrich, and Jefferson, respectively. Alinsky believed that people whose interests are not respected by government, who are maligned or discriminated against or taken advantage of, should organize to advocate for their interests. He fought against racism and for better working conditions. His politics were unequivocally left-wing, but he believed forcefully in democracy as "the best means toward achieving" the values he professed. And he believed democracy came with personal responsibility. Alinsky sounds downright Gingrichian when he criticizes "people who profess the democratic faith but yearn for the dark security of dependency where they can be spared the burden of decisions." For those people, "the fault lies not in the system but in themselves."
So why is Gingrich so fixated on Alinsky? Maybe Gingrich is playing a game familiar to all graduate students: throw out a name you're pretty confident few others have heard of in order to make yourself sound smart. If the name happens to sound Jewish and European, and therefore might raise the specter of a politics Alinsky himself wanted no part of, all the better. Gingrich has invented a straw man, an imagined un-American, and set him up against an imagined "classical" American past. None of that helps our political debate. As I have suggested elsewhere, bad history is worse than no history at all.
There may be reasons to criticize the real Saul Alinsky, but he belongs on the roll call of those who worked for, not against, a better America. Gingrich proclaims "American exceptionalism." If the flawed, contentious Founding Fathers agreed on anything, it was that power does not come by divine right but rather from self-government. What better way, then, is there to show your fidelity to that spirit than to work, as Alinsky did, to "form a more perfect union"?
Image: Associated Press