Santorum Has the 'Heart and Faith' Necessary for Imperialism
Britain lost the virtues required to maintain its empire, he said Monday, but America need not repeat its mistakes.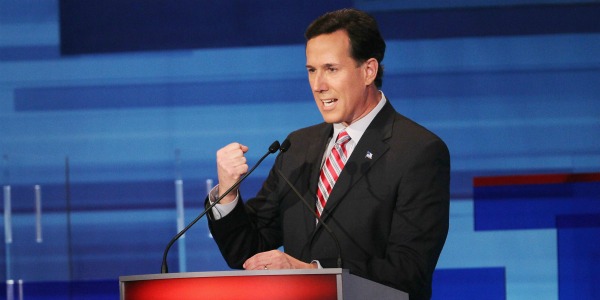 Despite sponsoring foreign-policy legislation while in the United States Senate and preparing to run for the presidency, Rick Santorum has embarrassed himself time and again during the GOP primary when making statements about the rest of the world. The most recent example is his cartoonishly simplistic understanding of the British Empire's decline from its 20th-century peak.
Here's what he told a crowd Monday in Iowa, as reported by The Huffington Post's Elise Foley:
"If you look at every European country that has had world domination, a world presence, from the French to the British -- 100 years ago, the sun didn't set on the British Empire," Santorum said at an appearance in Sioux City, Iowa. "If you look at that empire today -- why? Because they lost heart and faith in their heart in themselves and in their mission, who they were and what values they wanted to spread around the world. Not just for the betterment of the world, but safety and security and the benefit of their country." "We have taken up that cause," Santorum added. But now, he said, "We have a president who doesn't believe in America."
This proved too much for Daniel Larison:
Yes, it couldn't have had anything to do with two exhausting global conflicts that cost the lives of millions of British subjects, or the financial ruin of Britain that followed these conflicts. The British just "lost heart and faith in their heart in themselves and in their mission." Obviously, the only thing needed to maintain "world domination" is self-confidence and resolve.
The mockery is deserved, and piling on is necessary, for it's getting wearisome to take seriously someone who claims to venerate America's founding values, bristles at the notion that foreign occupations in places like Iraq and Afghanistan suggest an imperial mindset, and yet asserts that Great Britain failed the world when it stopped trying to rule a fifth of its inhabitants. One wonders how long he thinks the British should've asserted their will in India, Ireland, and its North African colonies, among other places, and why he thinks maintenance of these colonies always enhanced rather than detracted from the safety and prosperity of the home islands.
"Believing in America" should entail an embrace of the values on which it was founded: the idea that all humans are endowed with self-evident, inalienable rights to life, liberty, and the pursuit of happiness. But in Santorum's twisted formulation, belief in America requires an embrace of its military footprint in multiple foreign nations, something he apparently regards as our "cause." In other words, the problem isn't just that Santorum has a naive, simplistic and woefully inadequate understanding of how empires rise and fall, it's that he regards global domination as this nation's proper object -- as if we're called to be a hegemon on a hill rather than a city.

Image credit: Reuters