Romney's N.H. Backers: Tea Partiers and Evangelicals, Believe It or Not
His strong support among two big Republican demographics that previously resisted him shows how hard it will be to slow down the presumptive nominee.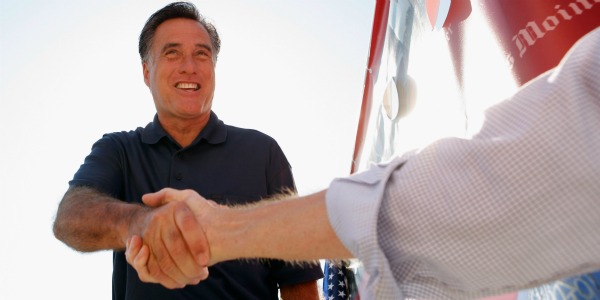 Mitt Romney demonstrated extraordinary reach across the Republican coalition in a sweeping New Hampshire victory Tuesday night that has left his rivals facing a potentially do-or-die stand in South Carolina a week from Saturday.
Romney dominated not only the groups that favored him in Iowa last week, but also several of those that had resisted him there -- particularly voters who identified as either evangelical Christians or strong tea party supporters, according to the exit polls reported on CNN.com.
That might represent only Romney's home court advantage as the former governor of neighboring Massachusetts. Or it could signal a desire even among more conservative voters to begin consolidating around Romney while shifting the party's focus to the general election against President Obama.
---
MORE FROM NATIONAL JOURNAL
---
As in the Iowa caucus, Romney dominated in New Hampshire among voters who ranked electability as their top concern, the exit polls found. "South Carolina will answer that question -- whether or not the establishment and conservatives both say let's get this thing over and start fighting Obama, or we don't want to have this thing over with yet," said one senior adviser to Jon Huntsman, the former Utah governor who finished a disappointing third after devoting months to the state.
Adding to the good news for Romney: Ron Paul finished a solid second, denying a boost to any of the contenders believed by the Romney campaign to have greater (if diminishing) potential to expand into a full-scale threat. In particular New Hampshire flattened Rick Santorum, the Iowa surprise, who found himself tangled in heated disputes over social issues rather than delivering an economic message in a state with far fewer social conservatives -- and paid a price at the polls.
The New Hampshire contest this year seemed over before it started, with Romney consistently maintaining a comfortable lead in surveys. His performance Tuesday demonstrated extraordinary breadth. According to the exit poll (which might still be slightly revised overnight), Romney won both men and women; voters with and without a college education; voters who identified as very or somewhat conservative, and those who called themselves moderates or liberals; voters in every age group except the youngest (who, as in Iowa, flocked to Paul, the field's oldest candidate); and voters who called themselves strong or somewhat supportive of the Tea Party movement, as well as those who considered themselves neutral toward it.
As in Iowa, Romney convincingly carried voters who don't identify as evangelical Christians; unlike Iowa, he carried even those who did. (And of course, while almost three-fifths of Iowa's caucus-goers called themselves evangelicals, nearly four-fifths of New Hampshire voters did not.)
Only a few groups resisted the Romney sweep. Besides winning the youngest voters convincingly, Paul also edged him among independents and ran even with Romney among those earning less than $50,000 annually. But Romney carried both voters earning more than that (with an especially pronounced margin among those earning at least $100,000) and dominated among Republicans: he won 49 percent of those, about triple Paul's 16 percent. That closely tracks the 14 percent among Republicans that Paul carried in Iowa and suggests the limits to his appeal within the conventional GOP coalition.
Huntsman's third-place finish -- which offered only a modest return on his exorbitant investment of time and money in the state -- left him in a marginal position because it depended so much on voters at the periphery of the GOP coalition. He carried nearly one-fourth of independents, but only one in ten registered Republicans. He carried the small sliver of primary voters who said they strongly opposed the Tea Party movement, but drew little backing among those supportive of the movement, and ran well behind Romney and Paul even among those neutral towards it.
New Hampshire delivered dismal results for Santorum and Newt Gingrich, just as it has for other Southern and socially conservative candidates over the years. Fresh from his Iowa breakthrough, Santorum managed a full-scale pratfall in the Granite State after a tumultuous week that found him jostling with protesters over social issues: he won just 6 percent among primary voters who did not identify as evangelicals. That suggests how completely the former Pennsylvania senator failed to broaden his identity beyond social causes like banning gay marriage to encompass his blue-collar economic populism: Santorum won just one in ten voters without a college degree. Gingrich's showing wasn't much better on any front.
Both Gingrich and Santorum now head to South Carolina weaker than when they arrived in New Hampshire last week. Tuesday's results left Huntsman with a pulse, but not much more than that and further ensconced Paul, a candidate with has not won more than one-in-six Republicans in the first two contests, as the strongest of the candidates chasing Romney. Perhaps Romney's campaign could have scripted a better outcome from a state that has often humbled frontrunners, but it's difficult to see exactly how.