Romney vs. Obama vs. Paul in Political-Memorabilia Sales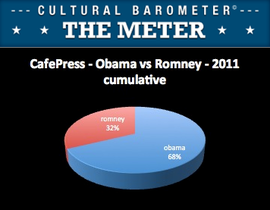 The
CafePress folks
-- the makers of all sorts of fun political paraphernalia, buttons, t-shirts, mugs, bumper stickers (this is where I got my much loved
Talking Points Memo
t-shirt and coffee mug) -- think that while Romney may be ahead in the GOP polls, Obama is slaughtering him in political merchandise sales. In 2008, CafePress' sales figures
predicted
Obama's victory over John McCain.
Guess we'll see how things go in 2012 -- but a couple of tidbits.  For 2011, Obama's political merchandise in the aggregate beats Romney 68-32%.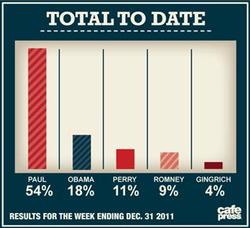 Would probably be better to look at these numbers at the end of the first quarter in 2012 as it may be a stacked deck to compare an incumbent US President to a GOP contender who wasn't really in the public eye the full year.
Ron Paul, in contrast, clobbered President Obama in 2011 -- beating the President 75-25% in merchandise sales.  In a press release, CafePress suggests that Ron Paul is the only candidate with the breadth of support big enough to beat President Obama.  I respectfully disagree but the sales figures are interesting.
CafePress also noted that Michelle Bachmann items fell from 7% of all sales to just 2% during December 2011.  Just sayin'. . .
Here's where you can check out the weekly figures on the CafePress Cultural Barometer.