Rick Santorum, Social Conservative Hero
Values voters are unlikely to lift him to victory in a bad year for social issues, but he can make Mitt Romney very uncomfortable.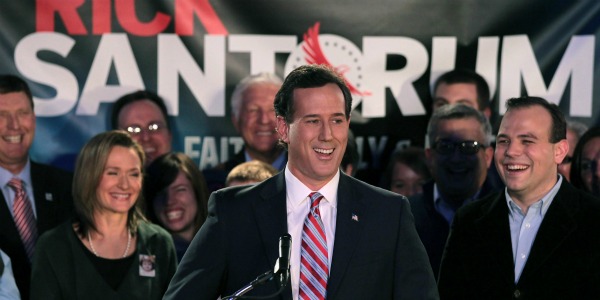 Let's get one thing straight. When the margin between candidates is eight votes, there is no such thing as first or second place. But even as the GOP presidential campaigns waited to hear the final results from Tuesday's Iowa caucuses, one result was certain: Rick Santorum can claim victory as the social-conservative candidate of 2012.
Many fought for the title over the summer and fall of last year, as Iowa's conservative evangelicals and Catholics fielded posies and promises from first Newt Gingrich, then Michele Bachmann, then Rick Perry, then Herman Cain, and then Gingrich again.
Santorum emerged victorious on Tuesday, winning support from 30 percent of evangelical voters, who themselves made up 57 percent of caucus-goers. (Entrance polls did not identify Catholic voters, but Santorum swept most of the counties in western Iowa, which is heavily Catholic.)
His embrace by socially conservative voters was not primarily the result of old-fashioned retail politics -- Santorum held hundreds of events in Iowa without his poll numbers inching much above the low single digits. Nor was it a matter of fortuitous timing, as virtually the only candidate who had not yet been the flavor-of-the-month.
Instead, Santorum won the hearts of social conservatives by being their favorite from the start. Back in October, I wrote a column noting that Santorum -- a conservative Catholic -- was the obvious choice for purist social conservatives, and quoting political scientist Mark Rozell: "If I'm a conservative non-compromising Catholic, then I probably like Rick Santorum and want to give him support in order to make a statement." As I noted at the time, very few Catholic voters seemed interested in using their vote to make a statement in 2012. They were turning away from the earnest, intense Santorum in favor of more electable options.
But when the electability of the others faded, Santorum became the "why-not?" candidate. Those caucus-goers who said that "strong moral character" mattered most to them backed the former Pennsylvania senator on Tuesday night and made him the closest thing to a consensus social-conservative candidate that this race has seen. He has already siphoned off much of Bachmann and Gingrich's support, and seems likely to capture Perry's voters as well if the Texas governor drops out of the race, as expected.
Will Santorum's emergence alter the outcome of the GOP nomination fight? It's unlikely. In the almost forty years since the emergence of the Christian Right, no social-conservative favorite has captured the nomination. (George W. Bush was an establishment candidate before he was the social-conservative darling.) And as for the momentum of Iowa, ask Pat Robertson, Pat Buchanan, Steve Forbes, and Mike Huckabee how well strong performances in that state translated into votes elsewhere.
This is a particularly bad year for social conservatives who yearn for a candidate of their own to win -- or at least influence the nomination process. According to entrance polls at the Iowa caucuses, voters divided fairly evenly among three criteria when asked what they were looking for in a candidate: conservative principles, electability, and strong moral character. That division helps explain the caucus results: Ron Paul did best among those who prioritized conservative principles, Romney among those looking for electability, and Santorum among those who cared most about morality.
On those questions, evangelicals look much like the general Republican electorate. While Huckabee won Iowa with 46 percent of the evangelical vote in 2008, born-again Christians were much more splintered this year. The majority remain concerned about social issues, and they backed Santorum. But a significant portion -- 20 percent -- voted for Ron Paul, a reminder that evangelicals care about more than just social issues.
Nationally, Santorum will be hampered not just by the near-absence of a campaign organization outside Iowa but also by more direct electability questions. This is, after all, a man who lost his Senate re-election campaign in 2006 by an astounding 18 points. Nor is he known as a strong leader on the economy, a serious handicap in an election that promises to focus heavily on that issue. Only 19 percent of caucus-goers who named the economy as their top issue supported Santorum, according to entrance polls.
Additionally, Santorum -- like Huckabee before him -- draws criticism Republicans who deride him as a "big-government conservative." In debates, he has defended the level of foreign aid in the federal budget, and he opposed Cain's "9-9-9" tax plan on the grounds that it would eliminate the earned-income tax credit.
But even if Santorum is unlikely to be the next GOP nominee, he and his supporters have the potential to make trouble for Romney. It's important to note that Romney failed to increase his percentage of the caucus vote from 2008, despite the fact that he endured very little in the way of attacks from his opponents.
Newt Gingrich made clear in his speech Tuesday night that he intends to go on the attack. It's not hard to imagine that Santorum will do the same. Romney may not want to talk about his past and current positions on abortion issues or the fact that his health-care law in Massachusetts provides direct government funding for abortions -- heresy for social conservatives. But given Santorum's new prominence in the race, he may have no choice.
Image: Scott Olson / Getty Images