Rick Santorum Gets a Big Boost From Social Conservative Leaders
The religious right aims for a repeat of Iowa, where support from influential figures helped buoy Santorum to a late surge.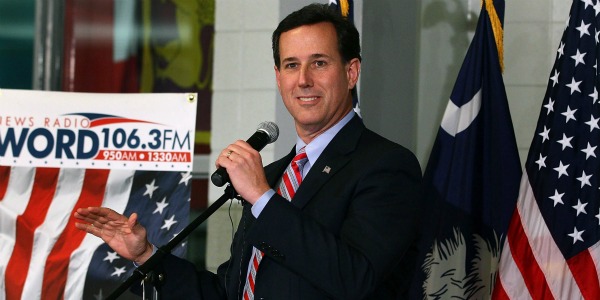 The social conservative establishment is once again rallying behind Rick Santorum.
Meeting in Texas Friday and Saturday, a group of about 150 influential figures on the right voted to throw their collective weight behind the former Pennsylvania senator, in the hopes of buoying him to a win in next weekend's South Carolina primary -- and beyond.
"While there was not a lot of hope that we could come to a consensus around a particular candidate, that was achieved," Tony Perkins, chairman of the Family Research Council, who was nominated to speak for the group, said on a Saturday conference call with the media. "After three rounds of balloting, there was a strong preference for Rick Santorum."
In the coming days, he said, you can expect to see the leaders who attended the meeting come out with endorsements of Santorum as well as assistance in organizing, fundraising and getting out his message.
Depending on the scale of the combined efforts, the boost for Santorum could be substantial. His stunning success in Iowa wasn't just about shoe-leather campaigning. Rather, it owed much to his support from similar leaders in that state -- from Bob Vander Plaats, the outspoken evangelical who aired television ads on Santorum's behalf, to local pastors and radio hosts across the state's rural expanses. Each of these leaders mustered a private army to get out and vote for Santorum, giving him the organizational heft his campaign couldn't afford on its own and a crucial measure of credibility with voters.
Santorum's momentum from Iowa has seemed to wane in the face of the rough welcome he received in New Hampshire and his paltry showing there. (Santorum and Newt Gingrich essentially tied for fourth place, with under 10 percent of the vote each; who came out ahead is still in
dispute
.) Recent polls in South Carolina show Santorum in third or fourth, behind Mitt Romney and Gingrich.
The meeting in Texas, held at a ranch outside Houston, represented the right's last-ditch attempt to avert a Romney coronation. Though Perkins insisted it was "not a bash-Mitt-Romney weekend" -- noting that Romney representatives were invited and gave a presentation -- he acknowledged the meeting would not have been necessary if Romney were the clear choice of the social conservative movement.
Santorum, Gingrich and Rick Perry all had support in the initial balloting, Perkins said, but Perry was eliminated after the first ballot, and on the third ballot, Santorum had the support of 85 of the 114 voting -- nearly three-quarters.
Romney, riding a head of steam into the unpredictable battlefield of South Carolina, surely would have liked to see this gathering end without agreement and his conservative foes remain splintered. But Perkins said the gathering was shadowed by the memory of 2008, when the religious right failed to congeal around Mike Huckabee, allowing John McCain to win the nomination.
"There is a desire to see a true conservative emerge to secure the nomination, and an overwhelming belief that a true conservative has the best chance of winning the general election against Barack Obama," Perkins said.
He insisted it was not too late to derail Romney's seeming inevitability.
"If you look at the delegate count," he said, "it is far from decided."
Image credit: Getty Images/Mark Wilson