Rick Santorum, Get Ready for Your Close-Up
The Pennsylvanian crested late enough that he didn't get the full frontrunner media treatment before Iowa. Now it's coming, and it won't be fun.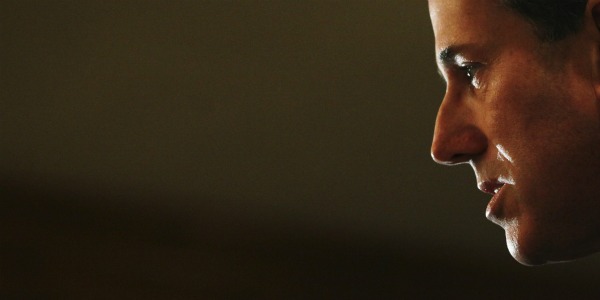 Whatever else you can say for Rick Santorum, he's got great timing. Since his bubble inflated so late, there was no time for the press and opposition researchers to give him the full treatment that greets top-tier contenders. Even in the era of diminished media importance, that scrutiny can be destructive -- just ask Herman Cain. It's yet another stone in the pathway for Santorum, who dramatically trails Romney in New Hampshire polls, as well as in national fundraising and name-recognition.
After a day to let the Iowa hangover fade, the onslaught has started. You won't find anyone betting on the squeaky-clean Santorum getting embroiled in a Cain-style sex scandal, but with a 16-year record in Congress, there's plenty of material in the public record and lots of embarrassing quotes to dredge up (plus the infamous "Google problem").
Over at National Journal, John Aloysius Farrell details the former senator's aggressive and often divisive style on the Hill, which sometimes alienated colleagues. ABC has a report up detailing allegations brought by Citizens for Responsibility and Ethics in Washington back in 2006, the year he lost his Senate seat by an 18-point margin. CREW suggests that Santorum helped steer an $8 million earmark to a charity staffed by former staffers that included major campaign donors on its board. CREW also raised questions about how he paid for a house:
Perhaps the most jarring detail from his tenure in office is the unorthodox $500,000 mortgage that Santorum and his wife secured on the home in rural Virginia they had purchased for $643,361. According to a series of reports in the Philadelphia Daily News, the mortgage came from Philadelphia Trust Company, a fledgling private bank catering to "affluent investors and institutions" whose officers had contributed $24,000 to Santorum's political action committees and re-election campaign.

In advertising, the lender said it only offered its preferred rates to well-heeled borrowers who also used their investment services. But Santorum's public disclosure forms showed he did not have the required minimum $250,000 in liquid assets and was not an investor with Philadelphia Trust. His ability to secure the five-year loan led Sloan to file a complaint under a Senate ethics rule that specifically prohibits members from accepting a loan on terms not available to members of the general public. At the time, a Santorum spokeswoman told the Daily News that the mortgage terms were set at "market rates," but did not provide further comment.
It's not just ethical questions, though. From the left, The New Republic rounds up Santorum's most embarrassing quotes, including the famous occasion on which he likened same-sex marriage to bestiality. From the right, RedState's Erick Erickson points out that not only that Santorum's spoken up for earmarks -- bad news for conservatives -- but that in doing so he's unwisely picking a fight with Sen. Jim DeMint, a very popular figure among Republicans in the state where anti-Romney forces will likely get their last shot at stopping the Iowa caucuses victor. (Erickson's ongoing criticism of Santorum also show how difficult-to-organize and unlikely a coordinated anybody-but-Romney effort among conservatives will be.)
That's all just 24 hours' worth of digging, and it doesn't even touch Santorum's platform. Right now, many voters know him mostly as a conservative who isn't Mitt Romney. How will voters respond to both his current policy proposals and the things he's supported in the past? Even in the heavily pro-life Republican party, do voters want a nominee who believes contraception is immoral? And like Newt Gingrich, Santorum doesn't have the cash to respond to every negative attack. He'd better brace himself.
Image: Shannon Stapleton / Reuters