Rand Paul: Ron Paul Needs a Win
In an interview, the senator says his father needs "a breakthrough" in his campaign for the GOP nomination.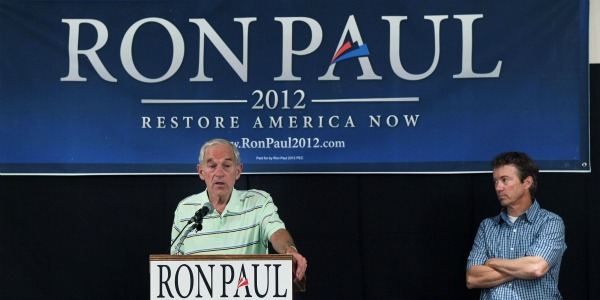 Kentucky Sen. Rand Paul said Tuesday there is still a path to the Republican nomination for his father, Rep. Ron Paul, but "he's got to start winning some primaries."
The elder Paul appears likely to come in last in Tuesday's Florida primary and trails badly in current
delegate counts
. But in an interview in his Senate office, Rand Paul, the Tea Party rock star who has been out campaigning for his father, said it's too early to count him out.
"They've had a plan for a long time to emphasize the smaller caucus states, to spend their money wisely and to accumulate delegates," the senator said. "I think he needs a breakthrough. He needs a victory."
Ron Paul has largely skipped campaigning in Florida in favor of states that will soon hold caucuses, where a strong organization can have more of an effect.
"Some have written that he might have a chance in Maine," Rand Paul said. "And he's going to do very well out in the West. But Romney also does very well out in the West. You can do great in Utah and be a distant second to Romney. It's the same for Nevada. They're both very tough states because they have very large Mormon populations. ... But a lot of people, Mormon or not, out West are very independent-minded and don't like the government telling them what to do."
Rand Paul said once Super Tuesday rolls around on March 6, the picture will be clearer. And he noted that many of the primaries award delegates proportionally, meaning candidates who don't come in first can win delegates. (Florida plans to award all its delegates to the winner, but its primary violates GOP rules and could see its delegate plan altered as a result.)
But in the end, the senator said, Ron Paul wants to win, and to do that he will have to come in first somewhere.
"To win, he has to win some states," the senator said.
Image credit: Getty Images/Scott Olson