Rachel Maddow: Romney Is the 'Tallest Midget' in the GOP Field
At a lively forum in Chicago, David Axelrod, David Brooks, Rahm Emanuel, and others discuss the 2012 election, Facebook, and more.
At a lively forum in Chicago, David Axelrod, David Brooks, Rahm Emanuel, and others discuss the 2012 election, Facebook, and more.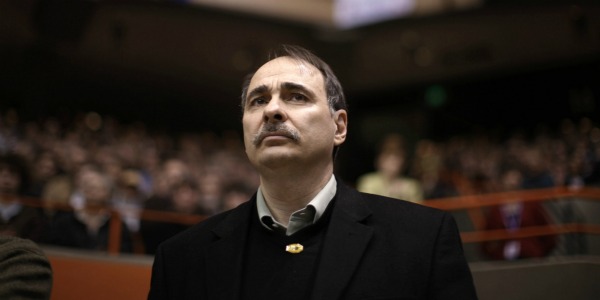 CHICAGO -- They weren't as surprised as Newt Gingrich
presumably was
with word that an ex-wife was going public about matters of the heart and loins.
But Rachel Maddow, David Brooks, George Stephanopoulos, and Mayor Rahm Emanuel were briefly silenced Thursday when a discussion on politics at the University of Chicago was interrupted by two protesters unhappy with the mayor.
Grievances intelligible only to locals were declaimed from an auditorium balcony and halted an already lively gathering which saw Mitt Romney tagged "the tallest midget" in the Republican field and President Obama accused of having "snookered" one of the assembled pundits. But the outburst provided unintended affirmation of the
raison d'être
, as university eggheads might put it, for the gathering: unveiling a new Institute of Politics to be headed by David Axelrod, the journalist-turned-political consultant and top re-election adviser to Obama.
As the protesters railed, one realized how Emanuel, the lone working politician on stage, must confront arduous choices daily as he manages big-city decline amid shrinking revenues, staggering pension obligations, high unemployment, and a culture of high expectations which can't be met.
When confronted in more civil fashion about controversial moves during a question-and-answer portion, he adeptly deflated his critic in the audience with a measured, systematic explanation of the balancing act he'd confronted and why he did what he did.
"Don't curse the outcome" of elections, "change the outcome," Axelrod said earlier in detailing his purpose in creating a nonpartisan institute which will be aimed largely at instilling undergraduates with an interest and sophistication in how the political system does, and can, operate.
And for more than an hour, a standing-room-only assemblage glimpsed bright practitioners and observers providing a tiny preview of a gambit that won't actually materialize until next year. What amounts to a quasi-challenge to the Kennedy School at Harvard will go through a year-long gestation period as Axelrod completes what he says is his last campaign and then settles down at his alma mater, thinking big and relying on an ample Rolodex.
No surprise: Romney and Obama were in the spotlight Thursday, even if there was scant consensus.
"I sort of feel like he's the tallest midget," Maddow said of the Republican frontrunner. "I think he will win by virtue of the fact that his competitors suck."
Castellanos, who worked for Romney as an adviser during his failed 2008 campaign for the Republican nomination, was short of ringing in his defense of his onetime client. He's the only candidate who can win on the GOP side, he said, because Gingrich, "the only guy who can compete with Romney," has a plateau when it comes to getting votes. He said he expects the former speaker will collapse either before or after this weekend's South Carolina primary, even if he is "harder to kill than Rasputin."
"David Axelrod doesn't want a referendum on the president," Castellanos said as Axelrod sat in the front row with his family and top university officials. Romney is hard to love but also hard to hate, Castellanos argued. "There's a lot of Styrofoam in him."
If anybody in a rather savvy, mostly invitation-only audience somehow hadn't realized it, Emanuel is a pretty shrewd, if at times acidic, practitioner -- all the caricatures as a bombastic and profane political gunslinger aside. Repeatedly deriding Romney as "Mr. Fix-It," he said with almost professorial certitude that the best Republican candidate isn't even in the field: those would have been either New Jersey Gov. Chris Christie or Indiana Gov. Mitch Daniels.
Brooks was a bit chagrined by the uninspired consensus around Romney and made an intriguing case that the very characteristics he is criticized for now -- coming off as an "organization man" and bloodless consultant -- will be strengths among prospective moderate and independent voters in a general election. That will be especially true, he suggested, if Obama makes what he thinks is a fatal tactical error and continues to tack to the left and bash the supposedly notorious "1 percent" of Americans who are wealthy.
"People don't want to talk about inequality, they want to talk about opportunity," Brooks said. When he addresses a joint session of Congress next week, Obama should not give a reprise of a recent Kansas speech, hailed by many liberals as a passionate, Franklin Roosevelt-like call for greater economic fairness.
Maddow and Emanuel fenced over a corollary to that argument, namely whether the thrust of that speech -- and, by extension, the campaign -- should focus on the inspirational. Maddow suggested that, as a nation, "we're a little inspirationed out" and that people need to have their faith restored in government's basic competence. She was thoughtful on what is most assuredly derision toward government, how politics plays such a small role in many citizens' lives, and the way in which conservatives have succeeded in framing so much of the public discussion and portraying most politicians as "scumbags."
A smaller-bore oration, she feels, would be the way to go, underscoring the actual things a government can do.
"I'm sort of ready to hear a Cash for Clunkers speech," she said, alluding to the short-lived government program which provided an incentive to trade in low-mileage, four-wheeled disasters.
Emanuel, who served Obama for two eventful years as chief of staff, flatly disagreed. Swing for the fences rhetorically, he suggested, especially since it's the last "unfiltered speech" before a huge television audience the president can give until, in all probability, his convention acceptance address.
As for being "snookered," well, that came from Brooks, who has written a fair number of columns solicitous of the president. A University of Chicago graduate and former Chicago journalist, just like his friend Axelrod, he said some people like the "liberal Barack Obama" but that he'd been drawn to a more empirical and sober and academic Obama. He called that Obama a "Reinhold Niebuhr, University of Chicago Barack Obama," a reference to the American theologian (who actually attended Elmhurst College in the Chicago suburbs).
"I've come to the conclusion I was snookered," he said, prompting Emanuel to jump in with the intriguing notion that it wasn't an either-or dichotomy. In fact, he suggested, he finds both strains in his former boss and doesn't see many contradictions.
Stephanopoulos was a predictably superior moderator, at times adding observations from his tenure as an aide to President Bill Clinton. He also reminded one and all of the likely legislative tsunami that confronts Congress next January when fish-or-cut-bait decisions must be made on the debt ceiling, tax cuts, and spending. Emanuel, a rather successful dealmaker, thought that solutions will be found at those deadlines but didn't seem to persuade many others.
And there certainly wasn't any initial consensus between Maddow and Castellanos when it came to the United States military. In a most intriguing exchange, Maddow was miffed at a Castellanos suggestion that a rigid Republican Party in need of new blood should be less like the Army and more like Facebook. Fox News diehards would surely have been taken aback, pleasantly, by the MSNBC anchor's ringing defense of a new generation of American soldiers. Younger Americans she speaks with, she said, have a distinct reverence for those talented soldiers, so it's wayward to chide the Republican Party for being somehow too much like the Army for a top-down approach to operations -- especially given the many smart, young citizens in its ranks.
And don't use Facebook as shorthand for vision, vitality and flexibility, she essentially declared, especially when that younger generation is distinctly worried about the perils of Facebook, including intrusions into their privacy. She may not have been totally persuasive: a number of smart chroniclers of the digital world cite both a lack of such wariness and a clear disregard for precision and facts among younger citizens.
Still, it was the sort of provocative exchange that Axelrod surely hopes is ingrained in his future institute. Come to think of it, maybe he can invite Gingrich and the ex-wife to discuss "Politics and Privacy: Running for Office in a Facebook World."
Image: Jason Reed / Reuters