Picture of the Day: The Past Dogs Mitt Romney
One dogged activist group wants to make sure that prognosticators predicting an easy path for Romney are barking up the wrong tree.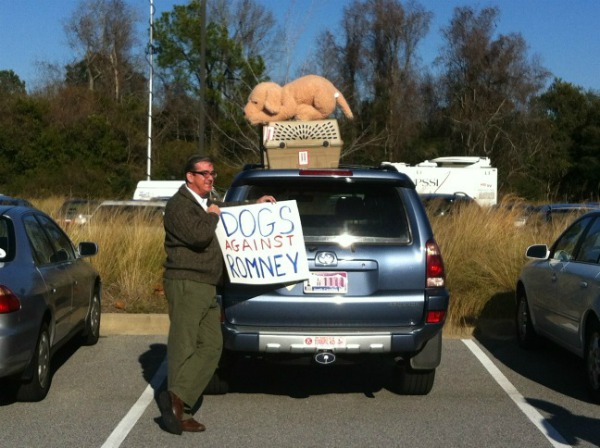 As dirty tricks in South Carolina go, this is pretty mild. SC Forward Progress, a liberal activist group, has been appearing at events around the state with a stuffed dog strapped to the top of a car and brandishing signs that read "Dogs Against Romney." It's a cheeky reference to a story the GOP frontrunner's son told the Boston Globe in 2007, in which the family went on a 12-hour drive with their pet Irish setter strapped to the roof of the car in a crate. ABC's Emily Friedman spotted the demonstration at a campaign even in Charleston. Somewhere, Gail Collins is smiling.
The group says they're not entirely kidding, though. "Anyone who would strap their dog to the top of a moving car has neither a soul nor a brain," SC Forward Progress said in a statement provided to BuzzFeed. Mitt Romney obviously does not share our South Carolina values. South Carolinians deserve to know about Mitt Romney's history of animal cruelty. We do not strap our dogs to the tops of cars in this state. Not only is it illegal, it's downright cruel."
Image: Twitter/EmilyABC