Picture of the Day: The Iowa Caucus Board Game
Who says politics is serious business? Nearly thirty years ago, an Iowa journalist found a way to bring out the fun side of the grueling caucus season.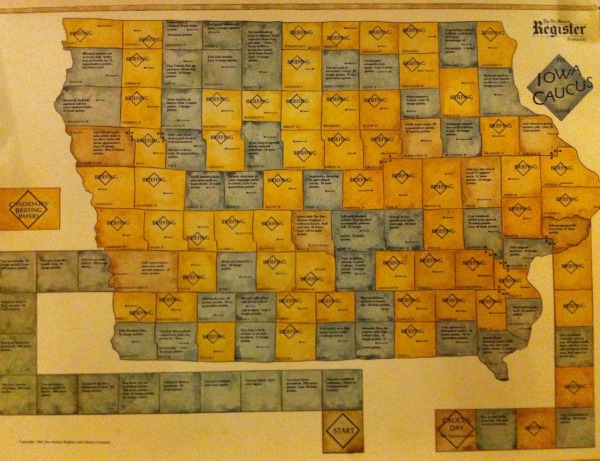 Longtime Iowa hand Steve Buttry is looking back on the seven Iowa caucuses he covered today. In 1983, Buttry -- then at the Des Moines Register -- put together a board game spoofing the stumping, barnstorming, and box-checking candidates did, as well as the routines of the journalists who covered them. Sadly, there's no virtual version, but you can get a flavor for the way it works in the picture above (click for a larger version). Here's Buttry's explanation of how it came about:
in early 1983, as candidates were starting to visit Iowa, I created a board game celebrating and spoofing the caucuses (and the Register's role in them). I persuaded the Register to produce and sell the game, pictured at the top of this blog post. The Register did next to nothing to market it, so sales were paltry. But it became a popular item with political reporters and candidates and aides on the campaign trail. The Los Angeles Times, Chicago Sun-Times, Newsweek, Today Show, CBS Morning News and BBC did interviews with me (every journalist should be interviewed now and then).
Perhaps the best detail? Gary Hart reportedly played it with his staff on the campaign van. Unlike some other of Hart's escapades, however, no picture appears to exist.
Serious political junkies can read more about the game, and other recollections from the trail, here.
Image: Steve Buttry