Picture of the Day: The First Hipster President
With his latest foray into social media, Barack Obama courts the skinny-jean-wearing, iPhone-carrying in-crowd.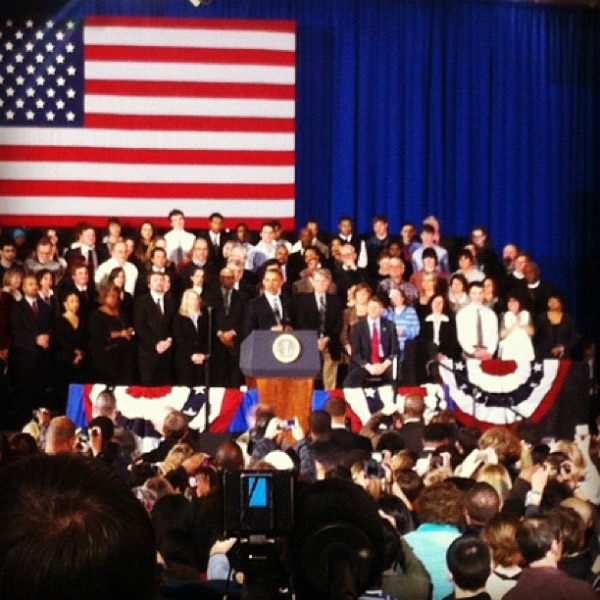 Among various other firsts, Barack Obama is clearly the first hipster president. There have been indications before -- the Shepard Fairey thing should have tipped everyone off. There was the iPod, loaded with Pitchfork fave Lil Wayne. And it goes without saying that he was cooler back in the day, before he sold out (or before the economy stagnated and he pushed an unpopular health-care reform bill. Whatever.).
But now, more proof: The president has joined Instagram, the youth-beloved Internet photo-sharing application. The White House signed on as the Iowa caucus frenzy was in full swing, but he's already posted several snapshots on his stream, including this one from the event in Shaker Heights, Ohio, on Wednesday, where he announced the recess appointment of Richard Cordray to lead the Consumer Finance Protection Bureau (The grainy look is intentional. Lo-fi is artistic -- you know, like vinyl, maaan). Naturally, he's already getting trolled.
Snark aside, it's an example of the Obama campaign's efforts to build an Internet presence far larger and more sophisticated than the one that helped carry it to victory in 2008. Among many other technologies, Instagram hadn't even debuted yet -- it emerged a month before the 2010 midterms. Getting on Instagram is a start, but if he wants to prevent Ron Paul from drawing youth voters over to the GOP, he'd better get around to dropping that famous BlackBerry in favor of a hipster-approved iPhone. "Siri, how do I get to 270?"
Image: Instagram/barackobama