Photo of the Day: Who Would MLK Back?
Chalk graffiti links Dr. Paul and Dr. King. Would the late civil-rights icon have backed the libertarian Republican in 2012?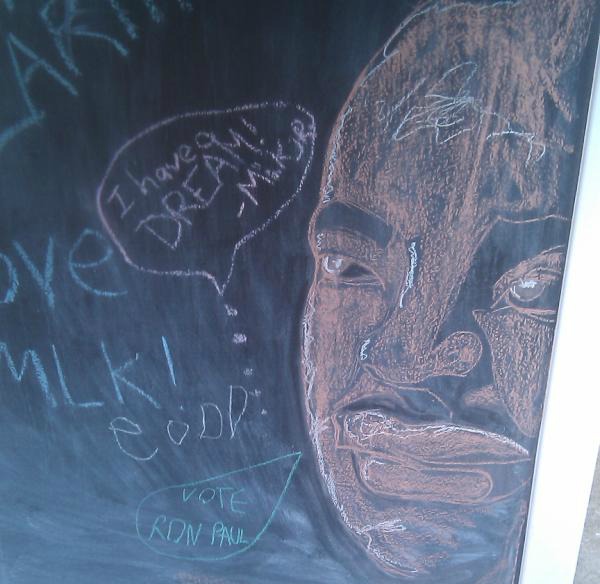 As the nation celebrates Martin Luther King Jr.'s birthday, two days after the official commemoration, Mother Jones reporter Tim Murphy spotted this chalk sign in Spartanburg, S.C. Of the two speech balloons coming from the late civil-rights leader's mouth, one is familiar: "I have a dream." The other, which looks like it was scrawled by a different writer, is less standard: "Vote Ron Paul."
Would Dr. King support Dr. Paul in the 2012 election? Well, there is the matter of Paul's racist newsletters from the early 1990s, and even if you believe Paul's statements that he was unaware of the content, one imagines that would be tough for King to get past. There are also the facts that unlike Paul, King supported the Civil Rights Act of 1964; was in Memphis to campaign for a sanitation workers' labor union when he was killed; and spent his last years working on the Poor People's Campaign to advocate government redistribution of wealth. So we're going to go with probably not.
Image: Twitter / Tim Murphy