Photo of the Day: The Mitt Romney Enthusiasm Gap
He may look like a sure bet to win the Republican nomination, but anecdotal evidence suggests voters aren't devoted to Romney yet.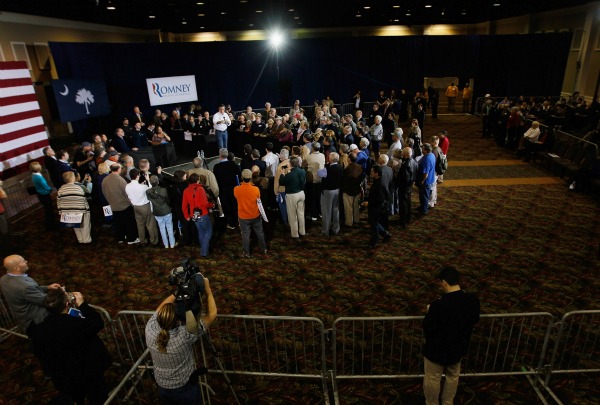 Everyone's heard a million times that Mitt Romney is inevitable: he won Iowa (apparently), he won New Hampshire, and he's on track to win South Carolina, Florida, and Nevada. Nationally, he's climbing too -- as Dave Weigel points out, his support now exceeds the total support for Rick Santorum, Newt Gingrich, and Rick Perry in Gallup's national poll. That's an encouraging sign for the folks in Boston. But if you're looking for proof that Republican primary voters still aren't in love with Romney, check out this photo from a Tuesday morning rally in Florence, S.C.
That's Romney, surrounded by a small group of supporters, and a vast expense of empty space. To put it in perspective, despite the vast hoopla and large sums of money being spent in the state, and despite the fact that the primary is just four days away, the presumed victor drew only a few dozen folks in a city that is one of the largest in the state and the center of the Pee Dee region. How bad was it? First, the campaign sectioned off part of the hall; then they removed a ladder set up for video cameras to catch the full sweep of the crowd. Reporters on the scene said they outnumbered actual voters. As BuzzFeed's Zeke Miller asked, "Is this what winning feels like?"
Image: Joe Raedle / Getty Images