Photo of the Day: Newt Gingrich Posing Jauntily in Front of Auschwitz
An extremely odd snapshot from the presidential hopeful's website.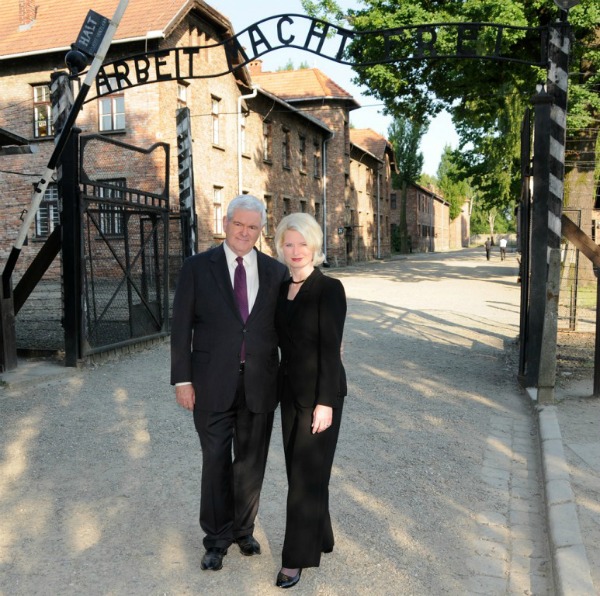 Newt Gingrich has made some strange decisions in his time -- from keeping a T-Rex fossil head in his office to taking out an embarrassingly huge line of credit at Tiffany's to going on a cruise to Greece during the height of campaign season this year. Here's a new one that ranks with those: The former Speaker's company, Gingrich Productions, posted this photo of Gingrich and wife Callista standing in front of the Auschwitz concentration camp on its website. Both are dressed in black, and while Callista looks appropriately solemn, Newt is wearing his default smirk. She wears a broad smile in another shot, posted below.
The photos were taken when the pair were in Poland in 2009 to work on Nine Days that Changed the World, a film about Pope John Paul II's 1979 visit to his home country. We get that -- and yet there is something distinctly off about these tourist-style shots in front of the Nazi death-camp.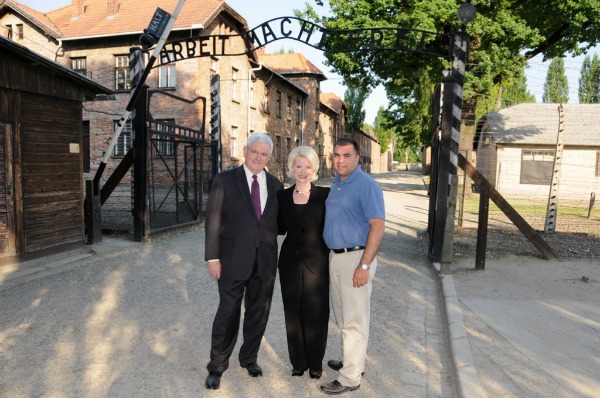 Images: Gingrich Productions