Photo of the Day: Gingrich Pulls Out the Big Guns—Literally
When the former Speaker dropped by a World War II museum in New Hampshire, at least one veteran was decked out to support him.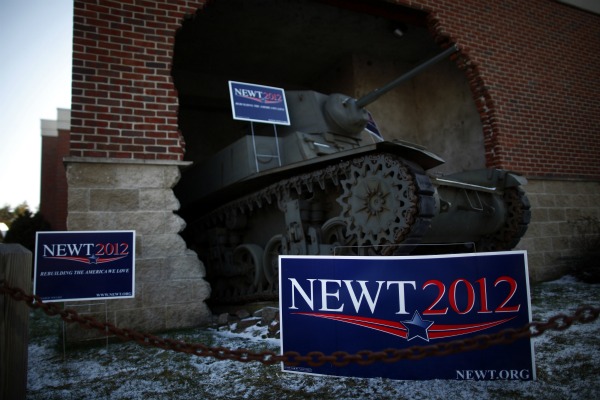 The contest for the presidential nomination is often described as a battle, but that's typically figurative language. Has Newt Gingrich, desperate to stop Mitt Romney's momentum before it's too late, snapped and resorted to actual, literal warfare?
Luckily, no -- but one might be forgiven for being confused by this scene at the Wright Museum, a World War II historical collection in Wolfeboro, N.H. The museum's facade features an M3A1 Stuart tank crashing through the wall (see a photo without political decoration here). The war machine was decorated with Gingrich signs for an appearance by the former Speaker on Saturday. Gingrich, a renowned history buff, recently compared his failure to get on the Virginia ballot to Pearl Harbor. History may or may not be on his side, but historical artifacts were, at least for a day.
Image: Eric Thayer / Reuters