Photo of the Day: First in the Nation
Voters stand poised at the ballot box as the clock ticks down to midnight in one of America's odder and more endearing electoral traditions.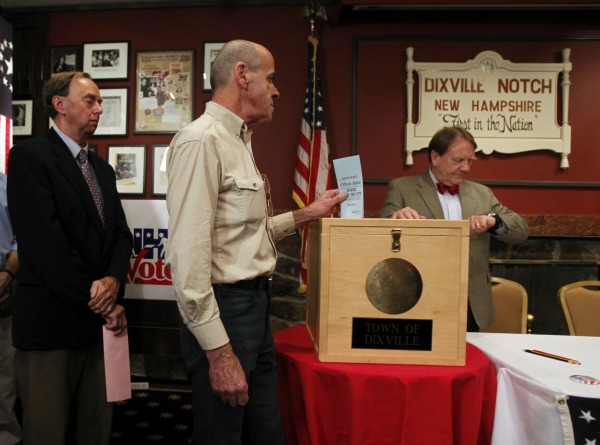 The entire Granite State likes to boast that it's "First in the Nation" -- the first primary election, that is, not counting the Iowa caucus. But it's the voters of Dixville Notch who typically receive the designation of being first of the first, in a tradition dating back to 1960. (In fact, several other towns have similar rituals, including Hart's Location.) To ensure that they get their credit as the earliest voters in each presidential cycle, the residents of the town gather at the Balsams Hotel and prepare to drop their ballots in the box at the stroke of midnight. Here, Jacques Couture heads up the line, ballot poised over the slot, as Town Moderator Tom Tillotson checks the time.
The counting didn't take long, since there were only nine voters. Among Republicans, Jon Huntsman and Mitt Romney deadlocked for the lead with two votes apiece, trailed by Newt Gingrich and Ron Paul. But the candidate to get the most votes was President Barack Obama, who garnered three.
Image: Jessica Rinaldi / Reuters