Paul's Third Place Letdown Doesn't Diminish His Impact
Although he faded at the finish, his outreach to younger, more liberal, and non-traditional voters has definitively shifted the GOP conversation.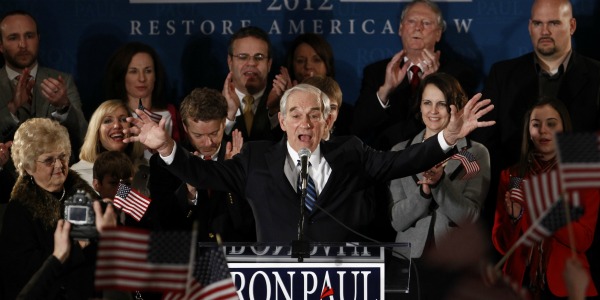 ANKENY, Iowa -- Ron Paul could claim victory Tuesday even though he came in third place. The long shot for the Republican nomination already has done more to promulgate libertarian principles than anyone since Ayn Rand.
The Texas congressman's unswerving commitment to slashing federal spending and shrinking the size of government fueled the tea party movement, energized young voters and pushed the Republican Party rightward. His anti-war crusade engaged Democrats and independents, and he paved the way for more anti-establishment candidates to run as Republicans.
Paul more than doubled the number of votes he received in the 2008 caucus in Iowa, and he repeatedly cast his campaign as a "cause'' in a speech to about 250 supporters Tuesday night.
---
MORE FROM NATIONAL JOURNAL
---
"He changed the dialogue among the candidates, and he demonstrated that there is a market in the United States for candidates like him," said David Boaz, executive vice president of the Cato Institute, a libertarian think tank. "Imagine if Paul was 55 years old and not reaching as far from as from the House to the presidency. He would clearly be getting even more votes if he fit the model of the person we traditionally select for president."
Paul's campaign wasn't entirely positive for the libertarian cause. Though he disavowed newsletters published under his name in the 1980s and 1990s that contained racist statements, the blowup highlighted some support for his campaign from white supremacists. His insistence on cutting foreign aid, even to endangered allies like Israel, also generated controversy.
The 2012 caucus will probably mark the high point of the 76-year-old doctor's political career. Polls show him way behind in the states holding the next three nominating contests: New Hampshire, South Carolina, and Florida. Looking at the nominating process more broadly, Paul's vow to bring all American troops home makes him an unlikely standard bearer for a party dominated by military hawks.
Still, the presence of his son, Kentucky Sen. Rand Paul, by his side over the past two days suggests that even though the septuagenarian is highly unlikely to clinch the nomination, a younger generation may carry the torch.
Polls consistently found Paul the most popular candidate among young voters, evidenced Tuesday by his share of young voters at the caucuses (more than 50 percent, entrance polls showed) and the loud applause he received from hundreds of students gathered at Valley High School in West Des Moines for a "Rock the Caucus'' rally.
"He's made me think a lot about what it means to stand by yourself and be an honest man," said 16-year-old Nick Sinclair, who isn't old enough to participate in a caucus but came to show his support for Paul. "When he was booed during debates for his foreign policy, it only strengthened my convictions."
At a time when entire media outlets are devoted to holding flip-flopping politicians accountable, Paul rarely, if ever wavered from positions he has held for decades. He refused to back down from inflammatory assertions that U.S. military intervention in the Middle East was to blame for the Sept. 11 terrorist attacks. But remarks prepared for caucus-goers speaking on his behalf did not include his call to pull out American troops from all foreign countries to save lives and billions of dollars. The suggested remarks read, "He understands that defense is the primary function of our federal government. As President, he will lead the fight to secure our borders instead of policing the one between Afghanistan and Pakistan.''
Paul also sought political cover for his unorthodox foreign-policy stance in recent weeks by claiming that he had received more contributions from active-duty military than all other Republican candidates combined.
Since his campaign organization was billed as the strongest in the state, Paul's foreign policy views may have alienated enough voters to keep him from reaching first or second place.
"His foreign policy is the hang-up," said Phil Poe, a 69-year-old retiree who came to see Paul speak in Des Moines on Monday. "I know we can't police the world, but we still have to be involved with our partners."
Paul refused to concede that his foreign-policy views were a liability in his speech Tuesday night. "The majority of the American people are behind us on this whole war effort," he said.
Though widely dismissed as a fringe candidate, Paul charged hard at his chief rivals in the homestretch. He launched a tough attack against Romney just hours before the Iowa caucuses began, calling the former Massachusetts governor a "liberal" in a new radio spot. Paul slapped the same label on Rick Santorum in a CNN interview on Monday. His television ads in Iowa dismissed Gingrich as a "serial hypocrite" and Romney as a "flip-flopper."
Paul has not definitively ruled out running as a third-party candidate and didn't mention the possibility Tuesday night. "This momentum is going to continue and this movement is going to continue and we are going to keep scoring just as we have tonight," he said. Leaving the GOP would undoubtedly give rise to allegations that Paul is playing the spoiler and putting his own ambitions before the party's interests. Just as many Democrats blame Ralph Nader for siphoning away votes from Al Gore in 2000, Paul likely would be accused of stealing votes from the Republican nominee and helping President Obama to win a second term.
That would be a very different legacy from the one he has already established as the presidential candidate who did more to promote the Constitution and individual liberties than any other in modern times.
Image: Jim Young / Reuters