On Caucus Day, Don't Forget About Ron Paul
No one needs a good showing in Iowa more, but the true strength of his non-traditional base of supporters is difficult to judge.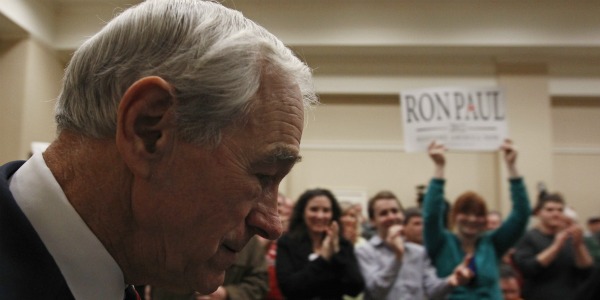 CEDAR FALLS, IOWA -- As the hours ticked down to Tuesday's Republican caucuses, candidates sprinted across the state with the press in tow. Reporters and cameramen schlepped from one corner of the state to the other on a bus provided by Mitt Romney's campaign. They sped down long stretches of highway in pursuit of Rick Santorum's pickup truck. But if they wanted to follow the third co-frontrunner, Ron Paul, they were out of luck.
Paul took a small private plane to his five Iowa stops on Monday, making it impossible for reporters, none of whom were similarly equipped, to follow. It was a revealing glimpse into his campaign's final preparations: While his fellow frontrunners hoped for as much attention as possible, Paul was trying to avoid being noticed.
The other candidates hoped to make their case to the 41 percent of Iowa caucus-goers who say they could still change their minds, according to the
Des Moines Register's weekend poll
. Paul was preaching to the converted.
In Cedar Falls, two hours northeast of Des Moines and the home of the University of Northern Iowa, a typically youthful crowd numbering in the hundreds packed into a meeting room to catch Paul.
The event's emcee, local Tea Party activist Judd Saul, asked how many in the crowd were registered Republicans. Virtually all the hands went up. Then he asked how many were registered Republicans six months ago -- about three-quarters. And how many were Democrats before that? About a third.
Perhaps the biggest wild card in tonight's caucus calculation is Paul's army of non-traditional caucus voters. His campaign has spent the last four years
building up its ranks
, and is said to have tens of thousands signed up to storm the caucuses. They have a captain for every one of Iowa's 1,700 precincts, and each precinct captain has a computer with vote-tracking software.
Paul also probably has the most to lose of the three front-running candidates. While Santorum can claim to have beat expectations and Romney's strength in New Hampshire will remain as long as each places at least in third, Paul needs to win or place if he wants to force the world to see him as a contender. A third-place showing would be all the pretext the GOP establishment needs to elbow him out of the conversation once again. Worse, it would prove that despite the formidable organization they've built, the Paul zealots just don't have the numbers to match their enthusiasm.
In any case, Paul's camp was not making any attempt to tamp down expectations Monday. "The energy is overflowing and it's big and it's coming tomorrow!" the candidate's son, Kentucky Sen. Rand Paul, told a packed and feverish rally in Des Moines earlier Monday. "We're going to win in Iowa tomorrow!"
Ron Paul, taking the stage, looked pleased. "This is almost like a real rally!" he said.

Paul was the only candidate to take the weekend off, spending New Year's at home in Texas, an odd decision that highlighted his peculiar status as the leader of an ideological movement that may or may not actually want to become president. He often seems to be just along for the ride, surfing the wave created for him by his legions of devoted followers.
"The enthusiasm is growing by leaps and bounds. The crowds are getting bigger," he said. "You know, as far as I'm concerned there's only one issue.... There's one issue that has made America great, and the issue that can answer all your questions is individual liberty."
Paul hit his familiar themes -- ending the wars, ending the Fed, protecting privacy and shrinking government. The other candidates, he said, would only tinker around the edges, whereas he would actually make the bureaucracy radically smaller.
"You don't have to worry about your choice if you choose another candidate, because the others represent the status quo -- variations of the status quo," he said. "But they're not talking about foreign policy to defend America. They're talking about mischief around the world and policing the world. Are they talking about changing the monetary policy to look at the basic problems with the monetary system and how it creates financial bubbles? Do they really care about personal liberties, when you look at the votes and what the president has been doing? They don't care about your personal liberty, or it wouldn't constantly be undermined. Therefore a lot is at stake."
Paul's support has seemed to decline in recent days as voters have been exposed to more of his positions and history, from his foreign non-interventionism to the offensive newsletters he published. But his devotees call those issues a distraction, concocted by the media or dredged up by desperate competitors. They believe their people will stick.
"I have a very small sphere of influence. I know about 30 people who say they're going to come out [for Paul] -- people who've never voted before, former Democrats, independents, Republicans who don't even know what a caucus is," said Justin Yourison, a 33-year-old Des Moines insurance salesman. He had brought his mother, Theresa Yourison, who he's managed to convert to Paulism from what he calls the "neocon, Fox News" wing of the Republican Party.
Most of the attendees at the Paul events had some involvement in the campaign -- making phone calls, serving as caucus captains, canvassing and evangelizing to their friends.
Karl Renfro, a 23-year-old from Waterloo, doesn't consider himself particularly political, but said he'd probably caucus because his friend, a Paul organizer, would make him.
"Will is a big Ron Paul supporter. He posts every day about him on Facebook," Renfro said. "I watched a couple of YouTube videos, and he seems legit. He's not fake."
Renfro said he appreciates that Paul is a man of faith who doesn't try to legislate morality, and he likes his emphasis on personal responsibility.
"I'm really not wired for politics," said Renfro, an unemployed drummer in a mathcore band. "I'm a musician. I just live and hang out with people."
Image credit: Jim Young / Reuters