Newt's Secret Campaign: How Gingrich Really Won S.C.
Although pundits have focused on the former speaker's debate performances, the truth is his organization -- the largest in the state -- was crucial to his win.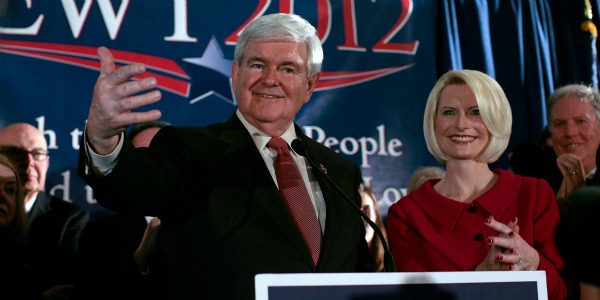 COLUMBIA, S.C. -- As ecstatic supporters of Newt Gingrich celebrated his upset victory here Saturday night, it was common to observe how unimaginable this moment would have been two weeks ago.
But Tony Shipley says he "absolutely" could have anticipated it, and not just because he believes in Gingrich so ardently. "What people don't realize is, we were working very hard to make it happen," said Shipley, Gingrich's Tennessee state coordinator -- one of a dozen Tennesseans who deployed to South Carolina to work the state for Gingrich in the days leading up to the primary.
For all the talk about how Gingrich's debate performances fueled his sudden turnaround, there was another key factor: he had the most extensive campaign in South Carolina.
Gingrich had 12 paid staffers in the state and five offices, the only candidate with more than one. It was part of a strategic decision, made months ago, to focus on South Carolina as the state where he was most likely to find an opening. Gingrich moved much of his national operation to the Palmetto State and focused on courting Tea Party activists and the conservative Upstate region, where he drew his strongest support in the primary.
Prior to the New Hampshire primary, Gingrich had spent 21 days in the state, second only to Rick Santorum's 27 and far ahead of the 11 each clocked by Mitt Romney and Rick Perry, according to state party officials.
"We have been working on this for months now," an exhausted Ruth Sherlock, the campaign's deputy state director, said Saturday night. "Anytime there was a meeting of a 9/12 group, a Tea Party group, a Republican group -- any time three or more Republicans were getting together in South Carolina, we would have someone there to talk about Newt." Not all the other campaigns could say the same. Perhaps crucially, as Gingrich's personal life was dredged up in the final days of the campaign, three of the five regional field directors were women.
R.C. Hammond, Gingrich's beleaguered traveling press secretary, said South Carolina was always the linchpin of the campaign's strategy. "We picked one state where we thought we could do well, and we focused on it," he said.
It is, of course, convenient for Gingrich's camp to insist now that they never really tried to win Iowa or New Hampshire. But there's evidence to support this point. Back in October, national coalitions director Adam Waldeck moved from his home in Virginia to South Carolina to anchor the campaign there. A key hire was Allen Olson, founder of the Columbia Tea Party.
At one point, the Gingrich camp's outreach to the Tea Party was so ardent that Michele Bachmann's campaign accused them of "trying to buy off" activists in the state. (In fact, some Tea Party figures, like Olson, did get paying jobs with the Gingrich campaign.)
"Rick Perry and Newt Gingrich were the only candidates who had significant staffs in South Carolina," said veteran Greenville-based consultant Chip Felkel, who has spent the current campaign season working on and promoting his book about golf rather than working for any of the candidates. "Perry wasn't going anywhere. But Gingrich had an organization, and it was a factor for him."
The importance of this shouldn't be overstated. South Carolina is not like Iowa, where ground game is everything and votes are practically individually whipped. And it's always easy in retrospect to make the winning campaign out to be geniuses, the losers hapless bumblers.
What's more, Gingrich's South Carolina operation was hardly a well-oiled machine. One unaligned operative described them as "the gang that couldn't shoot straight" and recounted logistical debacles like a fundraiser that went nearly unattended because of problems getting out invitations. If Gingrich had the state's best campaign, that was partly because no other candidate bothered to build a better one.
Nonetheless, Gingrich's ground game served a vital function. When he was cratering everywhere else, it held him up.
"South Carolina is not a ground-game state, but it is a ground-game state in that when you get attacked, you have to have a network of people to defend you," Felkel said. "Romney has not had that in South Carolina, and he had an awful week. When that happens and you don't have a ground game, the rug got pulled out from under him. Gingrich had activists out there sticking up for him."
This may be what kept Gingrich in contention in South Carolina, despite his Iowa and New Hampshire collapse. Even before Monday's debate in Myrtle Beach -- the one in which he excoriated moderator Juan Williams -- Gingrich was within striking distance, 10 points or less behind Romney and a healthy distance ahead of Santorum and Ron Paul in polls. That's an unusual circumstance for South Carolina, which until this year has always played tiebreaker for the first two early states, voting for a candidate who had won either Iowa or New Hampshire. (That streak ended Saturday.)
It was likely because of his organizational strength that South Carolina was willing to listen when Gingrich regained his footing and his watershed moment came.
Gingrich's organization also was skilled in targeting the voters most likely to support him: rank-and-file, often working-class rural conservatives -- the type who, in one old hand's description, "go to work on Friday, hunting on Saturday, and church on Sunday."
Exit polls showed Gingrich running strongest with less-educated voters (Romney won among the 18 percent with postgraduate educations) and those with lower family incomes (Romney won the 5 percent with incomes above 200,000). Gingrich also ran away with the evangelical vote, which constituted 65 percent of the electorate, while Romney won non-evangelicals by a smaller margin. A similar proportion called themselves Tea Party supporters, and Gingrich won them by 20 points -- a neat trick for a Beltway resident with a history of philandering, multimillion-dollar consulting contracts, and a doctorate in the liberal arts.
Despite all the conservative elites who criticized Gingrich so harshly for his attacks on Romney's business record, these people may have felt differently. Ed Jennings, a 71-year-old retired truck driver in Easley, outside Greenville, was one.
"As far as I can tell, [Romney] was selling assets. That gets rid of jobs and people working. I don't like that," said Jennings, a stout man in a Gamecocks shirt who attended a Gingrich rally late in the week.
"[Romney] don't know how to start a real business as far as I'm concerned," added Jennings, a former Herman Cain supporter who made a late decision to support Gingrich instead. (It should be noted that Jennings never considered voting for Romney, out of a strongly held belief that Mormonism is a cult.)
In Saturday's exit polling, 28 percent of voters had a negative view of Romney's work in the private sector -- a minority, to be sure. But the fact that nearly a third of Republican primary voters had come to view a wildly successful career in business negatively is nonetheless remarkable. And among these people, it was absolutely deadly for Romney: just 3 percent voted for him.
Gingrich, largely through his organization's work on the ground, positioned himself perfectly to tap into the Tea Party fervor that has changed the face of the South Carolina electorate.
"We put resources on the ground here early on," said former Rep. Bob Walker, a top Gingrich adviser. "We have always seen this as a place where we potentially could have a breakthrough. Our belief has always been that we would do well in South Carolina, and by that time the campaign would have sorted out to a contest between the conservative and the liberal."
What does this all mean going forward? On the one hand, it shows there's a bit more to Gingrich's campaign than a wing and a prayer. His camp is already touting his organization in Florida: Sen. Marco Rubio's onetime campaign manager, Jose Mallea, is working for him, as is former state attorney general Bill McCollum, who lost in the state's 2010 gubernatorial primary. Team Gingrich claims to have signed up a county chair in each of Florida's 67 counties.
On the other hand, that's not much next to what Romney has reportedly built in the state -- and beyond. If the lesson of Gingrich's win in South Carolina is that organization matters, he has a very difficult road ahead.
Billy Wilkins, a former federal judge who co-chaired Gingrich's South Carolina campaign (no other candidate bothered to court him; Gingrich flew down from Iowa in December to take him to lunch), said he was not worried about his candidate's ability to compete.
"Historically, winning South Carolina, for some reason it really jump-starts a campaign," Wilkins said. The win, he said, would spur a flood of donations: "It will give us a lot of resources as we go on to Florida," he said. "I'm not concerned about that at all."
Image credit: T.J. Kirkpatrick / Getty Images