Newt Gingrich Says He's Running a 'Charlie Rose-Style Campaign'
The struggling candidate, hoping for a third-place finish in New Hampshire, compares his ideas-centric approach to the TV host.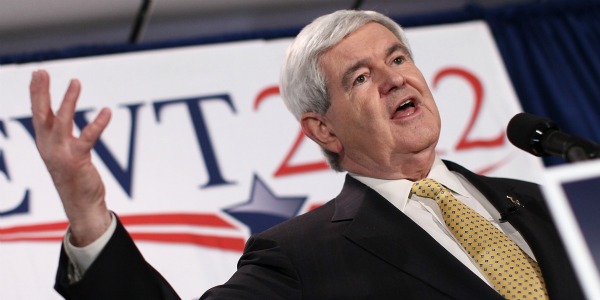 Republican presidential candidate Newt Gingrich said on Monday that he hopes to end up "somewhere in [the] zone" of third place in Tuesday's New Hampshire primary, but acknowledged that GOP rival Jon Huntsman might give him a run for his money after Mitt Romney and Rick Santorum swept Iowa.
"You have to be candid," Gingrich said on CBS' Early Show, before adding that rival Jon Huntsman has focused "overwhelmingly" on New Hampshire while he himself has been "building steadily a national campaign."
Gingrich pivoted quickly to outline himself as the top competitor against frontrunner Mitt Romney. "I think I'll do well enough here on Tuesday night that in South Carolina on Wednesday morning it'll be very clear: The game is on between a Reagan conservative and a Massachusetts moderate."
Gingrich said he is committed to avoiding personal attacks on Romney, before taking a couple jabs at the former Massachusetts governor. "I've got to draw a very sharp contrast," Gingrich said. "He is millions of dollars of negative and sometimes very false ads in Iowa to stop the momentum, when we had a purely ideas oriented campaign -- almost a Charlie Rose-style campaign.... He raised taxes, I fought to lower them. [That] would be a very simple example."
On NBC's Today Show, Gingrich acknowledged that New Hampshire is Romney's "third-best state" after Utah and Massachusetts. "If he were not to win here however -- if it's close, which it could be because he's been sliding now for four days -- it is a defeat for him," Gingrich said.
"This is a state he's bought a house in, he's lived in. He was governor next door," Gingrich continued. "It's a state where he's been buying advertising since 1994 as a candidate in Boston television, which reaches most of the state. He was the prohibitive favorite going in. His position is precarious.... He may be moving toward a surprisingly weak finish."
Image: Win McNamee / Getty Images