Newt Gingrich Loses a Crucial GOP Debate
The former speaker's old tricks failed him at the forum that was his last chance to shine before Tuesday's Florida primary.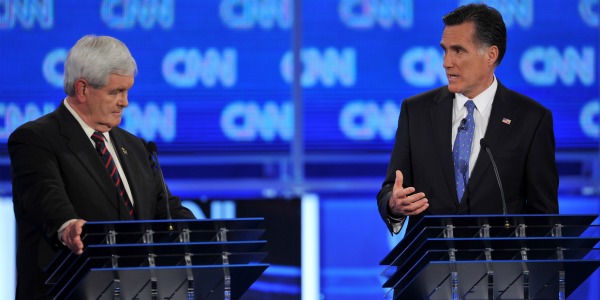 There was only one question going into Thursday night's Republican debate in Jacksonville, Fla.: Would Newt Gingrich win, or would he lose?
He lost. And even worse for Gingrich, Mitt Romney won.
Anything less than the type of bring-down-the-house blowout that's kept Gingrich's candidacy afloat would have been a disappointment, and Gingrich fell far short of the mark he'd set for himself.
Romney got Gingrich off-balance from the start by stealing two of the former speaker's favorite tricks: feigned offense and getting the crowd riled up.
Gingrich had been called by the moderator, CNN's Wolf Blitzer, to answer for an ad he'd pulled calling Romney "the most anti-immigrant candidate." When he said he still felt that way, Romney all but held his heart and fell to the ground.
"That's inexcusable. And, actually, Senator Marco Rubio came to my defense and said that ad was inexcusable and inflammatory and inappropriate," Romney began, clutching the revered-on-the-right Cuban-American junior senator like a talisman. "Mr. Speaker, I'm not anti-immigrant. My father was born in Mexico."
It should be noted that Romney's father was born a citizen, to American parents. Not your typical immigrant.
Romney continued: "The idea that I'm anti-immigrant is repulsive. Don't use a term like that. You can say we disagree on certain policies, but to say that enforcing the U.S. law to protect our borders, to welcome people here legally, to expand legal immigration...that that's somehow anti-immigrant is simply the kind of over-the-top rhetoric that has characterized American politics too long. And I'm glad Marco Rubio called you out on it. I'm glad you withdrew it. I think you should apologize for it."
It was a masterful answer on Romney's part, and the crowd loved it. Not only did he seize the mantle of the victimized candidate from Gingrich, he spoke effectively for all the conservatives who are tired of being called anti-immigrant and worse for their opposition to illegal immigration -- the same people Rick Perry so offended by saying they "don't have a heart."
Gingrich was on the defensive. He went back to his well-worn example about families long established in the U.S. who would not be likely to leave voluntarily, or "self-deport" in Romney's infelicitous phrase. "I think the grandmother is still going to be here," he said. "All I want to do is allow the grandmother to be here legally, with some rights -- to have residency but not citizenship, so that he or she can finish their life with dignity, within the law."
Romney zinged back: "You know, our problem is not 11 million grandmothers."
In another encounter between the two, Gingrich attempted to fire his ammunition at Romney on Freddie Mac, pointing out that Romney owned stock in the government-supported mortgage lender. Romney noted that Gingrich did, too, blunting the line of attack, and then he effectively laid out the difference between owning stock through a mutual fund and acting as a paid spokesman for the odious entity.
Rick Santorum -- he and Ron Paul were also onstage and managed to make themselves heard, despite the circumstances that have marginalized their candidacies, i.e. not winning -- then swiped Gingrich's favorite tactic of all: the bigger-man trick.
"We have been playing petty, personal politics," he said. "Can we set aside that Newt was a member of Congress and used the skills that he developed as a member of Congress to go out and advise companies -- and that's not the worst thing in the world -- and that Mitt Romney is a wealthy guy because he worked hard? ... You guys should leave that alone and focus on the issues."
Gingrich tried to get his attack-the-media mojo back in the next segment, telling Blitzer a query about his attacks on Romney's wealth was "a nonsense question." But Blitzer didn't back down, aptly pointing out that Gingrich ought to be able to defend serious accusations made on the campaign trail.
"Wouldn't it be nice if people didn't make accusations somewhere else that they weren't willing to defend here?" Romney wondered.
Gingrich, reeling, never really came back to life, not even when the talk turned to his pet topic of space colonization. Even there, he was on defense, forced to explain how America could afford his vision of "a bigger, richer, more exciting country."
Throughout this campaign, Gingrich has been performing a high-wire act. His candidacy has been thrilling because it has been so dangerous. But he may have finally painted himself into a corner: He has lived by the debates; now he may die by the debates.
Faced with the conflicting imperatives of being the wickedly fun candidate who slapped down Juan Williams and John King on the one hand, and the presidential-seeming front-runner who'd matured since the freewheeling Clinton years on the other, he found he couldn't do both -- in fact, robbed of the element of surprise, it turned out he couldn't do either.
The debate had one other notable exchange when Santorum took on Romney on health care with a prosecutor's methodical effectiveness.
Santorum has been mostly respectful of Romney lately, leading some to speculate he's given up on his own campaign and is angling for a spot on the ticket or in the Cabinet. But faced with the opportunity, he couldn't help himself.
Romney had done his usual tap-dance on his Massachusetts health-care reform. It was not, he said, "top-down government-run health care," but simply a mechanism for the uninsured to "help pay for the cost of the state picking up your bill."
"Does everybody in Massachusetts have a requirement to buy health care?" Santorum asked.
"Everyone has a requirement to either buy it or pay the state for the cost of providing them free care," said Romney, speaking awfully quickly. "Because the idea of people getting something for free when they could afford to care for themselves is something that we decided in our state was not a good idea."
"Just so I understand this," Santorum said, "in Massachusetts, everybody is mandated, as a condition of breathing in Massachusetts, to buy health insurance, and if you don't, you have to pay a fine." It was, he noted accurately, just like the president's version of health-care reform.
Romney blustered a little more, unable to refute the charge. But he also said something telling: "It's not worth getting angry about."
For Romney, it really isn't. Republican voters have either forgiven him for his health-care law or they haven't. Among those who haven't and won't, Romney's best hope is that some leave Gingrich and choose to support Santorum instead.
Gingrich's closing statement was a grab bag of by-now-familiar Newtisms: Reagan! Contract With America! Food stamps! Saul Alinsky!
But his signature flair, his creative spark, the blaze of diabolical intellect that makes him so compelling -- it was missing Thursday, and Gingrich will not have another chance to do that thing he (sometimes) does in debates before Tuesday's Florida primary.
The Attack Muffin, as Peggy Noonan so memorably dubbed him, seemed defeated.
Image credit: Getty Images/Paul J. Richards