Mitt Romney's Florida Formula: Back to Divide and Conquer
Two new polls suggest he's consolidating his vote -- and underscore the high stakes for Newt Gingrich in Thursday's debate.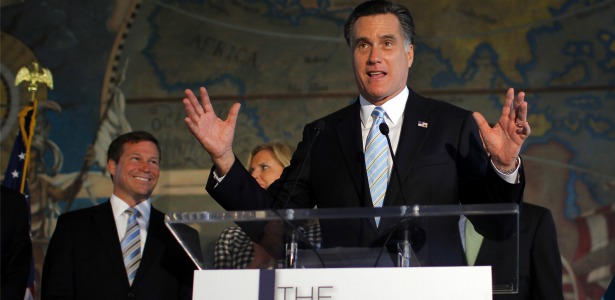 Could divide and conquer work for Mitt Romney one more time? Two polls released Thursday in the showdown state of Florida suggest that it might, unless Newt Gingrich can re-energize his populist, anti-establishment coalition before Tuesday's vote.
From mid-December, when Romney launched his first offensive against Gingrich, through the Iowa caucus and New Hampshire primary, divide and conquer was the decisive dynamic in the GOP race. Romney moved into the lead during that period because he consolidated the center of the party behind him more than any one of his rivals consolidated the right of the party against him. Instead, conservatives fragmented among a long menu of choices.
That pattern flipped in Gingrich's crushing South Carolina victory last Saturday. Gingrich ran better among the key elements of what could be called the GOP's populist wing-including evangelical Christians, strong tea party supporters, non-college voters, those earning less than $50,000 annually and voters who identify as very conservative-than Romney did among the opposite groups in the GOP's managerial wing (non-evangelicals, non-Tea Party supporters, moderates, and more affluent and college-educated voters.) In South Carolina, Gingrich actually won some of those more centrist and pragmatic groups. Even when he didn't, he held down Romney's margin among those groups-while running up his own advantage among their conservative mirror images.
The CNN/Time/ORC Florida survey released this afternoon looks less like South Carolina than it does like Iowa. Overall, Romney led Gingrich in the survey, conducted from Sunday through Tuesday, by a statistically insignificant 36 percent to 34 percent -- a difference well within the poll's 5-percentage-point margin of sampling error. But the internal pattern has to give Romney heart: Once again, Romney is posting bigger numbers among the groups generally supportive of him than Gingrich is among the groups that have consistently resisted the former governor.
Romney, for instance, leads Gingrich in the survey by 36 percent to 28 percent among voters with a college degree; Gingrich only manages a tie with Romney among voters without a degree. In the survey, Gingrich leads Romney by six percentage points among evangelical Christians; Romney though leads by 11 percentage points among voters who don't identify as evangelicals. And while Gingrich leads Romney by four percentage points among tea party supporters, Romney leads the former speaker by 11 percentage points among those neutral toward the movement or opposed to it.
Part of Romney's advantage is that Rick Santorum draws slightly more from the groups favorable to Gingrich than from the groups that tilt toward Romney. Most dramatically, Santorum in the survey attracts 18 percent from Tea Party supporters, and only four percent from those indifferent or opposed to the movement; he also wins slightly more from those identify as evangelical Christians than those who don't. Once again, fragmentation on the right is favoring Romney.
Ron Paul somewhat offsets the Santorum effect by attracting more from the pro-Romney groups (like college graduates, non-evangelicals, and those not aligned with the Tea Party) than the pro-Gingrich groups. But generally, Santorum peels away slightly more from Gingrich than Paul does from Romney. Moreover, Florida leaves Gingrich with less margin for error because the groups favorable to him aren't as prevalent there as in South Carolina. In particular, evangelicals, which comprised almost two-thirds of the South Carolina vote last Saturday, represented only two-fifths of the vote in the 2008 Florida GOP primary. Adding to Gingrich's challenge is that Romney himself in the survey is also recording deeper inroads among conservative groups in Florida than he did in South Carolina.
A Quinnipiac University survey released Wednesday morning produced an identical 36 percent to 34 percent lead for Romney in Florida -- although it noted that in interviews conducted solely after Gingrich's South Carolina victory, the former speaker led. Still, the Quinnipiac survey generally showed a similar pattern, with Romney leading among non-evangelicals and voters with a college-degree by a larger margin than Gingrich held among the opposite groups.
All of this underscores the stakes for Gingrich in Thursday night's CNN debate. He surged in South Carolina through two searing debate performances in which he articulated the visceral antipathy of the GOP's most ideological elements toward President Obama, the news media, and assorted elites on campuses and the coasts. He brought none of that fire to Monday night's debate co-sponsored by National Journal in Tampa. These polls suggest that to overcome Romney in Florida, Gingrich must consolidate the party's populist wing more effectively than he's doing so far. And, especially since Gingrich is being outspent so badly in the state, his best, and perhaps last, opportunity to do that will come when he steps on the stage in Jacksonville Thursday night.
Image: Brian Snyder / Reuters