Mitt Romney Wins Big in Florida; Rivals Commit to Staying in the Race
We gathered updates during the evening of Mitt Romney's victory in the Sunshine State. Full results can be viewed at the Florida Election Watch site maintained by the Florida Department of State Division of Elections.
9:30 p.m. Ron Paul's turn. "Well, if enthusiasm wins elections, we wins hands down," Paul says, drawing boos when he adds that he called Romney to congratulate him. The boos turned to cheers when Paul added that he'd said, "We would see him soon in the caucus states!" Paul is now in third place in the delegate count, he noted; when you have an "irate, tireless minority," you do very well in caucus states.
9:10 p.m. A surprisingly upbeat and measured Newt Gingrich speaks and praises the positive spirit of the voters (in implicit contrast to that of he co-campaigners): "I want to thank Floridians. Everybody here has been so positive in every part of the state."
What Florida has done: "It is now clear that this will be a two person race between the conservative leader, Newt Gingrich and the Massachusetts moderate," says Gingrich. And to "the same people who said I was dead" in July and after Iowa, "I just want to reassure them tonight ,we will contest every place and we are going to win and we are going to Tampa as the nominee in August."
"You might ask, how can that be true?" Gingrich asked the question he knew would be raised by his remarks. Because, he said citing Abraham Lincoln's famous words, "We have government of the people by the people for the people...And people power will defeat money power."
Notably, he did not mention calling or congratulating Romney.
9:07 p.m. Why Santorum is decrying the mud: An "analysis from Campaign Media Analysis Group (CMAG) shows a whopping 92% of ads airing in Florida over the past week were negative".
8:59 p.m. Rick Santorum is with supporters in Las Vegas tonight, thanking them and others on both sides of the aisle for their prayers and support during the recent hospitalization of his medically vulnerable 3-year-old, Bella, who was born with a genetic condition.
"Republicans can do better...this campaign went downhill" in Florida, Santorum says, decrying the "mud-wrestling match" in the state. He pledges to continue campaigning.
8:56 p.m. Andrew Sullivan did not like Romney's speech.
8:32 pm. And here comes Mitt. "Thanks you guys!" he says. Cried of Mitt! Mitt! Mitt! fill the air. "There are fewer candidates tonight than when the race began," Romey says, graciously acknowledging his competitors. "Primary contests are not easy and they are not supposed to be," he notes, adding that those who worry about the impact of the highly negative primary contest should not fear: "A competitive primary does not divide us, it prepares us. And we will win! And when we gather back here in Tampa for our convention ours will be a united party with a winning ticket for America."
And from there, Romney dives straight into an attack on Obama.
8:30 pm. The Romney family is taking the stage at the Romney victory party in Florida. "Thank you Florida!" says a beaming Ann Romney, who goes on to thank key campaign supporters and endorsers.
8:00 p.m. CNN and NBC News are projecting that Mitt Romney will win the Florida primary.
7:45 p.m. The next GOP presidential primary debate -- and next big opportunity for someone to change the narrative of the race -- won't be until February 22. Before that happens, Newt Gingrich, Ron Paul and Rick Santorum -- should they all stay in the race -- will have to weather the Nevada caucuses on Feb. 4, the Maine caucuses February 4-11, the Colorado and Minnesota caucuses on February 7, and the Missouri primary on February 7. Gingrich won't be appearing on the ballot in Missouri, having failed to meet a filing deadline in the state.
7:33 p.m. The U.S. House editor of the nonpartisan Cook Political Report offers his take:
It's a testament to the most powerful (and perhaps the only true) GOP urban machine in the country: Diaz-Balarts + Ros-Lehtinen

— Dave Wasserman (@Redistrict) February 1, 2012
Mitt's Cuban landslide in Miami-Dade has already sunk Newt in FL: early votes there are 68% Mitt, 19% Newt, a la McCain '08

— Dave Wasserman (@Redistrict) February 1, 2012
7:26 p.m. This is no Iowa replay. Early returns show Romney with 50 percent of the vote. No Mr. 25 Percent, he.
Florida already looks over, but Team Romney aren't talking much yet. Superstitious lot.

— Paul Bedard(@WhispersBedard) February 1, 2012
7:21 p.m. Bachmann, Hunstman, Perry -- all gone. You know who hasn't dropped out of the running yet? Buddy Roemer. GQ's Marin Cogan caught up with the quixotic Republican candidate in Orlando.
7:17 p.m. The Romney clan is gathering for the victory party. Early returns show a strong lead for Romney.
7:00 p.m. Polls in the eastern part of the state are closing now.
Miami polls close at 7:00 pm, or as condo residents there call it "bedtime."

— pourmecoffee (@pourmecoffee) January 31, 2012
Polls in the Florida Panhandle stay open until 7 p.m. Central time, or 8 Eastern (Florida encompasses two time zones). Expect new organizations to call the race shortly after that.
6:28 p.m. Politico's Ken Vogel reports that Newt Gingrich's campaign has been paying the candidate himself and his private entities:
Newt Gingrich's campaign paid him $47,000 for a list of supporters and paid one of his companies another $67,000 for web hosting, according to a report filed Tuesday with the Federal Election Commission.

The report paints a picture of a campaign that is working to professionalize, but continues to be based in part around the candidate himself and the network of companies and non-profits that he built after leaving Congress....

...it's unusual for a presidential candidate personally to be paid significant amounts for travel or lists -- both because candidates can contribute an unlimited amount in cash or services to their own campaigns and because campaigns typically foot travel costs directly.
6:00 p.m. The Obama-Biden campaign is repeating what it did in Iowa with the Des Moines Register on the night of the caucuses, buying the banner ad at the top of the Miami Herald website so that those seeking GOP presidential primary results also have to confront the Obama message.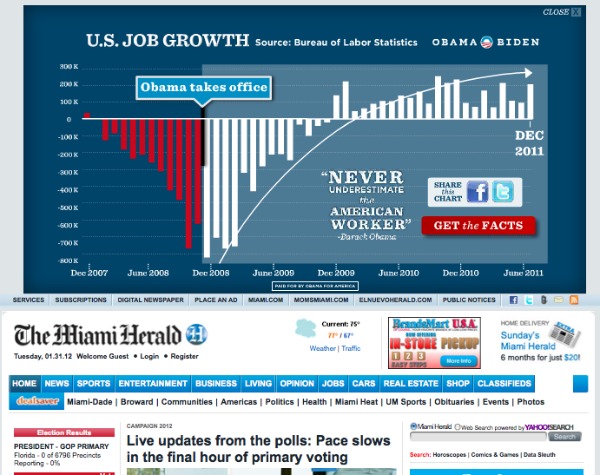 5:50 p.m. The early expectations-setting buzz, via the Drudge Report:

5:46 p.m. There was a minor scuffle earlier today between Gingrich security forces and a Ron Paul supporter who was holding a big sign support Paul in such a way it was getting into Gingrich's photo op in Windermere, Fla., according to Yahoo!:
Gingrich aides and security personnel swarmed Dillard, trying to intimidate him into moving. One of Gingrich's security agents stepped in front of him. When Dillard didn't budge, the agent lifted his heeled shoe over Dillard's bare foot and dug the back of it into his skin, twisting it side-to-side like he was stomping out a cigarette. Shocked, Dillard kept his ground and took a picture of the agent with his phone, which was quickly knocked out of his hand. Dillard slipped off his flip-flop to pick up the phone with his foot, and a Gingrich supporter kicked the sandal away.

"Don't kick me!" Dillard said to the man who knocked away his sandal. More members of Gingrich's security retinue approached, shoving their shoulders and chests in front of him.

"Just block him!" a Gingrich campaign aide said. "Everyone step on his toes!"

Gingrich supporters handed a "Newt 2012" yard sign up to the front to put in front of Dillard's Paul sign. The two signs, zipping back and forth inches from Gingrich's head, circled each other in the air like fighter jets in a dogfight.

When the candidate finished taking pictures with voters, furious Gingrich aides grilled Dillard.

"If we did this to you, you guys would be furious," said an aide before stomping back toward the bus. "They have no class. No class."

As Gingrich pulled away, Dillard looked down at his foot. With the adrenaline pumping, he hadn't noticed the pain, but now it was starting to sink in. A bruise was forming, and there was a cut mark where the security agent had dug in his heel.

"That was really something," Dillard said afterwards. "My heart's racing. Not what I expected to happen today."
5:30 p.m. If it's Tuesday, that means there's an election somewhere. Today's is in Florida.
What's the chatter down South?
Hot topic at Tampa polling location among poll workers is proliferation of huge pythons in Fla. Turnout light

— Quinn Bowman (@quinnbowman) January 31, 2012
And what's Newt been talking about today?
Newt in Celebration, FL: "I really wanted to go to the Magic Kingdom and Epcot. Epcot's my favorite place." #Campaign2012

— Sarah Huisenga (@SarahH_CBSNJ) January 31, 2012
How's Romney thinking about things? He told ABC:
"With a turnout like this, I'm beginning to feel we might win tomorrow," the former Massachusetts governor, who kept his schedule light today, said at a campaign stop on Monday.
Polls show Romney with a solid lead in the state.
Also worth noting: it has been a very nasty race down there. Nastier than usual. The vast majority of the ads have been negative, and then today someone either from or purporting to be from the Gingrich campaign started robocalling in Florida to warn that Mitt Romney would take kosher meals away from Holocaust survivors. Classy.