Mitt Romney Gets Ready to Enter History
The reality seems to be sinking in for the likely Republican nominee, but the moment is less triumphant than precarious.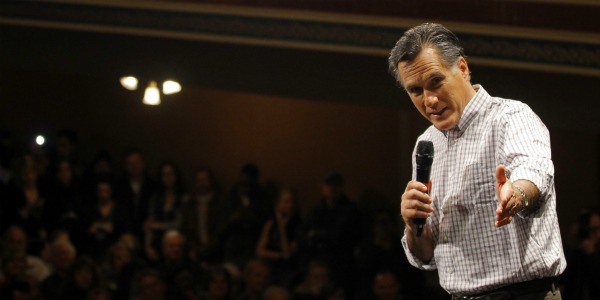 ROCHESTER, N.H. -- W. Mitt Romney stands on the brink of his world-historical moment.
All but assured of a glide path to the Republican presidential nomination after Tuesday's New Hampshire primary, Romney has begun to openly contemplate the import of what he is about to achieve.

"I have to tell you, this chance to run for president of the United States," he said at a campaign rally here Sunday afternoon in what appeared to be an impromptu detour from his stump speech.
"I never imagined I'd do it," he continued. "I mean, this is just a very strange and unusual thing to be in the middle of. I was just a high school kid like everybody else, with skinny legs."

It was tempting to dismiss this throwaway line as the sort of "pious baloney" for which Newt Gingrich had so pitch-perfectly mocked Romney just hours before. But who, in Romney's loafers, would not be having approximately the same thought? Becoming the major-party nominee for leader of the free world would be a major crossroads in anyone's life, even someone who's been the governor of a state and a zillionaire CEO.
There can be little doubt it is all about to fall into place for Romney. Oh, sure, he still has five competitors trying their best to keep him on his toes, and they will do their best to bring down his winning margin in New Hampshire and derail him on the unpredictable turf of South Carolina, which holds its primary next, on January 21.
But no non-incumbent Republican candidate has ever won both Iowa and New Hampshire; Romney is poised to do that, and could well sweep South Carolina, too.

Even if one of those dominoes fails to fall, his campaign -- a cheerful, efficient operation -- is built for the long haul and the remote contingency, ready if need be to slog it out to the California primary in June.
"The Romney camp has always assumed something will happen down the road -- a surprise, an upset, something unexpected," a senior Romney campaign official said. "This campaign is built to withstand any of that."
Yet the paradox of Romney is that at the very moment his primary victory seems assured, he seems more precarious than triumphant -- flashing back to when he was a skinny-legged high schooler, flashing forward to his current position on the brink of the improbable. It is still not easy to conjure the mental picture of him accepting his party's nomination, much less being inaugurated president. The prize is both within his grasp and tantalizingly unrealized.
Romney's scriptedness and lack of apparent human qualities have been so widely noted that one begins to feel sorry for the man, who keeps having to answer frankly rude questions about why he isn't warmer. But on Sunday, he appeared to be considering the place in history that, having eluded his revered father, will finally, after so many years of scraping and clawing, accrue to him.
He had gathered his family around him -- his wife Ann, three of their five boys, two daughters-in-law and five of his 15 grandchildren. He stood in an ornate old opera house in this southeastern New Hampshire town, rows of supporters sitting behind him in front of an enormous American flag. A former rival, former Minnesota governor Tim Pawlenty, and a local political celebrity, Sen. Kelly Ayotte, introduced him, jointly symbolizing his anointment-in-progress. As he often does, Romney handed the microphone for a bit to Ann, a stately multiple sclerosis survivor who has an earthiness her husband lacks.
"We are going to get across that finish line on Tuesday!" she said, adding, "You know, Mitt's been successful at everything he has done."
Ayotte, in an interview afterward, said Romney draws energy from the crowds and from having his family with him. "I think he's feeling very good," she said.
Romney's speeches at this point in the campaign are nearly all pabulum, an attempt to avoid embarrassment or offense by saying almost nothing at all. This just in: He doesn't agree with the president, whom he believes to be well-intentioned but clueless, particularly on economics. He is concerned that the country not be taken in a European, anti-capitalist direction, preferring free enterprise.
"There's nothing wrong with spending your entire life in politics, but it's kind of a bubble," said Romney, who has been traveling on private airplanes and a bus with his name on it, and sleeping in hotels, for weeks straight. "And outside that bubble is where I lived my first, I don't know, 25, 30, 40 years of my career."
Romney said he had learned from signing both sides of a paycheck and worrying over a payroll and budget. "A couple of times I wondered whether I was going to get a pink slip," he ventured -- immediately prompting the New York Times to demand proof that he'd ever actually experienced such a fear.
Romney's speech ends with a recitation that is both utterly weird and radically inoffensive, the parsing of obscure back verses of "America the Beautiful." He makes a literally conservative appeal, saying that he does not want to change or shake things up, as so many candidates vow to do: "I don't want to fundamentally transform America," he says. "I will restore America."

The crowd of a few hundred people filed out in orderly fashion. As usual with Romney's large, polite crowds, interviews revealed them to be by and large supportive without being passionate. "He's the best of what we have," shrugged Nancy Corning, 65, of Dover, a semi-retired education professor who plans to vote for Romney on Tuesday. In addition, many were from over the border in Massachusetts, and some said they might support other candidates in the primary less than two days away.
No one cries at Romney's speeches. Men do not pump their fists; women do not get stars in their eyes. For a politician, he is called upon to kiss remarkably few babies, and the people who seek his autograph are more often autograph collectors than Romney fetishists.
But none of that will matter when, in the coming weeks, the other candidates' mathematical prospects begin to dwindle and they start getting hounded to explain what they're still doing in the race.
Romney's New Hampshire adviser Tom Rath shrugged at all the angst about the candidate. The passion of the Republican electorate, he said, will follow its votes.
"People talk about the head following the heart," he said. "I think, in this case, the heart will follow the head."
Image credit: Reuters/Brian Snyder