McCain's Endorsement of Romney Doesn't Stir Much Excitement
With sky-high expectations in New Hampshire and the backing of one of his party's major figures, the barely-frontrunner better turn up the heat, and fast.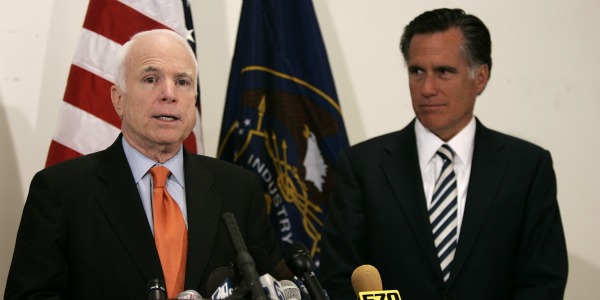 MANCHESTER, N.H. -- Is that all there is?
Mitt Romney stormed out of Iowa on Wednesday with a narrow victory and headed to the friendly confines of New Hampshire to pick up the endorsement of 2008 presidential nominee John McCain -- himself a political rock star in the Granite State.
Two pillars of the New Hampshire GOP establishment were recruited to warm up the crowd: Former Gov. John Sununu, and Sen. Kelly Ayotte.
Good event, right? Well, not so much.
---
MORE FROM NATIONAL JOURNAL
---
The turnout was surprisingly small -- about 400 GOP voters squeezed into one end of a high-school gym. The crowd was about half the size of what would be typically expected on the heels of an Iowa victory, six days away from the next election.
Romney raced through his stump speech -- "retire a nice guy who's in over his head," he said of President Obama -- before introducing McCain as "an American hero and a giant among men."
Romney and McCain fielded a couple of tough questions from the crowd, including a convoluted one from a woman who essentially accused Romney of supporting policies that increase health-care costs. "I don't think anybody wants to increase health care costs," Romney said.
One man asked about the growing gap between rich and poor in American. Romney essentially said that it could be worse, and challenged the crowd to name a country where the average income in higher than the United States. Some members of the crowd shook their head in disagreement. One heckled him.
To his credit, Romney didn't stack the crowd with supporters and allowed naysayers to air their gripes. New Hampshire voters expect nothing less.
McCain told a few old jokes and gave Romney an endorsement that lacked both passion and specifics. He urged the crowd to make New Hampshire the state that "catapults [Romney] to victory in a very short period of time."
That is, after all, what Romney hopes to do: Complete a historic sweep of Iowa and New Hampshire and wrap up the nomination fight in January or February.
But first he needs meet expectations for a huge victory in New Hampshire, where he holds a double-digit lead. His first step was uninspired.
Image: Ramin Rahimian / Reuters