Jon Huntsman Tried to Go Native in New Hampshire—Will It Work?
The centrist former diplomat is scouring the Granite State for like-minded voters, but his one-state strategy may not be enough even here.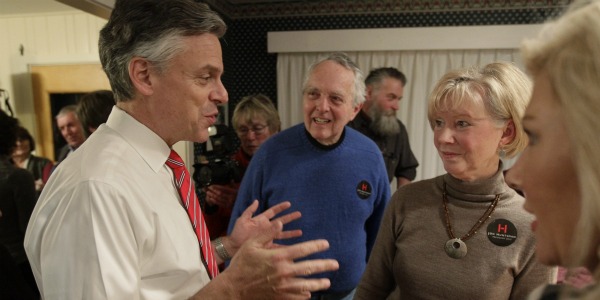 RANDOLPH, N.H. -- Jon Huntsman likes to joke that he is acquiring a New Hampshire accent from all the time he's spent here. He is not.
The former Chinese ambassador is able to emit a mangled "Nyoo Hehmpshah," but otherwise, his ear for the New England dialect is no match for his fluid Mandarin. And yet here in New Hampshire's ski country, a ravishing landscape of rugged peaks dotted with "Brake for Moose" signs, Huntsman has managed to find a few people who speak his language.
Perhaps three dozen of them were gathered Friday evening at the well-appointed home of Karen and Woody Eitel, down a mile-long snowy track in the White Mountains hamlet of Randolph. Woody is a retired New York publishing executive, his wife a writer and photographer. Both are independents who voted for Obama in 2008 but feel let down by his leadership.
"Huntsman is the only one in the Republican Party we feel could debate Obama and have a chance to win," said Karen Eitel, a trim, blonde 68-year-old in a light-brown turtleneck, as her guests munched hors d'oeuvres in the large, open kitchen. "He is the only serious candidate in the bunch. Romney has flip-flopped so much they're going to tear him apart, and the others are too extreme."
Huntsman has periodically tried to break out of this caricature of his candidacy as the liberal Republican in the 2012 race. He has pointed to his record on health care, abortion and taxes to argue that he's actually more conservative than many of his rivals; he has tried to sound less highfalutin by saying things like "Give me a break!" and "The people are getting screwed!" while plaintively scrunching his tall, tanned forehead.
But in secular, socially liberal New Hampshire where he has planted his flag, Huntsman sometimes doesn't have to apologize.
As Hunstman took questions here, standing on a staircase with his shirtsleeves rolled up next to a roaring fire, Karen Eitel praised him for distinguishing himself on China during the GOP debates. "Everybody was thumping their war chests...you were the only one saying, 'Let's move into the 21st Century,'" she said.
"Did you notice the applause line I got on that one?" Huntsman said, forming his thumb and forefinger into a circle. "Zero."
"I know!" Karen said.
"I guess if you want to pander, you want to throw out red-meat lines, that's great," he said. "I won't do that, I'm sorry."
"That's what sold me on you!" Karen interjected.
"You sit there on the debate stage, it's sometimes a surreal moment," Huntsman reflected. "You hear, you know, the pandering on China, because it's so easy to bash."
In reality, he said, "the people, the region and indeed the world will depend increasingly on our ability to problem-solve, to trade and to engage in issues around regional security." Around the room, heads nodded thoughtfully.
For these centrist independents, Obama Republicans and disappointed Democrats, Huntsman seems like a breath of fresh air -- the sanity candidate in an insane world. And while New Hampshire isn't as conducive to retail campaigning as Iowa, where Rick Santorum's intensive personal outreach lofted him to a tie for first, Huntsman, who skipped Iowa, may be making some modest progress.
One poll released Friday showed him with 16 percent of the primary vote, good for third place behind Romney's 37 percent and Ron Paul's 19 percent, and ahead of Santorum's 14 percent. That poll, a one-day automated survey conducted by a subsidiary of Rasmussen Reports, may be an outlier. Most New Hampshire surveys show Paul with a clear shot at second place and Huntsman, Santorum and Newt Gingrich duking it out for the dubious distinction of third, each hovering around the 10 percent mark.
It's clear enough whose vote share Huntsman hopes to cut into: Romney's and Paul's. The former has the backing of moderate and electability-focused Republicans, the latter of many of the independents who can vote in the state's primary.
A super PAC backing Huntsman has aired TV ads here calling Huntsman and Romney the "two serious candidates," and branding Romney a "chameleon" who's "willing to say anything, be anything." Huntsman has also gotten into it with Paul, attacking him as a paranoid conspiracy theorist -- an attack bolstered when one of Paul's supporters posted a video, unsanctioned by the campaign, implying that Huntsman was some sort of Chinese agent and highlighting his adopted Chinese daughter.
As strategy, this all makes sense. But here's the question that's hovered over Huntsman from the start: Is he the right man at the wrong time, out of step with his party and his moment? Or is he just bad at this?
Huntsman is articulate and sincere, but he doesn't bring down the house like Herman Cain, or inspire people like Obama, or bowl people over with charisma like a Bill Clinton. His political skills are passable at best, with a less severe case of Romney's cerebral coldness and awkward people skills, as evidenced by all those terrible jokes.
Attendees at the Eitel house party were mostly mildly impressed by Huntman's talk. A few Republicans said they were still leaning toward Romney, while several Democrats said they'd vote for him if they could vote in the primary, which they cannot. The pile of Huntsman yard signs on the Eitels' stoop was left largely unmolested as guests filed out to their cars in the snow.
Huntsman continued to Bretton Woods late Friday night, where he and his wife, Mary Kaye, worked the room at the annual dinner of the Littleton Area Chamber of Commerce. They posed for pictures with the real-estate developers, corporate executives and doctors who filled the elegant ballroom at the hotel where the plans for the International Monetary Fund were hatched.
"How is it I know I'm going to do just fine in the New Hampshire primary?" he began, after sitting through the agenda of Chamber business and the awarding of Student of the Year and Citizen of the Year.
Positive signs, he said, included the state's preponderance of motorcycle riders: "As a 40-year motorcycle rider, I like our chances!" And guns: "With a name like Huntsman, how do you lose?"
He told the New Hampshire accent joke, adding that he'd also picked up a love for lobster rolls and "a love for the people of this state." He fretted about the state of the nation: "Without a bit of hyperbole intended, if we don't get our act together, we will see the end of the American century by 2050." He summoned his dignity to beg for votes: "Ladies and gentlemen, I would not be the crass salesman that I am unless I asked for your help."
George Kirk, a 79-year-old retired adman who won the banquet's Citizen of the Year award for his work with such civic causes as the (sadly defunct) Frostbite Follies, said Huntsman had won his vote.
"I'm a Republican. I voted for Obama," he said. "I can't vote for Mitt. I can't vote for Newt -- I just can't. Huntsman is honest, and he's worked his ass off in New Hampshire."
Huntsman, whose previous homes have included the American ambassador's residence in Beijing and the Governor's Mansion in Salt Lake City, has logged 160 events in New Hampshire. It may well be the end of the road for his hapless campaign for president. But if he gets nothing else out of his grand Granite State adventure, he can go to his grave knowing he earned the support of the Littleton Area Chamber of Commerce's Citizen of the Year.
Image credit: Associated Press/Stephan Savoia