It's Not Just Romney: There Are No Paupers in the GOP Field
Mitt Romney is under fire for his lucrative time at Bain and his low tax rate, but all of his rivals are far wealthier than the average American.
Mitt Romney is under fire for his lucrative time at Bain and his low tax rate, but all of his rivals are far wealthier than the average American.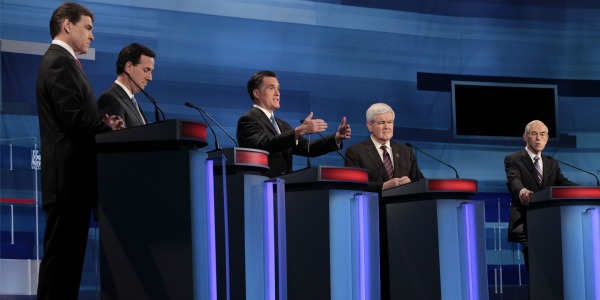 There are no paupers among the Republican presidential candidates -- just varying degrees of what many voters would consider immense wealth.
Texas Gov. Rick Perry, perhaps the "poorest" among the lot, reported just $217,447 in adjusted gross income on his 2010 tax returns, of which he paid $51,000 in federal income taxes. His tax rate is not readily extrapolated from the two numbers because he claims exemptions for charitable donations, and he also earned income from investments, all of which would affect his bottom-line rate.
Perry's income pales in comparison to former Massachusetts governor and investment banker Mitt Romney, who made roughly $374,327 in speaking fees alone last year -- an amount Romney described Tuesday as "not very much" money. Maybe not for him, but it is for the average American, whose median income for 2010 was $49,445, according to the Census Bureau.
So far, Perry remains the only presidential candidate to release his tax returns, a ritual he does annually as governor. Following political pressure and jabs during Monday night's candidates' debate, Romney vowed to release his own returns for 2011 in time for April's tax-filing season.
Now, all of the candidates are coming under pressure to release of their tax returns. Former House Speaker Newt Gingrich said on Wednesday that he pays a rate of about 31 percent on his income, although he said he didn't know how much he earned annually as a business consultant in Washington since leaving Congress in 1998. The mystery should be resolved at least in part on Thursday, the day that Gingrich has promised to release his 2010 tax return.
The public has had only glimpses of the income, wages, investment portfolios, and real estate holdings of the other Republican candidates.
Front-runner Romney acknowledged on Tuesday that he pays about 15 percent of his income in taxes, a consequence of earning most of his money from investments, which are taxed at a rate of 15 percent. Romney's net worth, gleaned from his years at the private-equity firm he ran, Bain Capital, is estimated to be as high as $250 million.
Rep. Ron Paul of Texas is the 105th wealthiest person among the 435 members of the U.S. House of Representatives, according to the Center for Responsive Politics. His 2010 congressional financial-disclosure form placed his total net worth between $1.3 million and $3.3 million, with 58 percent of his assets invested in mining and 25 percent in real estate. Members of Congress are required to report only ranges of income, not precise amounts.
Former Sen. Rick Santorum of Pennsylvania was certainly poorer than Paul back in 2006 when he took home a congressional paycheck. Then, according to financial disclosure forms, he had a net worth in the ballpark of $522,000 to $1.8 million and was invested heavily in real estate, thanks to three mortgages.
In the last year and a half, however, his wealth ballooned. In 2010, he earned more than $1 million on income from rental properties, consulting gigs, and a stint on the corporate board of United Health Services, according to the financial disclosure form he filed as part of his candidacy for president.
Asked by reporters on Wednesday what tax rate he pays, Santorum said he didn't know, but that he's confident it's higher than the 15 percent Romney pays. "I have to go back and look. I do my own taxes, but I haven't looked at them in quite a while, thank God, so I don't know what my effective rate of tax is. But I'm fairly confident it's a lot higher that 15 percent."
He said he had not released his tax returns publicly but that "when I get home I'll be happy to do that. "
The full extent of the candidates' wealth won't be known until they release their returns. The documents will help illuminate not only their income but the types of investments the candidates have, the amount of money they've put into the stock market, along with the income they've made from it, and the charities they donate to.
Then, voters can decide who's in touch with the middle-class experience, at least financially, or -- more worrisome to the candidates -- who is perceived as too rich to understand.
Image: Getty Images