Is Santorum Really the Best Non-Romney They've Got?
The flawed former Pennsylvania senator's narrow loss in Iowa is a testament to the weak field produced by both the Tea Party and the religious right.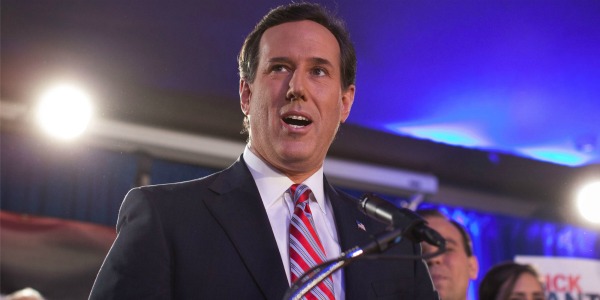 What does it mean that Mitt Romney won the Iowa Caucuses?
When it comes to its implications for the 2012 horse race, time will tell. But knowing how many Mitt Romney alternatives were hoping to repeat Mike Huckabee's 2008 victory over the former Massachusetts governor, I am interested in the fact that neither the Tea Party nor the religious right nor the conservative movement was able to produce a viable alternative. So total was the failure that Rick Santorum, who obviously won't be president in 2012, came in second place (only barely behind in total votes), probably because he surged so suddenly just before the big day that there wasn't really time for the press to stop ignoring and start vetting him.
And in third place? Ron Paul, who is rejected by most of the conservative and Republican establishments, and has led at least one of his fellow candidates to say he'll vote Obama if Paul wins. That's a shame, as far as I'm concerned, but underscores the right's failure to produce the candidates it wants.
Let's compare the 2008 non-Romney of choice, Mike Huckabee, to Santorum. Huckabee was a popular two-term plus governor of Arkansas possessed of uncommon charm and an unusual ability to sell his indisputably family-friendly, socially conservative message in terms that often appealed to and rarely alienated independents. Even so, many Republicans thought (probably accurately) that he'd prove unelectable if pitted against Barack Obama or Hillary Clinton.
In contrast, consider Santorum, who has no executive experience, served two terms in the House and one term in the Senate, and then lost his bid for reelection by 18 points. His unpopularity was due partly to the fact that he manages to articulate his positions in the most alienating, unlikable terms imaginable. More than even Newt Gingrich or Rick Perry, a Santorum candidacy would rally Democrats and independents back around the president who has disappointed them. Santorum's position on contraception is so extreme that it'd likely cost him even if only Catholics showed up to vote for the general election. And his foreign-policy views would arguably do more to empower the neo-con wing of the Republican Party than did George W. Bush.
Tea Partiers and social conservatives alike tend to treat setbacks as if they're all a consequence of unfair treatment by cultural elites, especially in the mainstream media. What they need to do, if they're to benefit at all from the debacle of the 2012 Republican primary, is to figure out what factors in their own movements led to the elevation of candidates so flawed, because if things regress any farther along the trend lines, an ineligible-to-be-president Arnold Schwarzenegger is going to narrowly edge out Donald Trump in the 2016 Iowa caucuses.


Back here in 2012, the Tea Party must confront the fact that its frontrunners are Romney, whose support for an individual mandate they regard as tyrannical; and Santorum, who cares more about social than fiscal issues, supported most of what they hated about the Bush years, and couldn't possibly beat Obama. But at least he didn't once suggest a temporary truce on social issues or fail to insult Mitt Romney to his face. Perhaps rewarding the candidates best suited to producing Fox News soundbites is a flawed approach to picking a president.

Image credit: Reuters