In New Hampshire, Rick Santorum Messes With Success
As he revels in the glory of his Iowa near-win, the GOP contender tries to sell the Granite State a culture-warrior message.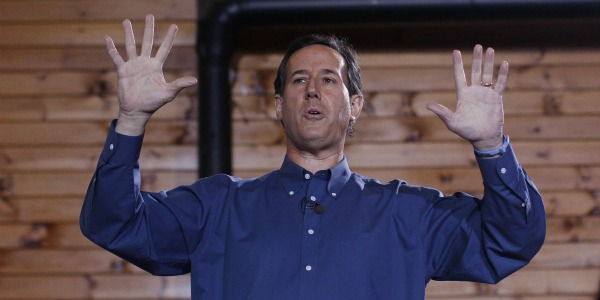 WINDHAM, N.H. -- In New Hampshire on Thursday, Rick Santorum was not wearing his sweater vest.
The nerd-chic garment had become a sort of talisman for the former Pennsylvania senator in the waning days of his upset Iowa campaign, but at a town hall in a Boston bedroom community he ditched it in favor of a dusty-blue dress shirt and slacks. So iconic has the sweater vest become -- it has even gotten its own
write-up
in the
New York Times
-- that when Santorum, seeking tributes to capitalism, asked the audience to call out the keys to success in America, someone yelled, "Sweater vests!"
"Not tonight, unfortunately," Santorum replied.
It was not the only sign that Santorum, puffed up with his sudden prominence, may be messing with success.
His attitude, once a too-obvious resentment of his low standing in the polls, has become a too-obvious self-regard for his vindicating near-triumph. (Though he officially lost to Romney by 8 votes,
questions have been raised about the final Iowa
tally.)
Always discursive and improvisational, both Santorum's introductory speech and his lengthy answers to questions were even more unfocused and rambling than usual. He devoted little time to the economic message that would seem to be his best pitch here in the socially liberal Northeast, instead spending minute-upon-minute mired in the minutiae of obscure legislation or playing the ever more insistent cultural crusader.
Say this for Santorum: He does not duck questions or rely on talking points. But that means he may fail to deliver his best material. On Thursday night, before an audience of 600 mostly receptive New Hampshire voters, he didn't bother to make his case for his ability to win a general election with his manufacturing plan, blue-collar heritage and appeal to Reagan Democrats.
Earlier Thursday, at a convention of college students, he got into a heated exchange about gay marriage, seeming exasperated as he insisted redefining marriage would inevitably mean legalizing polygamy.
To a question in Windham about how his call to return to Judeo-Christian values would "resonate with an American people whose values are much more diverse than when the country was first founded," Santorum articulated a faith-based vision of American exceptionalism. The American credo, he said, comes from "that common set of values that says we have our rights from God -- not any God; our founders believed these rights came from a Judeo-Christian God, the God of Western civilization."
He added, "These rights, the dignity of every human life -- do you think other cultures hold up the value of every human life? Men and women as equal? Let me assure you, they do not."
Later, he said he'd been on a Boston radio show whose host had told him what's needed now is an economics candidate, not a Jesus candidate. "My answer was, we always need a Jesus candidate," Santorum said. "When you say 'God bless America,' do you mean it? Or are you just saying it?"
This is not the sort of message candidates usually try to sell in New Hampshire -- and for good reason.
In 2008, according to exit polls, less than a quarter of New Hampshire Republican primary voters described themselves as evangelical or born-again Christians, a group that made up nearly 60 percent of Iowa caucus-goers. A majority -- 52 percent -- of 2008 New Hampshire Republican primary voters said they thought abortion should be legal. There are "values voters" in the Granite State -- just not a lot of them.
"Personally, as a man, I think the abortion issue should be left to women," said Rich Kelly, a 51-year-old engineering manager from Londonderry, who came to hear Santorum out of curiosity but is leaning toward supporting Mitt Romney. "On gay marriage, I have an opinion, but I'm not too worked up about it."
"He's not going to win my vote with strong conservative social issue points," said Steve Ham, a 69-year-old retiree from Londonderry. "I don't need a president to decide my morals or society's."
There is an audience for Santorum's social conservatism, however small. Several attendees at Thursday's event said abortion and gay marriage were important to them. But all admitted they were a minority in this state. One man said, in a broad New England accent, that though he liked Santorum, "he's got a haaahd road."
In Iowa, Santorum seemed to be breaking out of this kind of pigeonholing by foregrounding a pitch to blue-collar voters based on his heritage -- the grandson of an Italian immigrant coal miner -- and his plan to revitalize manufacturing through favorable tax treatment. This, he said, would give him appeal in the Northeast and Rust Belt and ensure success in the general election.
Though Mike Huckabee, the candidate whose 2008 trajectory mirrors Santorum's, won just 11 percent of the New Hampshire vote, there's reason to believe an Italian Catholic from Pittsburgh could play better in heavily Catholic, white-ethnic New Hampshire than a Southern Baptist preacher.
Except Santorum seems to believe he is already a star, rather than a man still being introduced to the voting public here. Many attendees at his events in New Hampshire don't know anything about him except that he won Iowa, which, for them, isn't necessarily a commendation. And the issue Santorum spent the most time on here Thursday was the Stop Online Piracy Act, the copyright-protection legislation that's become a lightning rod for Internet activists who see it as a threat to freedom of speech, but also is by no means a major voting issue nationwide.

Santorum has a rather tortured relationship with online free speech thanks to his "Google problem" -- the obscene alternate definition for his last name promoted by sex columnist Dan Savage. Santorum didn't mention that explicitly, but his lengthy diatribe on the importance of limiting and regulating speech seemed undergirded by it.
"The Internet is a powerful source for good, and as we all know, a powerful source for bad in this country," he said. "There are limits that have to be put in place. Your free speech rights can be incredibly harmful to somebody else. Your desire to go grab something that doesn't belong to you can be very harmful to somebody else."
Even as he was racking up the miles in Iowa over the past year, Santorum was also doing a lot of campaigning in New Hampshire -- more than 100 events over the course of 30 visits to the state. "We said we had an early state strategy, and we weren't kidding around," his adviser Hogan Gidley said. "It's tough to beat down a 45-point lead, but we're showing people that Rick is the consistent conservative who is the alternative to a moderate like Mitt Romney."
Even in New Hampshire, Romney's friendly backyard, there is an audience for that.
"Romney scares me. You don't know what he's going to do," said John Grieco, 66, a small businessman from Hampstead who said he'd made up his mind to support Santorum.
Santorum, he said, is honest and "clean," whereas he believes Romney is owned by corporate interests. In 2008, Grieco voted for John McCain, but McCain's recent endorsement of Romney didn't move him.
"I only voted for McCain," he said, "because Romney was running against him."
Image credit: Reuters/Shannon Stapleton