In Nevada, Sheldon Adelson Gets His Very Own Caucus
The next primary contest after Florida is shaping up to be a confusing mess -- and one billionaire is getting a very special accommodation.
The next primary contest after Florida is shaping up to be a confusing mess -- and one billionaire is getting a very special accommodation.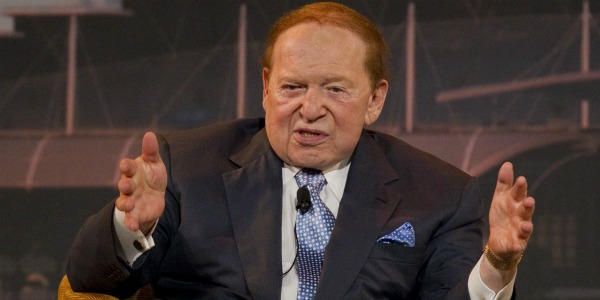 Updated 7:25 p.m.
If you thought the confusion surrounding the Iowa caucuses was bad, wait until you see Nevada.
When the traveling Republican circus moves on after Tuesday's Florida primary, it will head for the Silver State -- giving Newt Gingrich's most generous backer,
casino mogul Sheldon Adelson
, a chance to cast a vote for his candidate.
But with the caucuses scheduled for a Saturday morning, Adelson, an observant Jew, originally would not have been able to participate. So, largely at his urging, the state's Republicans will
hold a special extra caucus
, hours after the rest of the state has finished voting and reporting its totals.
In case the symbolism wasn't clear enough, the extra caucus, scheduled for 7 p.m. Pacific time, is being held at the Dr. Miriam and Sheldon G. Adelson Educational Campus, an Adelson-funded private school in Las Vegas.
Party officials insist that's just a coincidence, but insiders say without the influence of Adelson, a generous donor to local candidates and causes, the rogue caucus almost certainly would not exist.
Here's how it is supposed to work, according to a conference call with Nevada GOP officials Friday afternoon. Nevada has 17 counties, but more than half the Republican voters are in Clark County, which encompasses Las Vegas.
Each county was allowed to set its own caucus procedures this year, leading to a divergent array of start times and rules across the state. Some precincts will open their doors as early as 8 a.m.; others won't get under way until noon. But all must wrap up the action by 3 p.m.
At 5 p.m., the party will publicly announce the results of the caucuses for the 16 smaller counties. (Since these results will have been announced at the precinct level, the campaigns and media likely will already have a sense by then.)
At 7 p.m., just as the special evening caucus is getting under way, the results for the rest of Clark County will be announced.
Needless to say, this is not a normal way to run an election. Even the Iowa caucuses, for all their flaws, started at the same appointed hour across the state. Four years ago, Nevada's GOP caucuses, which drew 44,000 voters, all commenced promptly at 9 a.m.
The bizarre arrangement leaves the door open to all kinds of campaign hijinks. Party officials say attendees at the evening caucus will have to sign an affidavit swearing that they didn't already vote earlier, and their names will be checked against the voter rolls. Officials expect about 500 to attend the evening caucus, and while it is meant to accommodate those who observe a Saturday sabbath, such as Jews and Seventh-Day Adventists, the party won't "police" that requirement, executive director David Gallagher said on Friday's conference call.
Supporters of Ron Paul, who has a well-organized campaign in Nevada, have complained bitterly about the situation, which they believe will allow Adelson to somehow rig the caucus results in favor of Gingrich.
"This is all happening because Sheldon Adelson feels like he needs to intervene and cause chaos," said Carl Bunce, Nevada chairman of the Paul campaign. He likened the situation to allowing absentee balloting after an election has already ended.
Gallagher said the school's selection as a caucus site came before the Adelsons dumped $10 million into the Winning Our Future super PAC's scorched-earth effort on behalf of Gingrich, and that the school does not belong to the Adelsons, though they donated $25 million to build it and are expected to show up to vote there.
"It just happened to be Sheldon's name on the building," he said. "Sheldon doesn't own it. It's a school that has his name on it."
Other party regulars wonder why Jewish voters couldn't simply participate in the absentee balloting system the party set up to accommodate active-duty military personnel. But the party officials on Friday's conference call downplayed the situation, saying the evening caucus was the best way to accommodate the most voters.
For the Nevada Republican Party, which caved to pressure from New Hampshire and moved its contest from third to fifth on the calendar, the result seems likely to be an embarrassing mess that satisfies no one but gives everyone reason to complain. (One insider called the state party "a bad idea machine.")
But the party's chairwoman, Amy Tarkanian, professed Friday to be ecstatic about the arrangements. "I could not be any more happier than I am right now," she said.
Image credit: Reuters/Vivek Prakash