In China, Huntsman Served America, Not President Obama
Critics who claim otherwise must articulate how precisely he betrayed the foreign-policy principles of the Republican Party.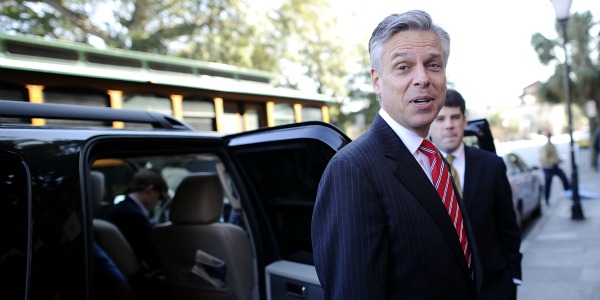 In serving as the United States ambassador to China, was Jon Huntsman serving his country or Barack Obama? Writing in The Daily Beast, Michael Tomasky unpersuasively takes the latter position:
Ambassador to China is a big job. It's not ambassador to Barbados. It meant Huntsman really was working -- and for the Obama administration, not "for America." As a liberal voter, I'd be far less inclined to support a Democratic candidate who'd taken a major job with a Republican administration. That's not toxic partisanship. That's having some basic political principles. I always thought it very strange that Huntsman took the job. Obama -- who I assume could have found a Mandarin-speaking Democrat if he'd really tried -- clearly saw him as a potential threat for 2012 and was obviously trying to box him in. And it worked.

This argument implies that a Democratic president necessarily wants to advance an approach to China that is at odds with the principles of a Republican in good standing. Why Tomasky presumes as much is unsaid, and is impossible to discern because he fails to name the principles at stake.
But disagreements about America's approach toward China are rarely emphasized in American politics, and the the relevant fault lines aren't partisan. Even less controversial and less partisan are disagreements -- insofar as they exist -- about the role that the Chinese ambassador should play. President Obama has also adopted numerous foreign-policy stances taken by the Bush Administration, further undercutting Tomasky's undefended assumptions.
Finally, it is in fact the case that the ambassador to every country works for the United States, not a given administration, which is different than the more defensible and weaker claim that in the course of an ambassadorship they might implement a controversial policy on behalf of the nation. This is worth mentioning partly because, contra the widespread consensus in Washington, D.C., all federal employees owe their loyalty to the people, not the guy who hires or appoints them (who after all is there on our behalf). Perhaps appointees would behave that way more often if we took care to emphasize how things ought to be, rather than how they are perceived to be by many partisans.

Image credit: Reuters