How Serious Is Stephen Colbert?
Though the comedian had plenty of jokes about Herman Cain, who rallied with him in South Carolina, his critique of campaign finance is no laughing matter.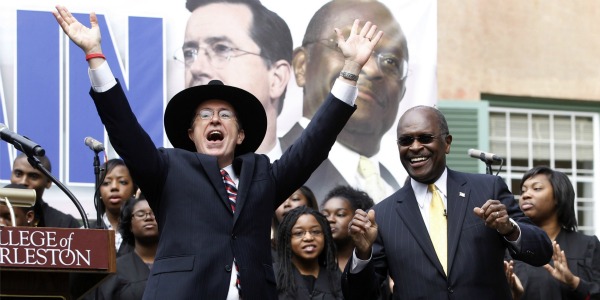 CHARLESTON, S.C. -- It is not every day on the campaign trail that one gets to see a onetime Republican presidential frontrunner recite the lyrics to a children's cartoon theme, then burst into song, then submit himself and his party to vicious mockery by a liberal satirist.
"I came here to praise one man -- one Her-man," Stephen Colbert told an enthralled crowd here on Friday. He added, "A her-man is not the same thing is a she-male. I don't want to frighten off any Santorum supporters."
The her-man was, of course, Herman Cain, the out-of-work former candidate who was so unjustly ejected from the 2012 race by the "Democrat machine" that he accused of somehow causing numerous women to accuse him of a history of infidelity and sexual harassment.
"Herman Cain is an outsider," Colbert said. "In fact, he is such an outsider, he is not even running for president anymore. He is a man with ideas; a man with convictions; a man with a bus with his face on it."
He whipped the crowd into a roar as he called Cain to the stage: "The Her-man with a plan, the plan so fine they named it nine-nine-nine! The Mad Max of the flat tax! The Indiana Jones of opportunity zones! The Her-man, the Her-myth! My brother from another mother -- Mr. Herman Cain!"
That ovation, before he opened his mouth, was the biggest cheer Cain would get from the youthful crowd of thousands, packed under trees draped with Spanish moss in an elegant 18th-century college courtyard.
The applause for his vague exhortation to take Washington back was tepid and disapproving. When he praised the Tea Party, there were boos and a shout of "Occupy Herman Cain!" When he told them not to take Colbert's advice and vote for his defunct candidacy -- "I don't want you to waste your vote," he said -- it was pretty clear whose side of the issue the crowd was on.
And then there was "the Pokemon thing": Apparently prompted by an audience member, Cain, who had
quoted the theme
from
Pokemon: The Movie 2000
 as the words of "a poet" on the campaign trail, intoned the lines in his rumbling bass, then sang:
Life can be a challenge.

Life can be impossible.

It's never easy when there's so much on the line.

But you and I can make a difference.

There's a mission just for you and me.
Cain was the court jester of the 2012 field, the man who reliably brought the house down at campaign events and debates with his shtick about "fixing the problem" -- itself a near-parody of politicians' fatuous odes to common sense. But next to Colbert, he wasn't very funny. He was a laughingstock, and he didn't seem to be totally in on the joke.
All of Colbert's jokes, though, couldn't disguise the earnestness of his own plea. He has become a campaign-finance activist, forming a "super PAC" with the help of a real campaign-finance lawyer who once worked for John McCain in order to satirize the shambles of the regulatory regime. In the latest twist, he's
handed the super PAC over to his Comedy Central colleague Jon Stewart
so that he can explore running for the presidency in South Carolina, his home state.
"The pundits have asked, is this all some joke?" Colbert said. "And I say, if they are calling being allowed to form a super PAC and collecting unlimited, untraceable amounts of money from individuals, unions, and corporations, and spending that money on political ads and for personal enrichment, and then surrendering that super PAC to one of my closest friends while I explore a run for office -- if that is a joke, then they are saying our entire campaign finance system is a joke!"
About this point, Colbert appears to be completely serious. He roundly mocked the idea of corporate personhood, one of the underpinnings of the 2010 Citizens United Supreme Court decision, calling himself "the Martin Luther King of corporate civil rights -- the Lockheed Martin Luther Burger King, if you will." He called out the "unelected justices of the Supreme Court" who ruled in that 5-4 majority: "Thomas, Scalia, Roberts, the other Scalia and the tall guy, I want to say Gary something." (He was looking for Kennedy.)
In the wake of the Citizens United decision, liberals are now nearly as furious at the judiciary as conservatives, who invented the modern court-bashing franchise. And Colbert, who embarked on this venture too late to get on the South Carolina ballot, is urging his fans in the state to vote for Cain instead (over Cain's objections). The idea, beyond the joy of an old-fashioned prank, seems to be to send a message about corporate influence in politics, though it's a rather convoluted way to go about it.
There is a real, bipartisan backlash brewing against super PACs, which have had a major impact on the race for the GOP nomination already. Newt Gingrich complained bitterly about their attacks (Colbert: "I am not going to answer the gotcha question about whether I am interested in an open marriage, although I am flattered that Newt Gingrich asked me"). Mitt Romney has claimed to loathe them even as they
do much of his campaign's dirty work
(Colbert: "The only difference between a statue and Mitt Romney is that a statue never changes its position"). Republican voters on the campaign trail in Iowa, New Hampshire, and South Carolina routinely grumble about their clogging of the airwaves.
But while Colbert cloaked his serious point in sarcasm, Cain seemed a bit pained by the way the comedian was proposing to make a mockery of the electoral system, as evidenced by his plea not to be voted for. Seen through the lens of an earnest would-be participant in that system, Colbert's stunt seemed less clever than cynical, less irreverence than sabotage.
In a half-hour or so of canvassing the Colbert audience, nary a Republican voter could be found. Most were Democrats or liberal-leaning independents, relieved to have a campaign event of their own to attend amid all the Republican campaigning in their state.
Naylor Brownell and Nick Shalosky, a gay couple in their 20s who attended Colbert's speech, said they planned to follow his instructions and vote for Cain. South Carolina does not have registration by party, so any voter can cast a ballot in Saturday's Republican primary.
"The best part was when Herman Cain told us all to stay informed, when he's not informed at all," said Shalosky, a law student who says he is South Carolina's first openly gay elected official -- he sits on a local school board.
"I thought, 'Maybe you should stay informed about, for example, Syria,'" said Brownell, a medical resident.
Both commended Colbert for exposing the ridiculousness of the campaign finance system. And Brownell had this to say about the actual Republican candidates: "They're more of a joke than Stephen Colbert is."
Image: Jason Reed / Reuters