How Mitt Romney Learned to Go Negative
After failing to beat Ted Kennedy with a positive strategy in 1994, Romney turned to attacks in his 2002 gubernatorial run -- and he's never looked back.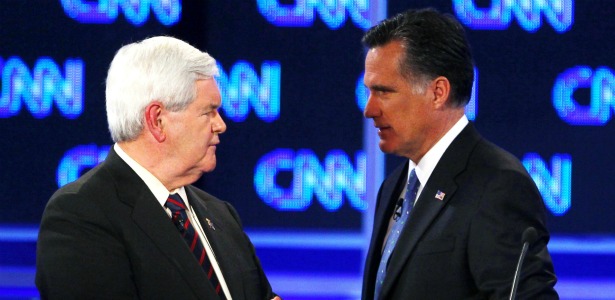 As polls show Mitt Romney cruising toward victory in the Florida GOP primary, he can thank a relentless onslaught of attack ads targeting Newt Gingrich for his last-minute surge. Romney has outspent his leading rival by some $12 million.
The former speaker has lashed out at Romney, calling him a liar who can't be trusted to be president. Though his desperation is palpable, Gingrich's outrage is hardly surprising to Massachusetts politicos who've had Romney's machine turned on them. The former Bay State governor used negative attacks to erase a 10-point deficit and win the 2002 governor's race that launched his national political career.
"The tactics they developed in 2002, they've raised to a high art in 2011 -- out-of-context quotes, go negative early," says Shannon O'Brien, the Democratic former state treasurer who Romney defeated that year. "It doesn't matter what the truth is, but if it's effective, do it. That's what we're seeing in this campaign."
In his race against her, Romney extensively used negative ads -- the first of which ran during the Democratic primary -- to erase a 10-point deficit on his way to a 5-point come-from-behind win.
In October 2002, a pro-Romney radio ad aired that excised 74 words from an O'Brien statement so it sounded as though she opposed recruiting large employers to Massachusetts, something Romney backed. After O'Brien complained, Romney pulled the spot, claiming an ad agency goofed. But O'Brien insisted it was intentional, and Romney spokesman Eric Fehrnstrom -- a top aide to his presidential campaign today - defended the splicing of quotes, describing it as "something reporters do every day."
Twice this cycle, Romney has been accused of similar highjinks. At the final Florida debate, Gingrich lashed out at Romney for running a radio ad where he says Gingrich called Spanish "the language of the ghetto." Gingrich said that "was taken totally out of context." Romney said he wasn't aware of the ad. Romney's first campaign ad last fall also misquoted President Obama saying, "If we kept talking about the economy, we're going to lose" -- when Obama had in fact been quoting an aide to his 2008 rival, John McCain. The Romney campaign at the time insisted it did nothing wrong.
Gingrich has also complained the ads against him weren't all true. Last week, Romney's campaign launched "Florida Families," which depicts the former speaker as a Freddie Mac lobbyist, something Gingrich says is false. On Jan. 24, the super PAC released "Risk," attacking Gingrich for co-sponsoring a bill with House Minority Leader Nancy Pelosi that supported China's "brutal one-child policy." Gingrich, along with independent sources such as ABC News, have disputed the ad's veracity.
That, too, brings echoes of the 2002 Romney-O'Brien race, during which the Republican ran ads that were factually incorrect. To O'Brien, the nadir was an ad near the end of the race portraying her as a dozing basset hound, rather than an alert watchdog, guarding the Treasury. It was odds with the truth: in fact, O'Brien's Republican predecessor Joe Malone had been the victim of a $9 million embezzlement scandal. (Ironically, Fehrnstrom was a Treasury spokesman under Malone.)
Gingrich isn't an innocent bystander. He and his allies have also run attack ads -- one by the Gingrich-aligned PAC Winning Our Future was pulled after complaints by Florida Republican Sen. Marco Rubio. And Romney points out that many of the attack ads have come from his super PAC, Restore Out Future, with which he legally cannot coordinate.
But he acknowledged in a Jan. 8 Meet the Press debate that Restore Our Future is staffed with supporters and former campaign colleagues. The group has hired McCarthy Hennings Media, whose president, Larry McCarthy, produced the race-bating Willie Horton ad and a Swift Boat ad targeting Sen. John Kerry in his unsuccessful 2004 presidential run.
Former Massachusetts, Gov. Michael Dukakis knows political attacks -- the infamous one tying him to the furlough of murderer Horton helped sink his 1988 Democratic presidential bid. "Mitt Romney will do whatever it takes to win," Dukakis says. "It's outrageous he's using the same people who made the Willie Horton ad. It tells you all you need to know about the man."
Romney didn't always display such an aggressive attack style. In the 1994 U.S. Senate campaign, Romney was known for being the victim of a blitz of negative ads targeting his venture capital investments. He ran a buttoned-down race against Sen. Edward Kennedy, projecting himself as the clean-cut, family-oriented, problem-solving businessman in contrast to Kennedy's occasionally scandal-plagued reputation.
"My sense was Romney's tactic was to present an alternative. That was the entire game plan," says Scott Ferson, one of Kennedy's campaign aides. "People make fun of him now for being perfect. But success and perfection and hard work should be rewarded -- that's what that campaign was."
Back then, Bay State Republicans ran against the unbeatable Kennedy to take a good loss and burnish their resumes for their next run, said Marc Landy, a Boston College political scientist. He could afford to lose. The 2002 race, however, was must-win, and Romney's political pivot in that contest was a telling moment in his transformation as a candidate.
"People who toy with this decision [to go negative] are willing to do anything to win," Landy says. "If you're not the most lovable candidate, you gain a significant advantage by going negative."
Charley Manning, Romney's 1994 campaign manager, did not return calls for this story. Michael Murphy, a top strategist on Romney's 2002 run, also did not respond to interview requests about Romney's campaign strategy. Fehrnstrom also did not respond to a request for comment.
Romney's reversal of fortune in Florida after his embarrassing defeat in South Carolina speaks his effectiveness as a candidate willing to change and listen to advice, experts say -- and to the differences between the two states. Gingrich tapped Tea Party anger at Northeast elites with his finely tuned debate performances, targeting Romney's wealth and the media. But Romney's do-anything-to-win strategy has gained traction in Florida where TV debates matter and attack ads resonate.
"The goal was to tear down Newt, and it had a major impact," says Michael Bitzer, a political scientist at Catawba College in Salisbury, N.C. "It was completely negative, even if there was no coordination. I think he looked after South Carolina like he needed a firewall, and he was willing to build one no matter the cost."
Image: Scott Audette / Reuters