Hillary Cried Here: An Unconventional Tourist Guide to the N.H. Primary
As host of the nation's first primary elections, the Granite State has a slew of landmarks where political obsessives can relive campaigns of the past.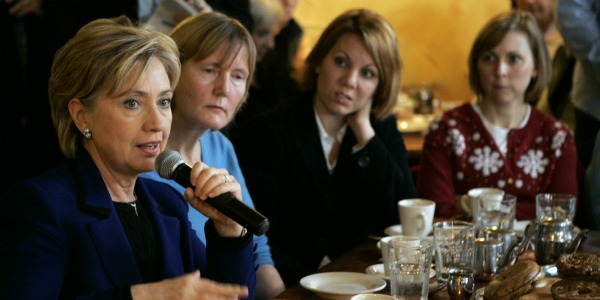 Take in Lingering Hippie Karma
 -- You can still smell the Patchouli at the former
Sheraton Wayfarer
hotel (now a Quality Inn), where in 1968 anti-war candidate Eugene McCarthy celebrated his near-upset of President Lyndon Johnson, who later called it quits. (121 South River Road, Bedford)
Channel the Other JFK
 --
St. Paul's Prep School
is where 2004 Democratic nominee John F. Kerry was once mocked as a pompous teacher's pet who signed his initials "JFK." Peek into the gymnasium to perhaps see another future presidential wannabe get pummeled in dodge ball. (325 Pleasant St., Concord)
Recreate John Edwards' $400 Haircut
 -- Spoofing the pricey designer haircuts of John Edwards,
Hair Biz salon
owner David Holden started challenging the candidates to pay $400 for a trim normally priced at $17. In 2008, Tom Tancredo, Mike Huckabee, and Dennis Kucinich played along, donating the proceeds to autism research. So far this year, only former Louisiana Gov. Buddy Roemer has sat in his barber's chair. (4 North Main St., Concord)
The Tsongas Speedo
 -- Even though 1992 primary winner Paul Tsongas didn't donate his skimpy bathing suit for any local shrines, you can still swim
in the same YMCA pools
where the Massachusetts senator tried to demonstrate his physical comeback from cancer. (15 North State St., Concord)
The Candidate-Chomping Goat
 -- Come meet
Izak, the rambunctious goat
who likes to eat Jon Huntsman signs and recently
launched
a Tonya Harding-style attack on the former Utah governor's knee outside Dover City Hall. Owner Bill Higgins apologized for the incident, saying that his pet was merely nibbling Huntsman's slacks. (288 Central Ave., Dover)
The Gorilla Candidate
 -- A 1980 publicity stunt by
Benson's Animal Farm
tried to put Colossus the Gorilla on the ballot against Ronald Reagan. The zoo had tried to argue that the Constitution does not specify that a native-born candidate has to be human. Benson's closed in 1987. Colossus' empty cage still remains intact at a town recreation area, with no mention of his political ambitions. (27 Kimball Hill Rd., Hudson)
NASCAR's Political Exhaust
 -- At the
N.H. Motor Speedway
, you can breathe in the same fumes as George W. Bush, John McCain, and Rudy Giuliani, just a few of the numerous candidates who have struck paydirt with race-car-driver donors. (122 Route 106 N., Loudon). As a bonus, head to the Harley-Davidson dealership in Merrimack where NASCAR legends Al and Bobby Unser endorsed New Mexico Gov. Bill Richardson in 2008. (717 Milford Road, Merrimack)
Dangerous Pancake Flip-Off
 -- A Bisquick-sponsored pancake-cooking contest at the
National Guard Armory
in 2000 paired up Texas Gov. George W. Bush and conservative activist Gary Bauer, who couldn't handle the pressure and fell backwards off the podium. "The Daily Show" 
pounced
. (771 Canal St., Manchester)
Ed Muskie's Tears
 -- Unlike those crying Virgin Mary statues, no saline evidence remains from when 1972 Democratic frontrunner Ed Muskie cried during a press conference outside the old
Manchester Union-Leader building
, which is now a courthouse. The influential conservative newspaper had falsely smeared Muskie for allegedly being prejudiced against French-Canadians and called his wife a foul-mouthed drunk. After shedding tears in public, Muskie was portrayed as a sissy. But he made it safer for tough guys like
Newt Gingrich
to cry four decades later. (35 Amherst St.
100 William Loeb Drive
, Manchester)
John Edwards Slurped Here
 -- Despite the shameful fall of John Edwards, the
Red Arrow Diner
proudly brags that he once sat at the same breakfast counter as comedian Adam Sandler (though not at the same time). A red plaque screwed into the table allows you to put your coffee cup in the same exact place as the 2004 Democratic vice-presidential nominee. (61 Lowell St., Manchester).
Al Franken Fought Here
 -- With the "West Wing"'s Martin Sheen looking on, the SNL comedian and future U.S. senator tackled some obnoxious Lyndon LaRouche supporters trying to disrupt a 2004 Howard Dean rally at the downtown
Palace Theatre
. Franken, a former high-school wrestler, downplayed the scuffle as a self-defense gesture. (80 Hanover St., Manchester)
N.H. Primary Baseball
 --
The New Hampshire Fisher Cats
, the AA minor-league affiliate of baseball's Toronto Blue Jays, were almost named the New Hampshire Primaries with Uncle Sam and Donkey/Elephant logos (
you can still buy the shirts
). Fan backlash, or perhaps political fatigue, forced a name change to the state's favorite rodent. (1 Line Drive, Manchester)
Reagan's "I Paid For This" Microphone
 -- Part of Ronald Reagan's campaign lore includes him lecturing the moderator of a 1980 Republican Primary debate that he paid for the use of the high-school gymnasium at
Nashua High School South
and had the right to insist that five other candidates be included (among them Bob Dole and John B. Anderson). The
Nashua Telegraph
had originally sought a showdown between just the frontrunners Reagan and George Bush. The Gipper's
crowd-pleasing comment
may have been inspired by a similar line uttered by Spencer Tracy in Frank Capra's 1948 film
State of the Union
. (36 Riverside Drive, Nashua)
Candlepins for Candidates
 -- One of the charming quirks of New England is candlepin bowling, which uses balls the size of a grapefruit and keeps fallen pins in play for the entire frame. The primaries aren't so kind.
Leda Lanes
has hosted Bill Clinton and George W. Bush, though neither made it to the Kegler's Den for refreshments. Nor did they make the same Special Olympics bowling
faux pas
as Barack Obama. (340 Amherst St., Nashua)
Channel the Original JFK
 -- A bronze bust of John F. Kennedy stands on the front steps of
Nashua City Hall
, where JFK first announced his 1960 bid for the White House. Now, even Republicans use it as a backdrop, summoning JFK's "Fight any Foe" doctrine. The statue was once stolen by vandals in 1996, but soon recovered for the next generation of political photo-ops. (229 Main St., Nashua)
Hillary Clinton's Almost Tears
 -- Media reports differ on whether Hillary had watery eyes or full-blown tears at the
Cafe Espresso
when a woman asked how she kept up her upbeat attitude and perfect hairdo, but the pundits consider the moment one of the turning points for how she squeaked by Obama to win the 2008 NH Primary. Unlike Muskie, showing vulnerability helped humanize Clinton's steely image. (
738 Islington St., Portsmouth
)
Kumbaya, N.H.
 -- After an ugly drawn-out battle for the 2008 Democratic nomination, rivals Barack Obama and Hillary Clinton
hugged it out
in the rural town of
Unity
, where they each received an equal 107 votes in the primary. Next on the tiny town's agenda: A Middle East peace summit? (864 Second N.H. Turnpike, Unity)
Romney's Summer White House?
 -- Mitt Romney has been summering on
Lake Winnipesaukee
since his father George sought the 1968 Republican nomination. Just like what happened in Kennebunkport, Maine, and Crawford, Texas, expect an explosion in political-souvenir shops if Romney wins. According to local
realtors
, there is no way for curious gawkers to see his home without accessing the lake. (Public boat launch: 755 North Main Street, Wolfeboro)
Image: Joe Raedle / Getty Images